The Department of the Interior (DOI) on Feb. 24 announced the results of the nation's highest-grossing competitive offshore energy lease sale in history, including oil and gas lease sales, with the New York Bight offshore wind sale.
"These results are a major milestone towards achieving the Biden-Harris administration's goal of reaching 30 gigawatts of offshore wind energy by 2030," DOI said.
The lease sale offered six lease areas totaling over 488,000 acres in the New York Bight for potential wind energy development and drew competitive winning bids from six companies totaling approximately $4.37 billion.
Before the leases are finalized, the Department of Justice and Federal Trade Commission will conduct an anti-competitiveness review of the auction, and the provisional winners will be required to pay the winning bids and provide financial assurance to Interior's Bureau of Ocean Energy Management.
DOI said that the New York Bight offshore wind leases include innovative stipulations designed to promote the development of a robust domestic U.S. supply chain for offshore wind energy and enhance engagement with Tribes, the commercial fishing industry, other ocean users and underserved communities. The stipulations will also advance flexibility in transmission planning, it noted.
BOEM initially asked for information and nominations of commercial interest on 1.7 million acres in the New York Bight. Based on BOEM's review of scientific data and extensive input from the commercial fishing industry, Tribes, partnering agencies, key stakeholders, and the public, BOEM reduced the acreage offered for lease by 72% to avoid conflicts with ocean users and minimize environmental impacts. BOEM will continue to engage with the public, ocean users, and key stakeholders as the process unfolds.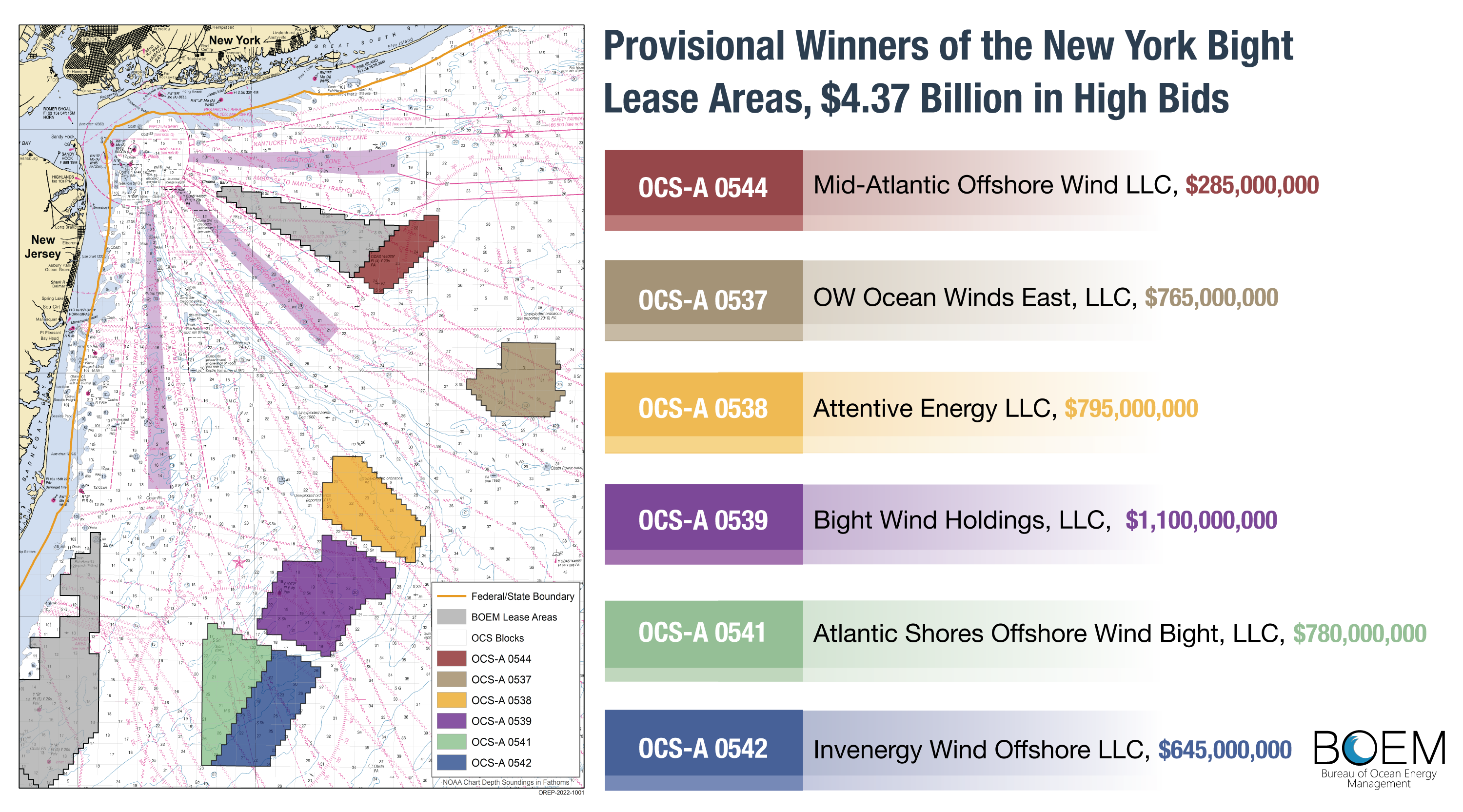 The Biden Administration has already approved the groundbreaking of the nation's first two commercial-scale offshore wind projects in federal waters: the 800-megawatt Vineyard Wind project and the 130-megawatt South Fork Wind project.
BOEM expects to review at least 16 plans to construct and operate commercial offshore wind energy facilities by 2025, which would represent more than 22 gigawatts of energy.
In addition, this past fall DOI announced a new leasing path forward, which identified up to seven potential lease sales by 2025, including the New York Bight and offshore the Carolinas and California later this year, to be followed by lease sales for the Central Atlantic, Gulf of Maine, the Gulf of Mexico, and offshore Oregon.