The Navajo Tribal Utility Authority (NTUA) recently highlighted a number of significant accomplishments tied to its efforts over much of 2020 to extend, build, connect, and provide utility services to hundreds of families funded through Coronavirus Aid, Relief, and Economic Security (CARES) Act.
In mid-August, the Navajo Nation (NN) -- the recipient of CARES Act funding -- announced the award of $147,116,561 to NTUA to construct utility projects eligible under the CARES Act with the goal and purpose of preventing and combating the spread of COVID-19. Various NTUA multi-utility projects were identified in the Navajo Nation CARES Act expenditure legislation. These projects had to be completed by Dec. 30, 2020.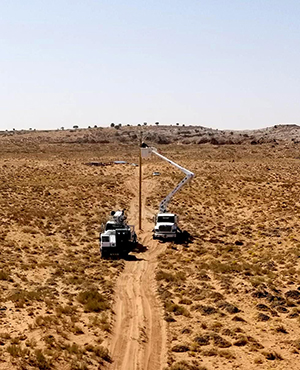 "We are grateful that Navajo leadership entrusted us to undertake this massive project by approving the CARES Act expenditure legislation," said NTUA General Manager Walter "Wally" Haase. "This horrendous pandemic severely impacted the Navajo Nation and we prepared to do what we could in order to prevent the spread of the vicious virus."
NTUA previously noted that prior to the approval of the NN CARES Act, it had been organizing internally to connect hundreds of homes through the Light Up Navajo II 2020 initiative (LUN II). NTUA and 34 public power utilities had a goal to connect the 350 homes starting in April 2020, but the COVID-19 pandemic delayed plans for LUN II event.
NTUA originally set a NN CARES Act goal to connect 510 homes by the December deadline, including the 350 families that were to be part of the LUN II project. LUN II was a result of the successful original Light Up Navajo (LUN I) initiative, which was completed in the Spring of 2019. LUN I had the support of 24 APPA communities and 133 electric line crew members who volunteered from all across the country to be a part of the historic event. The program was also supported by a $125,000 grant from APPA's Demonstration of Energy and Efficiency Developments (DEED) program.
Rather than having the 350 families wait until Spring of 2022, NTUA submitted their homes along with many others for NN CARES Act funding. Because plans were underway for LUN II, including the commitment from 34 public power communities, NTUA already acquired all of the necessary Rights of Way and completed the NN land acquisition processes for the 350 families.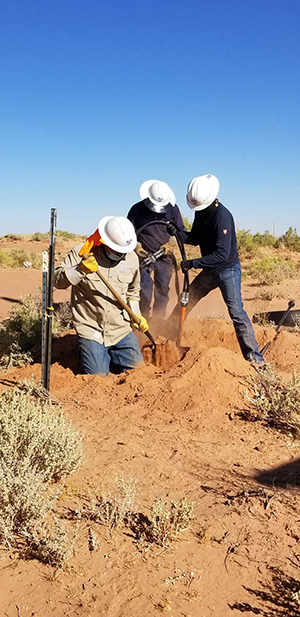 "These projects were shovel ready, as a result of the commitment of these 34 communities, 350 more families were connected to the grid, than would have been," said Haase. "The Navajo people, especially the families that were connected, have always been extremely grateful to all the support they received from all of the Public Power communities. Your support has forever improved the lives of over 500 American families. THANK YOU!"    
Once the NN CARES Act legislation was in place, NTUA went to work trying to connect as many families as possible by working ten-hour days, including weekends and holidays, except for Thanksgiving Day and Christmas Day.
NTUA details accomplishments
In weekly progress reports for Navajo Nation leadership, NTUA has provided updates on the various multi-utility CARES Act projects. In the most recent update, NTUA reported that up until December 30, NTUA Districts and Electric Construction Department electric line crews and electricians worked 10-hour days, including weekends, except for Thanksgiving Day, Navajo Nation Family Day and Christmas Day. The Navajo Nation spreads across 27,000 square miles, across northern Arizona, northwestern New Mexico, and southeastern Utah.
While NTUA's initial goal was to connect 510 families, it reported that it has exceeded this goal extending electricity to the homes of 209 additional families.
As a result of efforts by NTUA and neighboring utilities 719 families are now connected to the electric grid (665 families by NTUA crews; 54 families by neighboring utility crews). Six of these homes were connected after Dec. 30.
NTUA has one more CARES Act project to complete: a major 8-mile powerline: Salt Springs South, which consists of 12 homes. This project is expected to be completed by Feb. 19, 2021.
The update also noted that on Jan. 19, 2021, NTUA returned $34,051,578 of unspent Navajo Nation CARES Act funds to the Navajo Nation with the understanding that it will be reverted into the Navajo Nation Hardship Fund to help families impacted by COVID-19, NTUA noted.
NTUA also used the update to provide the latest details on its off-grid residential solar program, neighboring electric utility partnerships, electric capacity projects and a number of water-related projects.
"The CARES Act was a tremendous challenge, our crews remained dedicated and moved these projects forward week by week," Haase said. "Together, they demonstrated our commitment and dedication to extend and provide electricity to families. We did our best. I am extremely proud of what they were able to accomplish even under strenuous times."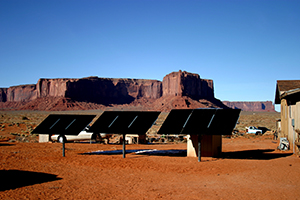 Electric connections after CARES deadline
Following the December 30 deadline, NTUA had 160 families that applied for electric connection remaining on the CARES Act list. While it will not be able to connect them under the CARES Act program, NTUA is seeking to find creative solutions to get these families connected.
"When we reached the December deadline, there were still a number of families yet to be connected," said Haase, explaining that weather, rough terrain, and COVID-19 circumstances delayed construction and thereby prolonged electric connections. "We didn't want to postpone connection to these families so we are going to finish some of these projects. The families were patiently waiting when the CARES Act clock ran out."
NTUA has identified potential funding sources to connect 26 of these families, partnering with organizations and individuals, including the Don Woods Family, and the Church of Jesus Christ of Latter-day Saints.
"The Church of Jesus Christ of Latter-day Saints is pleased to be an active partner with NTUA in the ongoing effort to connect families to electric services," said Todd S. Larkin, General Authority Area Seventy for the Church. "We care deeply for the Navajo people and hope to continue in our efforts to be a blessing in their lives."
In addition, NTUA also received contributions from the Kayenta Solar project, NTUA Wireless, and ATN International, Inc. (ATN).
"Connecting the under-served is core to our mission at ATN," said Michael T. Prior, ATN Chief Executive Officer. "Normally we focus our efforts on the Navajo Nation and elsewhere on internet and mobile connections through our Choice wireless partnership, but there is nothing more essential than electrical power so we were honored to support NTUA's critical commitment to connect these additional households on the Navajo Nation."
In addition to these 26 homes, NTUA's Kayenta Solar project will fund the connection of five homes in the Kayenta Chapter. The Navajo Nation Council Resources and Development Committee has approved the use of funds that NTUA saved on the construction of two Sihasin (meaning hope & empowerment in the Navajo language) powerline projects that will allow electric line crews to connect another 10 homes.
"We pledged to the community that the proceeds from the Kayenta Solar project would help fund electrification projects," said Deenise Becenti, NTUA spokesperson. "Kayenta Solar is a blessing and will make it possible for at least five families to use electricity in their homes for very first time."
NTUA said it has used other funding sources to connect dozens of families that were to be connected under Sihasin powerline projects planned for construction in 2021.
NTUA will be requesting permission from the Navajo Nation Council Resources and Development Committee to use those savings to connect an additional 26 families. Single families that are seeking funds to get connected are being encouraged to submit a Light Up Navajo III application, according to NTUA.
"It is our hope to host another Light Up Navajo initiative in April of 2022," Becenti said. "We are organizing internally. The CARES Act answered so many prayers; however, there are thousands of families still waiting."
APPA is in talks with NTUA to support next Light Up Navajo (LUN III) project
NTUA plans to launch another Light Up Navajo project as soon as it is safe to do so and the American Public Power Association is in discussions with NTUA to support the next Light Up Navajo project.
"Bringing people together to perform mutual aid without a storm is incredibly rewarding for the utilities involved and we're looking forward to supporting future Light Up Navajo events," said Alex Hofmann, Vice-President for Technical and Operations services at APPA.