Nebraska Public Power District and Omaha Public Power District recently detailed how they were able to successfully respond to massive flooding and other severe weather that hit the state in March including how they leveraged social media and other communications channels and applied lessons learned from a similar flooding event in 2011.
NPPD
Mark Becker, Supervisor, Corporate Media and Media Services, at NPPD, noted that in February "we had several weeks of temperatures that kept most of Nebraska in the deep freeze. Low temperatures during the day were at minus 15 with high temperatures flirting around zero degrees combined with high winds. This caused the ground to freeze and the rivers in the state were filling with ice with concerns of ice jams that could occur."
That was followed in late February and early March with heavy snow around the state that remained on the ground as temperatures slowly rose.
On March 11, weather forecasts were calling for the potential of blizzard conditions in the western portion of the state, heavy rains for central and eastern Nebraska, along with rising temperatures that could create snow melt, plus high winds, he noted.  Because of the deep freeze in February, frozen ground was going to be unable to soak in water runoff from the rain/snowmelt.
The storm, referred to as a "bomb-cyclone," arrived in western Nebraska on March 12. The following day, the storm moved across the state, bringing up to a foot of snow in Scottsbluff, Neb., and western areas. Heavy rains elsewhere with projections of river flooding were expected and there were very few outages, Becker noted.
Cooper Nuclear Station
On March 12, the National Weather Service held a conference call to alert government agencies of potential flooding conditions along most of Nebraska's rivers. The Cooper Nuclear Station, owned and operated by NPPD, went into its Missouri River flood protection planning that day.  
The Missouri River flood protection plan includes taking actions to mitigate effects of river flooding to ensure safe plant operations. In the plan, Cooper would implement its emergency procedure for flooding when the river level reached 895 feet (mean sea level), which trips a variety of protective measures.
Cooper is the largest, single-unit electrical generator in the state, generating 820 megawatts of electricity.
Cooper plant employees at the site monitored river levels, inspected levees, looked for any in-leakage in lower areas of the plant and continued sandbagging operations to ensure that the plant, which was built 13 feet above natural grade, was not hit with any flooding, Becker noted.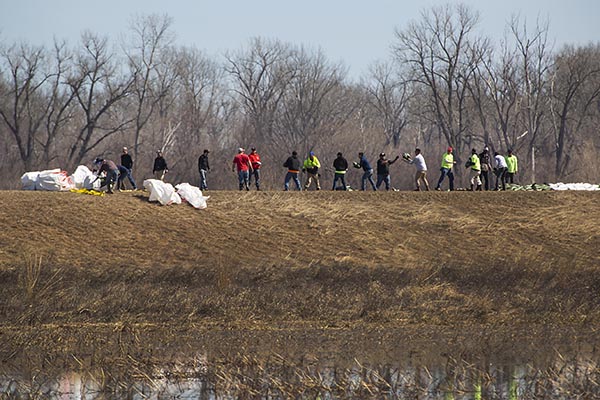 Cooper Nuclear Station declared a "Notification of Unusual Event" early in the morning of March 15 when the Missouri River reached 899.05 feet at the plant. "The declaration was anticipated for several days by the power plant's operators, who closely tracked the river's steady increase in elevation due to the combination of snow melt, frozen ground, heavy rain conditions in Nebraska, and releases of water from upstream reservoirs in South Dakota," NPPD noted in a news release.
A Notification of Unusual Event is the lowest and least serious of four emergency classifications established by the Nuclear Regulatory Commission for nuclear power plants.
Cooper Nuclear Station exited the Notice of Unusual Event status on March 24, when river levels fell to 896 feet.
Hydro dam is breached
Meanwhile, on March 14, word was received that the Spencer Hydro dam near Spencer, Neb., was breached during the early morning hours. Spencer Hydro is a small run-of-the river hydroelectric plant located south of Spencer, Neb., along the Niobrara River.
All employees were unharmed, but the hydroelectric side and the earthen dam were destroyed, and the operation building received severe damage, presumably by ice in the river, Becker said. One individual living near the hydro was reported missing following the breach.
Built in 1928, Spencer Hydro contains a bank of gates that allows water to flow through to generate electricity. While the structure helps develop a pool of water to build up enough head to generate electricity, it was never designed as a flood control facility, Becker pointed out. It also included an earthen dam that stretched out from where the concrete structure and gates are located.
It is believed that an unprecedented amount of water came downstream on the Niobrara River on the morning of March 14, which also contained what is being referred to around the state as "icebergs." In some cases, these large pieces of ice were as big as cars and even larger.
Technicians at the plant had gone to the western portion of the dam early on the morning of March 14 to open a section of the spillway which contains stop logs to take some additional pressure off the facility from the water coming downstream. When a pin is pulled the gates come open as the logs fall out of the spillway. The recent cold weather had caused freezing of the stop logs and they could not release.
Unable to open the stop logs, the technicians had also noticed that water was overtopping the earthen dam. The two technicians left at that point, stopped to warn a nearby resident, and returned to the other side of the river as they realized they were in a potential deadly situation. The earthen dam and the hydro section then collapsed as the water and ice breached the facility, creating a new path for the river to pass through.
Operations Center, customer call center evacuated
Flooding conditions along rural rivers and streams, and in neighboring communities began on March 14.  NPPD announced a limited response to any power outages due to flooded rivers, bridges and roadways across the eastern portion of the state and making travel unsafe.
Flooding conditions in the south portion of the city of Norfolk forced an evacuation of NPPD's Norfolk operations center and centralized customer call center. The Norfolk operations center's trucks and critical equipment were stationed at a local hotel away from the rising waters. The call center was also moved to a hotel and to NPPD's general office in Columbus, which was manned by employees in that office, given that some call center representatives were facing their own personal issues with flooding in the Norfolk area.
Becker also noted that on March 14 more than two feet of water inundated a key substation in Norfolk, forcing NPPD to do emergency switching manually. Over 4,000 customers were without power as work was completed in the early evening.
NPPD social media activities
NPPD's social media activities started on March 14 and went through March 24, Becker said. During this timeframe, NPPD did approximately 40 social media posts which included information on electrical safety, flooding safety, a governor's visit, and a Cooper Nuclear Station water level status (both a.m. and p.m.). Becker said that photos taken by staff and posted on Facebook drew a tremendous amount of interest.
The 40 social media posts:
reached over 100 million individuals

Were shared over 9,000 times

Were liked over 23,500 times

Were commented on more than 2,600 times
NPPD also garnered over 1,300 Facebook page likes and utilized Twitter and Instagram for posting information.
NPPD went live with a Cooper Nuclear Station status information page on its www.nppd.com website on March 16 at approximately 7:30 p.m. "Since then we have had over 6,500 unique page views to this website page to date," he said in a March 28 email response to questions.
NPPD also logged over 100 media requests for information on Cooper, Spencer Hydro and the District's response to the natural disaster. NPPD's corporate communications team sent out a daily media alert that would update the Cooper status (as with its website) with the local news media.
How NPPD successfully managed challenges
So how was NPPD able to successfully manage all the challenges created by the flooding and other weather-related issues?
"Excellent teamwork and excellent communications internally and externally, especially having to deal with issues in various locations throughout the state," said Becker, noting that safety "was always a critical part of the work."
He said that Cooper was well prepared for the challenges presented by the potential for flooding, having gone through a similar event in 2011 when heavy rains hit the Dakotas, forcing the Army Corps of Engineers to have high releases of water from dams upstream.
With respect to power restoration, NPPD crews are deployed across the state at various service centers and can be called upon to move to areas where there may be greater damage.
Becker said that NPPD was fortunate that transmission and distribution systems remained strong over a three-day period and operations affected by the blizzard, such as Scottsbluff and Chadron, saw few outages.
Personnel at Cooper regularly practice emergency responses at its Emergency Operations Facility in Auburn, Nebraska, and for power outages, the transmission and distribution organization routinely drills for restoration of the system.
OPPD
OPPD spokesperson Paula Lukowski noted in a March 29 email that an unusually harsh winter set the stage for the flooding. Severe winter weather in the Midwest, record snowfall and heavy rains in mid-March contributed to the massive flooding. Rapid melting coupled with heavy rains fell onto still-frozen land, and in many places, there was no place for that to go. Massive amounts of runoff water caused rivers and tributaries in the area to flood at record levels. Ice dams and floodwaters caused dams and levees to fail, and bridges and highways to washout and, in some cases, be destroyed.
Additionally, the U.S. Army Corps of Engineers began increasing releases from Gavins Point Dam March 13 in response to increased runoff into the Missouri River above the dam. That water eventually flows southward and OPPD has two operating power plants along the river, as well as Fort Calhoun Station, a nuclear plant that is being decommissioned.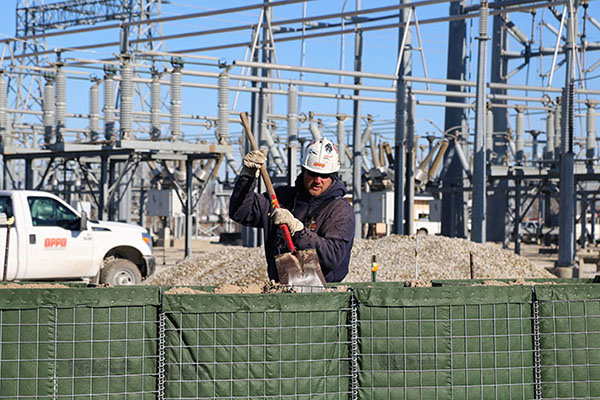 Damage was extensive, she said, noting that President Trump declared a major disaster for the state of Nebraska, specifically for the following counties: Butler, Cass, Colfax, Dodge, Douglas, Nemaha, Sarpy, Saunders and Washington. OPPD's service area covers 13 counties and flooding devastated parts of seven of these counties (Cass, Colfax, Dodge, Douglas, Sarpy, Saunders and Washington).
OPPD communications efforts
Lukowski detailed the tools that OPPD utilized to communicate with customers during the weather event.
She noted that OPPD used social media, oppd.com, OPPD's newsletter The Wire and Storm & Outage.com during the event, "and these tools allowed us to share our messaging quickly."
At the start of the event on the morning of March 14, OPPD used its Storm & Outage Center webpage (www.stormandoutage.com) to push out safety-related stories.
"We initially expected to have power outages as a result of the flooding, but our crews did such a good job protecting our threatened equipment that power outages were not a problem," Lukowski said.
By the weekend, OPPD had included related stories and links on The Wire and its main corporate account (oppd.com).
OPPD social media activities
OPPD used Facebook (33 posts) and Twitter (46 tweets) to share its stories, as well as numerous photos that its field crew were sharing with OPPD.
Social media activity March 15-25 resulted in 7.5 million impressions, and that was 44% positive with another 46% neutral. OPPD's most popular post reached 17,753 people. It told the story of an OPPD crew "that found themselves on the wrong side of a swollen river. Since they couldn't get home, they're working 'trouble' calls in the water and mud until they can. OPPD passion to serve in action."
The crew had been working in Fremont, which became an island when all the roads in and out of town were flooded.
The crew's efforts were detailed in March 20 and March 28 articles on the Wire.
Lessons learned from 2011 flooding
Lukowski noted that quick activation of OPPD's business continuity plan and quickly protecting its infrastructure and equipment resulted from experience with significant flooding in 2011.
OPPD personnel continually monitor weather and river conditions, she said. In advance of potential impacts to OPPD facilities and equipment due to flooding and other weather issues, OPPD proactively activated its business continuity plan on March 13.
The business continuity team includes hundreds of employees from all parts of the utility (T&D, generation, substation, supply chain management, human resources, customer service, corporate marketing & communications, finance, and more). Per this plan, OPPD's corporate marketing and communications operates a Joint Information Center to keep employees, customers, media and the general public informed.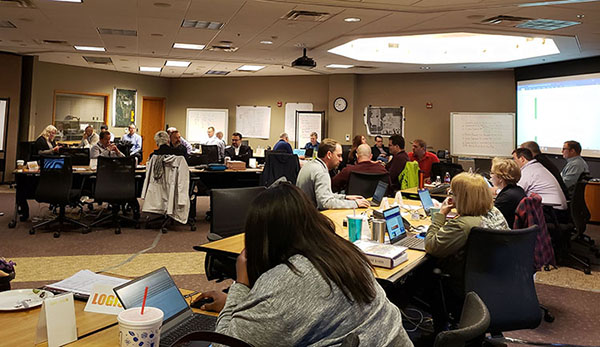 Lukowski said that OPPD's incident command team -- with leaders from operations, logistics, planning, finance/administration, senior management and public information -- worked from a central command room, holding multiple WebEx calls a day with key personnel from across the utility.
She said that other lessons learned from the 2011 flooding were:
All OPPD sites have detailed flood plans. The plans include at what elevation the utility needs to take protective measures, and critical buildings and equipment are labeled and have the exact number of sandbags needed to protect each;

OPPD uses TrapBags to protect a critical building and substation at power stations. These go together quickly;

OPPD used an Everbridge notification system to seek help with sandbagging efforts and also to reach all employees to ensure their safety and if their homes were personally impacted by floodwaters.
Lukowski served as a Joint Information Center manager, along with Jason Kuiper, an OPPD communications specialist, with the two of them taking shifts. "Our charge was providing messaging to our audiences (employees, customers, media and general public), showing them how we were responding, sharing safety messaging and answering related media calls," she noted.
"We had a team of seven that we split into two shifts to handle employee communication, media, social media, website updates, photography and graphics."
Joint Information Center managers stayed in close contact with the business continuity plan command team throughout the event, finding out critical items to communicate. "We also used our news backgrounds to determine other stories that needed to be told and other tips that would be useful," Lukowski said.
Early messages for employees included activation of the business continuity plan, lifesaving tips for working in flooded areas, how to clean personal protective equipment, employee work relocation notices and tetanus shot clinics for those working near floodwaters.
For customers, OPPD used its three websites and social media channels "to show how we were protecting power plants, substations and other equipment. We also shared safety and reconnect information."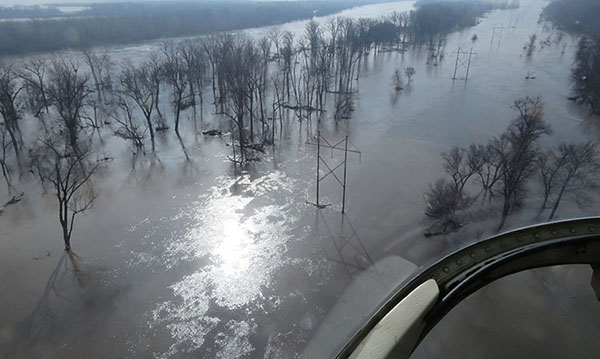 Lukowski said that the flood work continues and will for months due to the devastation. And though the full-blown business continuity team disbanded on March 22, OPPD reactivated it April 9 due to weather forecasts. Virtually all of the protective barriers set up during the first round of flooding were still in place. The utility is taking additional mitigating action across the district to protect assets and maintain power throughout its communities.
"We have a number of community outreach efforts in areas where people lost homes or had major flood damage. Our electrical service designers are working with inspection and permitting agencies to help expedite reconnections in areas where it is safe to do so."
Other public power systems in the state
Another large public power utility in Nebraska, Lincoln Electric System, was not affected by the flooding, said Rachel Barth, Communications Specialist for LES.
However, smaller public power systems were affected by the flooding including the City of Grand Island and Southern Public Power District, she noted.