Top photo by Benjamin Benschneider
Seattle City Light in July 2019 unveiled its unique Denny substation, an architectural showpiece that includes a glowing facade, an elevated walkway, and an off-leash dog park.
"Denny substation will ensure reliable power that allows us to keep pace with Seattle's current and future electrical needs," Debra Smith, Seattle City Light general manager and chief executive officer said at the July 20 public unveiling. "Seattle City Light worked with the community to design the Denny substation to fit the neighborhood's character, provide needed community amenities, and serve as a model for environmental sustainability."
The roughly $210 million substation, plus an underground distribution network, has been in the works since about 2003, when Seattle's City Council approved a policy of trying to attract biotechnology and high-tech industry to the South Lake Union area, which at the time was home to warehouses and light manufacturing.
Since then, the neighborhood around the substation has seen major growth, with the Bill & Melinda Gates Foundation headquarters, a University of Washington medical facility, and Amazon's main campus locating in the area.
The substation has about 44,000 square feet of open space, solar panels, and a heat recovery system. It includes community event spaces and public art.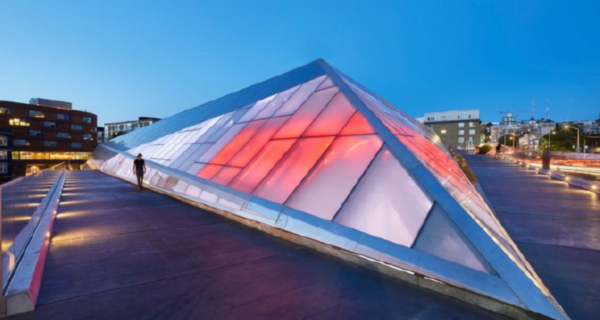 Photo by Benjamin Benschneider
The Denny facility, Seattle City Light's first substation in 30 years, was energized in May 2018 and is helping serve a fast-growing part of Seattle.
Meanwhile, Seattle City Light is building out its network in the South Lake Union area through the recently completed Denny network infrastructure, including cutovers from the existing 26-kilovolt radial distribution to the 13.8-kV network distribution, according to Julie Moore, the utility's media relations manager. The distribution load will be supported by the Denny substation. The utility expects work on the project to run through at least early 2021, Moore said.
Also, Seattle City Light expects to start a solicitation process by the end of the year for the design of a 115-kV transmission line to run from the Denny substation to the Massachusetts substation, bolstering the grid in Seattle. Construction is expected to start in 2021 at the earliest, according to Moore.
The planned transmission line will be designed so it can operate at 230-kV to meet growing demand and as more areas in Seattle are switched from a radial to a network distribution system.