Electric substations typically are not viewed as works of art designed to pay homage to an area's rich ancestral heritage. The new Cottonwood substation in Farmington, New Mexico, manages to do both while not sacrificing the important functionality needed to serve the community for decades to come.
At first glance, the substation atop a 200-foot hill in the center of town resembles a structure from the ancient Puebloan culture, also known as Anasazi, that permeated the region centuries ago.
The ancestral Puebloans lived in a variety of structures, including cliff-sited dwellings for defense. Cottonwood, composed of steel, aluminum and laminated wood, mimics the Anasazi ruins.
And not by accident.
Eight years ago, Farmington Electric Utility System officials began talking about constructing a new substation to replace the Sullivan substation built in 1971. The old substation had lived its life and served its purpose. In all, the public power utility operates 36 substations.
But, until now, none like Cottonwood.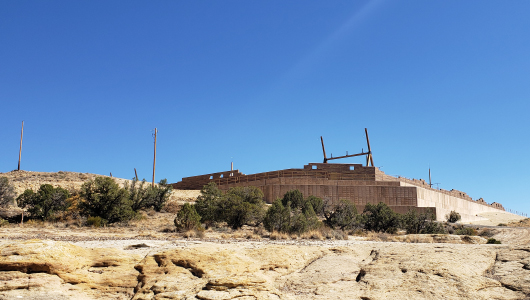 Photos of Anasazi ruins around the region served as the design inspiration for John Armenta, the utility's engineering manager.
In short, Armenta and Farmington Electric did not want to build another standard-issue substation surrounded by chain-link fences that, while not necessarily an eyesore, was not aesthetically pleasing.
Because the city is in the high desert largely devoid of trees, officials knew the new substation would be easily visible to most onlookers, recalled Hank Adair, the electric system director.
"Mesa Verde, the Anasazi Pueblo ruins over one thousand years old are around here," he noted. That prompted the question: "Is there a way to make the substation resemble them or pay homage to them?"
The answer was yes. Armenta said he initially knew "this was going to be a high-profile station." So, to elicit responses from the community several public meetings were held about three years ago. "I notified the neighbors nearby [the new substation site] to let everybody know what was going to happen and get feedback."
Farmington enlisted T&D Services in Albuquerque as the engineering contractor for the project.
Cottonwood is equipped with two power transformers instead of one, something new to the city. "Cottonwood should serve the city for more than 40 years," Armenta said. "Even if upgrades need to be made, they can be done fairly easily."
According to Armenta, the substation is not entirely finished and has not been formally commissioned. No electricity is going through it, although that probably will happen in February 2019.
"I think it's been wins on all sides for us," Adair said.
Seattle City Light substation project
Seattle City Light took a similar approach by taking into account aesthetics when it decided to pursue construction of a new substation in downtown Seattle.
Seattle City Light's Denny Substation is "not your grandfather's substation," said Michael Clark, Seattle City Light project manager for the substation project, in 2016.
When the public hears "substation," they think: industrial, functional and chain link fence, according to Clark. "Out of the gate, we knew that wouldn't be a successful approach," he told Public Power Daily.
The public power utility decided it wanted the substation's owners — the citizens of Seattle — to be drawn to the project so they could see it in action, according to Clark. "This substation facility needs to be an asset to the community," he said. "We want it to blend in, but celebrate that there's a substation there."