Nashville Electric Service (NES) is working to restore power to customers in the wake of a strong storm and a tornado that hit the city in the early morning hours of March 3.
"Currently in the NES service area, 38,000+ customers are without power and 250 power poles were either destroyed or damaged," NES said in a Tuesday evening tweet.
"A powerful storm moved through Middle Tennessee in the early hours of Tuesday morning, spawning tornado activity that ripped through parts of Nashville and neighboring counties shortly before 1 a.m.," the Nashville Tennessean reported. The newspaper reported that at least 22 people died in four counties.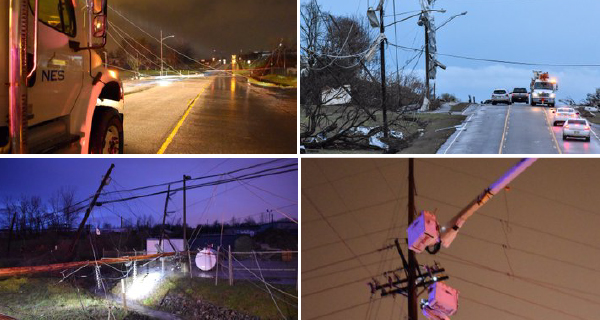 "Our thoughts are with the crews in Nashville and across central Tennessee working hard to restore electricity where possible after the tornado," said Joy Ditto, President and CEO of the American Public Power Association, in a March 3 tweet.
NES is providing customers with regular updates on the power outage situation through an outage map on its website.
NES distributes energy to more than 400,000 customers in Middle Tennessee.
Public power utilities offer mutual aid
Brian Solsbee, Executive Director at the Tennessee Municipal Electric Power Association, noted in an email that Tennessee public power utilities McMinnville Electric System, Lenoir City Utilities Board, and Harriman Utility Board provided mutual aid to the public power community of Cookeville, Tenn.
The Tennessean reported that at least sixteen people, including several children, were killed in a tornado that swept through a two-mile stretch of Putnam County west of Cookeville early Tuesday.
And Tennessee public power utilities Paris Board of Public Utilities and Lexington Electric System, as well as the Tennessee Valley Authority (TVA), provided aid to Carroll County Electric Department, Solsbee noted.
"Mutual aid is a critical part of public power, and we are fortunate to have so many systems volunteer to come to the aid of Cookeville Electric Department, Nashville Electric Service, Carroll County Electric Department and others during this tragic event," Solsbee said.
TVA
TVA also sustained damage as a result of storms in the region.
TVA noted in a March 3 tweet that it had 31 high-voltage electrical transmission structures damaged and 17 lines down in the Middle Tennessee area.
"Additional crews and equipment are en route, and 3 helicopters are in the air assessing the damage. Check with your local power company for outage info," TVA said in the tweet.