Although public power utilities have experienced a lot of change through the decades – from advances in technology that change they was they generate and manage power to how they communicate with customers – a visual journey through photos from this history show that their values and how they interact with the communities they serve continue along a common thread.
Working for the community
| | |
| --- | --- |
| A worker of Taunton Municipal Light replaces a street lamp in 1939 | A worker with Clatskanie People's Utility District in Oregon hangs a street sign promoting community ownership |
Promoting safety
| | |
| --- | --- |
| Murray City Power used this Hazard Hamlet to educate kids (and other community members) about electrical safety | Employees from the electric utility in Denison, Iowa give a safety demonstration to a local classroom c. 2008 |
Supporting energy efficiency
| | | |
| --- | --- | --- |
| An ad template from 1955 encouraged utilities to promote electrical devices and appliances as time saving. | An ad template from 1977 encourages customers to update insulation to reduce their home's energy use, "presented as a consumer service by your consumer owned electric utility" | A sample social media graphic provides some visual-driven energy saving tips as part of the materials developed for the Community Powered campaign. |
Advocating for public power in Washington
APPA Director Alex Radin and officers of the Electric Consumers Information Committee meet with President Harry Truman

 

Utility leaders, plus APPA Director Alex Radin (far right), meet with President John F. Kennedy

 
Alex Radin and Larry Hobart on the steps of the US Capitol

 

Utility leaders from South Dakota meet with Representative Kristi Noem (R-SD) at the 2018 Legislative Rally. Photo courtesy Heartland Consumers Power District.

 
Advising on energy use
The Chattanooga, Tennessee Electric Power Board holds an electricity educational fair in 1954

 

Kissimmee Utility Authority in Florida employees attend a local elementary school's Spring Carnival with a solar energy education trailer in 2019. Photo courtesy Kissimmee Utility Authority.

 
Driving transportation electrification
The Los Angeles Department of Water and Power bought a battery-powered electric truck in 1967—which it named the "Volts-Wagon"—for an electric vehicle research program on operating costs and performance under L.A. conditions

 

Silicon Valley Power celebrates with the city of Santa Clara, California at the unveiling of the "Breathe Easy Express" — an electric bus in 2001.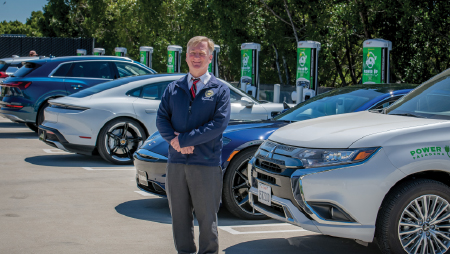 Advocating for community ownership
An ad template from a 2001 APPA campaign to
promote community ownership

 

A social media graphic developed for Public Power Week 2019
encourages conversation about the benefits of public power