Power has been restored to 931,132 customers (63.5% of total customers) in Puerto Rico, the Puerto Rico Electric Power Authority announced on January 19. Restored customers represent 82.9% of normal peak load and all 78 municipalities are at least partially energized.
Hurricanes Irma and Maria struck in September completely devastating the island's transmission and distribution systems. The restoration process has been complex and fraught with many challenges, including a terrain that prevents easy access to many regions and the logistics of getting equipment and materials from the mainland.
Beginning in September, public power utilities across the U.S. have responded to PREPA's call for help by sending personnel and equipment to assist restoration efforts.
Workers from the Commonwealth Utilities Corporation in the Northern Mariana Islands, Richmond Power and Light in Indiana, and Sacramento Municipal Utility District in California, flew into San Juan, Puerto Rico on January 16 and 17. The crews attended an onboarding meeting with the public power Incident Management Team coordinating the work of mainland industry restoration crews in the Carolina region of Puerto Rico. These public power utilities also dispatched trucks on barges that arrived January 20.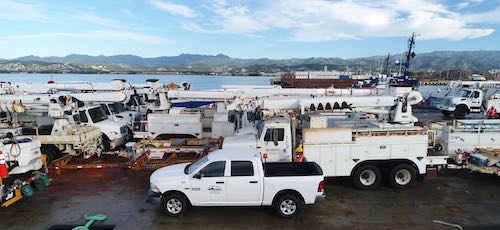 Norwich Public Utilities in Connecticut is also supporting the restoration effort — its crews arrive on the island January 24 and equipment shortly thereafter.
The public power IMT in Carolina is one of seven mainland utility teams appointed to support PREPA's restoration efforts in each of the seven regions of Puerto Rico. The IMT is staffed by personnel from Salt River Project in Arizona, and Austin Energy in Texas, who have been in Puerto Rico since December. The New York Power Authority has sent various technical experts to the island since shortly after Maria struck on September 20. NYPA is an integral part of the San Juan IMT made up of New York utilities.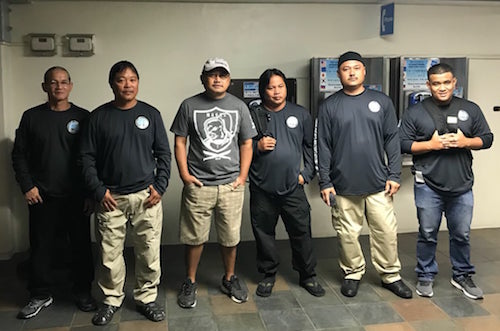 Commending his five-member crew for traveling the great distance to help, Gary Camacho, the Executive Director of CUC said "This is a great mission of service and we are proud to participate. We have to help Puerto Rico, our sister commonwealth. When we were hit by disaster in the Northern Mariana Islands in 2015, we had public power utilities from across the U.S. and the Pacific come out to support our restoration efforts. It is now time for us to give back."
Jose Cardona expressed gratitude to the American Public Power Association for mainland utility crews that helped turn the lights back on for his family in Puerto Rico. He said, "We are very grateful and humble for your prompt response and the sensitivity you showed to the desperate and painful situation which my family and their neighbors passed through as a result of the landfall of Hurricanes Irma and Maria in Puerto Rico. There is a big difference between work and serve (sic). The first is done in the hope that eventually we are going to receive pay for what we do as part of our job descriptions. The second is the desire to help others by driving all our efforts so that what we do have a positive impact on others' lives. You totally accomplished both principles. The effects of the Hurricanes Irma and Maria will never be forgotten and will be topic of conversation for the rest of their lives. But those stories always will end with a smile and a sense of gratitude towards you."
Public power utilities are supporting PREPA along with the rest of the electric industry and the federal government. In January alone, 1,500 mainland industry crews are scheduled to arrive in Puerto Rico. "We are so very grateful to all our members that are helping with this restoration effort that is unprecedented in magnitude and difficulty. These utilities represent the true public power spirit of giving back," said Sue Kelly, President and CEO of the American Public Power Association.
"This week we completed the work on the 51000 line of 230,000 volt transmission that stabilizes the system and allows us to power more sectors in the East. We also continue to increase the generation capacity and customers with service throughout the island," said Justo L. González Torres, acting executive director of PREPA, on Jan. 19. He said that line 50800 that goes from Yabucoa to Sabana Llana is 75 percent complete, while line 50200 from Manatí to Costa Sur is 89 percent complete.
Gonzalez said his utility had reached an agreement with several mayors in Puerto Rico to facilitate the hiring of their own crews to work in conjunction with PREPA's technical and support staff. He added that PREPA expects to have between 4,500 and 5,000 people working in the 78 municipalities.
PREPA is scheduled to receive 6,031 thousand transformers before the end of January. This adds up to more than 14,000 poles and 1,100 miles of conductor cable. It is expected that in the next two weeks, 5,789 additional poles and 1,250 miles of additional cable will arrive.
"The arrival of more workers, materials and equipment from United States electricity companies and the execution of our restoration plan will allow us to restore electric service to all our clients as soon as possible, in accordance with the plans outlined by Governor Ricardo Rosselló Nevares," said Gonzalez.