Winners of the 2019 American Public Power Association leadership and service awards share their advice for public power leaders.
Andy Boatright
Alex Radin Distinguished Service Award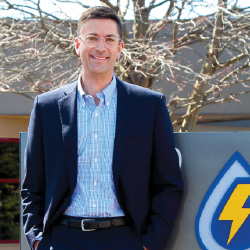 Andrew "Andy" Boatright has been in public power for more than 35 years. He is the general manager of Zeeland Board of Public Works in Michigan and has been chair of the American Public Power Association's board and president of the Ohio Energy Project board. Acknowledged as a leader by his peers, Andy encourages innovative thinking and professional growth for his staff.
What are three essential traits a public power leader should have?
"A public power leader
must be comfortable with 'living outside of one's comfort zone.' Getting out of one's comfort zone might be as simple as figuratively walking in someone else's shoes for a while and looking at issues from their perspective.

must communicate effectively — that is foundational to establish and maintain high-performing teams. Effective communication implies transparency and accountability and that there will be no surprises.

must be willing to give credit in the good times and to take responsibility when times are bad."
Paula Gold-Williams
James D. Donovan Individual Achievement Award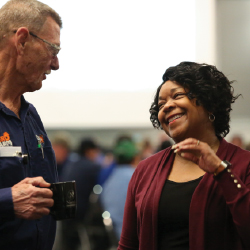 Paula Gold-Williams is the president and CEO of CPS Energy in San Antonio, Texas. She is described by her colleagues as visionary and a trailblazer. She maintains a "people first" philosophy to guide her team to success. She puts others first and is focused on serving customers and ensuring that every employee returns home safely each day.
Why should someone favor public power as a career path over for-profit options?
"Public power is a great career opportunity for anyone interested in working for a purpose-driven organization. Those of us who are already team members at public power utilities make our customers, community, and employees our top priorities. At CPS Energy, we consider these three stakeholder groups to be the heart of our 'People First' ideals. With this in mind, we are intensely focused on redesigning our current infrastructure through innovation, creativity, and a passion to serve the cities in which we live, work, and play."
Joel Ivy
James D. Donovan Individual Achievement Award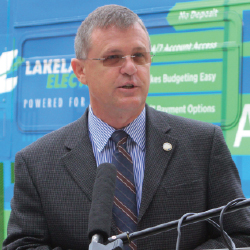 Joel Ivy began his public power career 30 years ago as a lineworker. His commitment to the principles of public power helped him become general manager of Lakeland Electric in Florida. Joel is highly regarded by his peers as a dedicated member of the public power community and is often called upon as a subject-matter expert for his extensive industry knowledge and experience.
Why should someone favor public power as a career path over for-profit options?
"Having routine and direct access to both our board and regulators, usually in the same meetings, is a crucial benefit in public power. We are accountable to our customers and can create sustainable policies that can be vetted in real time. We provide reliable and competitively priced electricity, which gives the community stronger economic development opportunities. Local governance, direct accountability to our customers, and a community-first approach combine to make us affordable, dependable, and sustainable. To live and work where we serve is a privilege."
Nilaksh Kothari
James D. Donovan Individual Achievement Award
Described by his colleagues as a visionary leader, Nilaksh Kothari has been CEO and general manager of Manitowoc Public Utilities in Wisconsin for nearly 20 years. His long list of accomplishments includes completing an $80 million construction of a 63.3-megawatt clean coal power plant. Nilaksh is also the managing director of Great Lakes Utilities, a wholesale power supply and service agency serving 12 public power utilities in Wisconsin and Michigan.
Why should someone favor public power as a career path over for-profit options?
"Public power is all about local leadership. Few careers offer the chance to lead with a direct responsibility to your neighbors, community, policymakers, and regulators — this is my everyday reality. This means that all decisions have an immediate impact on the people you interact with every day. You have to provide so much more than electricity and water. You have to understand the needs of all the stakeholders and help meet those needs in the most cost-effective manner. And because you're part of the community, you get quick feedback. I've always loved it when community members come up to talk to me about utility services while I'm at the grocery store or one of my sons' ball games. The good, the bad, and the ugly work together to make you a better person every day."
Kevin G. Wailes
Alan Richardson Statesmanship Award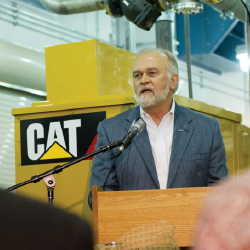 Kevin G. Wailes has been an active member of the Association for more than 35 years. He also is the co-chair of the Electricity Subsector Coordinating Council. In 2017, Kevin testified before the Senate Energy and Natural Resources Committee on behalf of public power regarding energy security and electromagnetic pulse threats. As CEO of Lincoln Electric System in Nebraska, Kevin leads the utility to make decisions that align with the people and businesses it serves throughout the community. He challenges his team to find innovative ways to meet customers' current and future needs, while balancing low rates and reliable service with sustainability.
How can a leader forge consensus among audiences with diverse opinions when dealing with complex issues?
"We all know that it is often not possible to get consensus, but the most important part of the process is to get everyone to listen to all sides. It is critical that all sides have a common understanding of the issue and get a clear understanding of the different positions. With that foundation, commonalities in the positions and options for compromise may become clear. During this engagement, key leadership on the different sides of the issue may become apparent and provide an opportunity to work on compromise in a smaller, less confrontational group environment."
Ron Fritz
Larry Hobart Seven Hats Award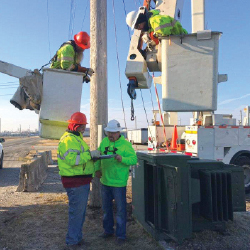 As utility supervisor for Flora Municipal Utilities in Indiana, Ron Fritz is responsible for managing all planning and design aspects for four utilities — electric, water, wastewater, and street. Throughout his time as utility supervisor, Ron has planned a variety of projects aimed at upgrading the town's utility system and providing better service to the community of 2,000 people. Ron is known among his employees for leading by example.
How can you be most productive and effective when you have to juggle multiple roles in running a utility?
"It can be difficult to juggle multiple roles, especially when overseeing a small utility. I have found that I am most productive and effective in doing my job when my utility crews are informed, trained, and working safely and efficiently to support their community. We take ownership of any issues that arise, and I instill this in my employees every day. My crews and I go beyond the call of duty for a simple reason: Our customers will see those efforts and take the same pride in their hometown utility as we do."
Larry Paine
Larry Hobart Seven Hats Award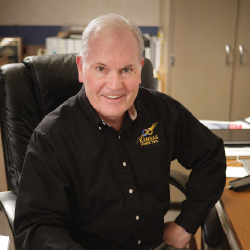 Larry Paine has held the position of city administrator in the City of Hillsboro, Kansas, for nearly 12 years. During this time, he has been deeply involved in the planning and design of not only the electric distribution system, but also the city's water and wastewater systems. Larry is an outstanding leader in his community, and he supported the construction of a new hospital in the rural Kansas community.
How can you be most productive and effective when you have to juggle multiple roles in running a utility?
"My chief technique to keep a pulse on the functions in the city is to have regular one-on-one meetings with department heads. Each department head gets regular uninterrupted time with me and can talk freely about things they might not share in a staff meeting. At the same time, I can cover tough issues that I wouldn't bring up in a larger meeting. The one-on-ones are a communication tool and give both of us a level of confidence and trust to freely discuss difficult operations and projects."
Jody Young
Larry Hobart Seven Hats Award
Jody Young is a true leader, having stepped up to take on the position of city manager for the City of Bushnell, Florida, after the sudden passing of her predecessor. While dealing with the loss of a leader and friend, Jody took the initiative to learn everything she could about negotiations, contracts, engineering plans, and territory maps to understand what needed to be accomplished at the utility. She goes above and beyond to ensure the success of the City of Bushnell.
How can you be most productive and effective when you have to juggle multiple roles in running a utility?
"For me, there are three keys to being the most productive and effective leader I can be — prioritizing, planning, and delegating. Prioritizing helps me plan to perform important tasks myself. It also helps me determine if some of the tasks can be delegated to trusted staff. By managing these three simple processes, I can ensure that I am focused enough to succeed in juggling multiple roles without creating added stress and pressure for myself."
Allen Johnson
Harold Kramer-John Preston Personal Service Award
Allen Johnson is the light and power director at Bountiful City Light & Power in Utah. He has been a champion for public power and the principles of local control and top-notch customer service. Allen has been an active member of the American Public Power Association for over a decade, frequently attending the National Conference and Legislative Rally. He is vice chair of the Association's Demonstration of Energy & Efficiency Developments (DEED) board.
What aspect of your local utility leadership experience has the greatest influence on your national contributions?
"I have come up through the public utility ranks over a 42-year period, starting as apprentice lineman and holding nearly every position possible in Bountiful City Light & Power. I believe active participation in public power organizations allows a utility leader to leverage experience at the local level to influence national issues and policy. As a champion for public power over my career, I've been involvement in numerous industry organizations. This includes the American Public Power Association, Intermountain Power Agency Statewide Mutual Aid Committee, and Utah Associated Municipal Power Systems boards. These experiences have provided stronger messaging in championing public power on Capitol Hill and have resulted in a better municipal power department."
James Welsh
Harold Kramer-John Preston Personal Service Award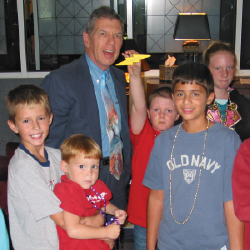 James "Jim" Welsh has served as president and general manager of Kissimmee Utility Authority in Florida since 1982. Under his leadership, KUA has been honored for reliable electric operations, storm restoration efforts, and community service. The utility received numerous awards for excellence in financial reporting, workplace safety and communications. Jim served on the American Public Power Association's board from 1997–2003.
What aspect of your local utility leadership experience has the greatest influence on your national contributions? 
"Leadership is the ability and willingness to take ownership of an organization, combined with a drive to do what is best for the organization. In my 36 years of utility leadership, I have found that collaboration, building consensus, and establishing partnerships have helped move our utility forward to make a difference at the local level. Taking those same skills to a national level has helped build a stronger Association and public power brand."
Homer Nicholson
Spence Vanderlinden Public Official Award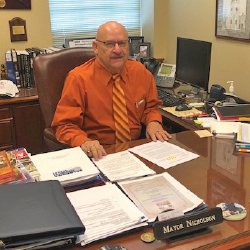 Homer Nicholson, mayor of Ponca City, Oklahoma, has been on the American Public Power Association's Policy Maker's Council since 2016. He has been active at both the state and federal level in engaging Ponca City's legislators and educating them on the value of public power, with an emphasis on local control. Over the years, Homer has educated Oklahoma's national and state leaders on the value, benefits, and importance of public power.
What is the one best contribution a governing board or council member can make to the utility and the community?
"The one best contribution a governing board or council member can make to the utility and the community is education. Elected officials and utility leaders have a responsibility and opportunity to market the utility name and available services to their customers. Recent surveys show some utility users are not sure who provides their power, especially if they have multiple providers in the area. We must continuously promote the many benefits not-for-profit public power utilities provide to the community, beyond electricity."
Ted Olson
Spence Vanderlinden Public Official Award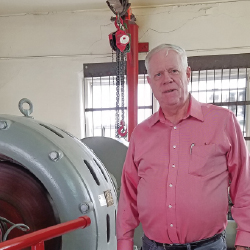 Ted Olson has been an active member of the Association for three decades. Since 1978, he has served as an appointed member of the Ephraim City, Utah, utility board. Ted is a staunch advocate for public power and is heavily involved in the Ephraim City community as a professor at Snow College and as Ephraim City's representative to Intermountain Power Agency, which operates two generating units in Utah.
What is the one best contribution a governing board or council member can make to the utility and the community?
"Ensuring the most reliable electric service at the lowest cost should be the overarching goal for all of public power. This requires carefully balancing politics, regulation, and technology, all of which have become more complex in recent years. No one person can be an expert in all of these areas. Therefore, it is imperative that boards and councils surround themselves with the most talented experts available and trust their recommendations. Trust can create a synergy of productivity. Trusting others does not mean shying away from tough questions, issues, or becoming informed. It does require recognizing your own limitations."
Devon Tremont
Robert E. Roundtree Rising Star Award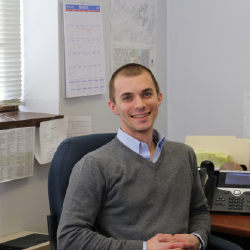 Devon Tremont is an energy analyst at Taunton Municipal Lighting Plant in Massachusetts. He has consistently demonstrated his willingness to assist those in need with his problem-solving skills and thoughtful strategies for achieving success. Devon is a leader who follows through on his commitments and looks to continually grow his knowledge and experiences within the public power industry.
When faced with many career options, what do you think would make a leader stay in public power?
"Public power employees and leaders often have responsibilities that go beyond their job titles. We try to get the most out of our employees in the interest of providing stable and competitive rates, so cross-training is often used to ensure that a team will always be available for a project, regardless of the lead time. A well-rounded career with multiple areas of focus is great for building a sound understanding of this industry. Public power offers this career path."
Raj Rao
Mark Crisson Leadership and Managerial Excellence Award
Raj Rao has been a member of the Association since 1982 and has 37 years of experience in public power. He is president and CEO of Indiana Municipal Power Agency, which serves 61 public power communities. Under Raj's leadership, IMPA has extended power supply resources to several new public power communities, energized three solar parks in member communities, completed construction of a new conference center adjacent to its office, and hosted safety and training programs for members. Raj sets the bar high at IMPA and encourages employees to reach for the highest level of success.
What is the single biggest challenge in running a public power utility today, and how do you overcome it?
"Working for a joint action agency creates an interesting challenge to leadership and governance. IMPA is led by me and our management team but is governed by our Board of Commissioners comprising representatives from each of our 61 member communities. The key to achieving success is through constant communication and making our goals one and the same. Through constant communication with our board members, we identify challenges, devise solutions, address concerns, and eventually land on a unified decision that is in the best interest of all involved. Keeping in sight the end goal of economic, reliable and environmentally responsible power for our public power communities helps us stay on the right path and focus on the good of the organization."
Kimberly Schlichting
Mark Crisson Leadership and Managerial Excellence Award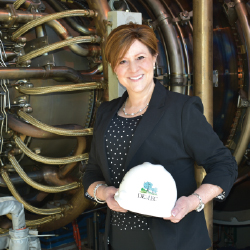 Kimberly Schlichting is senior vice president of operations and power supply and chief operating officer at Delaware Municipal Electric Corporation. She serves on the board and several committees at DEMEC, American Municipal Power, and the American Public Power Association. She is a member of many political, professional, and charitable associations. Kimberly's innovative ideas, organizational skills, and leadership have helped DEMEC thrive as a joint action agency.
What is the single biggest challenge in running a public power utility today, and how do you overcome it?
"Image development and education and training are the biggest requirements in public power. DEMEC staff alone cannot represent our membership in all the various forums throughout the state. By empowering our members to become knowledgeable and informed ambassadors, we can more effectively share the good story of our highly reliable public power utilities, many of which have successfully been providing service to their communities for over 100 years.
"Through education and training, we enable our members to stay current on the latest technologies and best practices that will enable them to continue providing the highly reliable electric service our customers expect for the next 100 years and beyond."
City of Danville Utilities
E.F. Scattergood System Achievement Award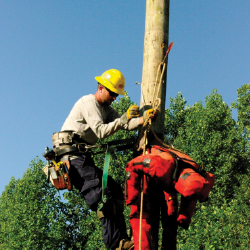 Danville Utilities in Virginia is a regional public power leader, an active participant in the American Public Power Association Legislative Rally, and a member of the American Municipal Power board of trustees. The utility has many programs and projects to provide reliable energy, a diverse power supply portfolio, and other benefits to the community and its customer-owners. Its most recent success is the Kentuck Solar Project — a 6-megawatt solar array that brings renewable resources to the community.
What are the top three areas of business/operations that an electric utility striving for excellence and resilience should pay attention to?
Jason Grey, director of utilities: "More than 70% of a utility's costs are associated with the generation and delivery of electric supply to its distribution system. Utilities are becoming more creative in finding ways to provide the lowest-cost power supply solution for their customers.
"Public power utilities are having a difficult time attracting younger generations to work for us. More needs to be done in the schools and two-year colleges to tell students about public power careers. At Danville Utilities, we have an apprenticeship program that covers the cost of the training for any electric employee and allows them to move up on the pay scale at an accelerated rate compared to annual pay-for-performance increases. We've partnered with the Virginia Community College system on their linemen training program. We're also participating in career fairs and high school events. 
"We must adapt to newer technologies and incorporate them into utility business processes. Our customers want more information to make decisions about their energy usage and communicate with the utility during outages. The City of Danville has a robust customer portal to show electric, water, and gas consumption based on the average temperature for that day or month. We're also posting outage updates on Facebook and other social media platforms. We will also be using our AMI system to proactively notify customers of electric outages." 
Fayetteville Public Works Commission
E.F. Scattergood System Achievement Award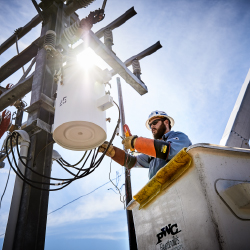 Fayetteville Public Works Commission in North Carolina has been recognized statewide 13 times since 2004 with the United Way of North Carolina's Spirit Award for its community support and involvement. A strategic priority at Fayetteville PWC is increasing the visibility of public power and showing its value to the community. PWC's extensive list of accomplishments includes completing a systemwide conversion of streetlights to LED, beginning the installation of North Carolina's first public power solar farm, and installing four electric vehicle charging stations throughout the Fayetteville area that can be used by the public at no cost.
What are the top three areas of business/operations that an electric utility striving for excellence and resilience should pay attention to?
David Trego, CEO/general manager: "First, you must communicate your value as a public power provider to your customers. It's critical to have customer buy-in to provide service excellence. More often than not, providing excellence involves dollars. Having your customers understand the value of those investments, as well as the local leadership making investment decisions on behalf of their community, is essential.
"Public power utilities must foster a culture of continuous improvement across the organization. Whether its infrastructure to improve reliability or technology to enhance the customer experience, a successful organization always learns from the past but looks to the future.
"We need to place a high value on customer service. As a public power utility, our customers are our shareholders. This does not mean always giving customers what they want; rather, it's making sure that all employees and actions have a customer-centric focus and approach."
SMUD
E.F. Scattergood System Achievement Award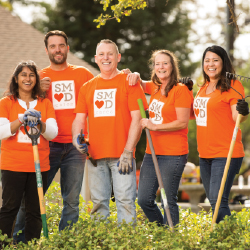 SMUD in Sacramento, California, focuses on meeting customers' expectations for safe, reliable, affordable, and environmentally responsible energy. For the 17th straight year, SMUD was the top-rated California utility for residential customer satisfaction in the J.D. Power survey. For the J.D. Power commercial customers study, SMUD was the top-ranked utility in the West Midsize Segment and placed sixth in the nation among all utilities. The utility recently partnered with D.R. Horton to build more than 100 new all-electric homes in the Sacramento area. SMUD has created an online platform for customers to shop for energy-efficient products and partnered with Uber on an electric vehicle program. It is one of the first utilities to use a light detection and ranging (LiDAR) system to keep aerial tabs on 4,000 miles of distribution power lines.
What are the top three areas of business/operations that an electric utility striving for excellence and resilience should pay attention to?
Arlen Orchard, general manager and CEO: "Customers and community are at the heart of all we do at SMUD. We've excelled at getting the basics right — delivering safe, reliable power at some of the lowest rates in California — for more than 70 years. But we know it's not enough. Successful utilities must do much more than deliver electrons.
"Our purpose is to improve the quality of life for our customers and community. Sustainability and supporting inclusive economic development are also core to achieving our purpose. It means pursuing aggressive carbon reduction goals to make our region a healthier place to live for all and supporting underserved people, organizations, and communities in a sustainable and equitable way."
Anaheim Public Utilities
Community Service Award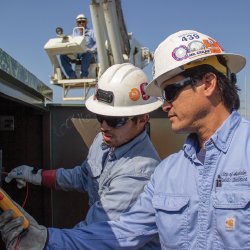 Anaheim Public Utilities in California has been working to balance the need for maintaining the quality of life for Anaheim residents and businesses with the responsibility to help homeless individuals with care and compassion. The City of Anaheim partnered with the Salvation Army to establish a temporary emergency construction of a 224-bed, low-barrier homeless shelter in 79 days to provide a temporary home and wraparound services to help address homelessness in Anaheim. The shelter includes a community dining and lounge area, storage for personal property, space for pets, laundry facilities, on-site security, and an open space for walking and recreation.
Why should a public power utility care about the community, and how can you make a difference for the people you serve?
Dukku Lee, general manager: "Public power utilities like Anaheim aren't just providing essential services to the residents and businesses in the city — we are an integral part of the community. That means assisting those that may be going through a rough time, offering programs to help make a difference in homes, and helping businesses become more successful.
"Anaheim citizens are more than customers, they are owners of this utility. Listening to their issues and concerns and working alongside the community to resolve matters is something we take pride in. Anaheim Public Utilities is truly Anaheim-owned and Anaheim-focused."
Grant County PUD
Community Service Award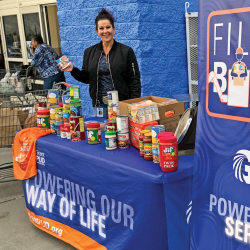 With nearly 4,000 miles of electric grid and two Columbia River dams, Grant County PUD serves a vast agricultural and industrial region in rural central Washington state. Grant County PUD has many ongoing efforts to serve the community, including a holiday food drive for Grant County food banks, support for Seattle Children's Hospital, and "Archaeology Days" at the community's Wanapum Heritage Center. Grant PUD remains an outstanding and compassionate partner across its communities' social, cultural, educational, and economic fronts.
Why should a public power utility care about the community, and how can you make a difference for the people you serve?
Christine Pratt, public affairs: "Grant PUD exists because the people of Grant County created us 80 years ago to generate and deliver electricity efficiently and reliably. That makes us both a provider of an essential service and a prominent member of this rural central Washington community. We all want our customers — who are also our friends, family, and neighbors — to grow and prosper. That culture of volunteerism is part of us. It comes from our employees' hearts. They make a difference by caring and acting on a need. And they do a lot of it, because that's what good neighbors do."
Paducah Power System
Community Service Award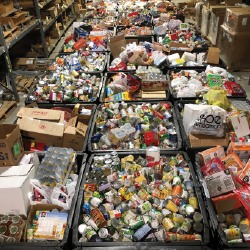 Paducah Power System in Kentucky uses its annual "Christmas in the Park" event to get involved and help its community. Christmas in the Park is a five-week event that generates thousands of dollars and several tons of canned goods for four area social services agencies. This event touches thousands of lives in the community, including volunteers, school children, businesses and those who receive the donations. It is also marked by a beautiful holiday lighting display containing approximately 500,000 twinkling bulbs in Paducah's largest city park. Paducah believes that this event demonstrates the mission of public power to serve its communities beyond delivering power.
Why should a public power utility care about the community, and how can you make a difference for the people you serve?
Andrea Underwood, director of human resources & community relations: "Our employees live and work in the community we serve, so they are vested in making Paducah better for our children, grandchildren, friends, and neighbors. We have the ability to improve our community, sometimes in very simple ways. We've put nearly a million pounds of food on the shelves of local food pantries through Christmas in the Park, and we've saved hundreds of lives with our community blood drives. During the 2011 flood, we collected three semi-trailers full of cleanup supplies for the Red Cross, just by asking people to drop off items at our parking lot. It's amazing, to me, what can be accomplished with minimal resources and a little creativity. Why would we not do those things when it's that easy?"
Austin Energy
DEED ACE Award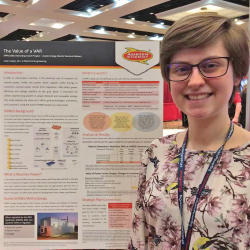 Austin Energy in Texas has been an active member of the American Public Power Association's Demonstration of Energy and Efficiency Developments research and development program for 35 years — garnering innovation grants, furnishing board members, and encouraging other utilities to join the program. Over the years, the utility earned 14 DEED innovation grants and has been a sponsor and mentor for 31 DEED scholarship students in energy-related disciplines. Austin Energy interns sponsored through the DEED program have worked on charging station rollouts, led initiatives to bring electric vehicle charging to local school districts, launched a program for electric pedicabs, managed a solar forecasting project, performed economic modeling for a U.S. Department of Energy-led grant, and done extensive marketing and outreach to the utility's customers.
Why are innovation and R&D important for a utility?
Debbie Kimberly, vice president of customer energy solutions and corporate communications: "Innovation and forward thinking are essential to achieve our mission of being customer driven and community focused. As new ways to serve our customers emerge, public power utilities need to have the ability to adapt. New ways of thinking and doing business will help us improve our safety, reliability, and affordability as we strive to reduce our carbon footprint. By investing in research and development, public power utilities can embrace new technologies into legacy systems at a manageable pace. Creating and testing scalable models for new initiatives and technologies is essential for maintaining excellent customer service and an engaged workforce. Innovation can keep current employees engaged while improving the acquisition of new talent."
Join the public power leadership hall of fame. All American Public Power Association members are eligible to apply for our annual leadership and service awards. Applications are usually accepted from November through January. Watch your email and our website for deadlines and online entry forms.