Two employees of the Los Angeles Department of Water and Power,Sergio Morelos and Javier Hernandez, this summer utilized their training for emergency situations to quickly extinguish an automobile fire.
The event took place in July in San Francisquito Canyon near LADWP Power Plants 1 and 2.
Morelos and Hernandez noticed a car pulled to the side of the road that was emitting smoke. Morales noticed that the car tire had blown out, causing a small fire.
He recalled his recent training about proper fire extinguisher use, and immediately worked to put out the blaze. The two men then waited with the driver until the Fire Department was on the scene to ensure the situation was safe.
Morelos is a Utility Pre-Craft Trainee and Hernandez is a Maintenance Laborer.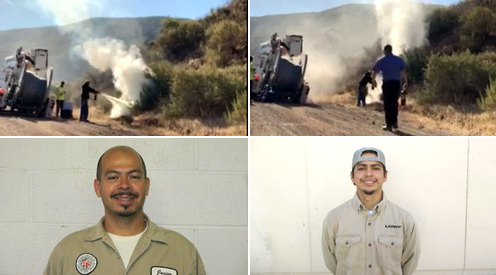 "My crew members and I attend daily tailgates, which remind us what to do in case of an emergency," said Hernandez. "The daily training helps you remain composed and focused when an emergency does occur. The situation was unexpected, but our training prepared us to handle the unexpected."
"By listening to information given at tailgate and safety meetings, I was prepared mentally for the dangers I may face on the job and on a daily basis," said Morelos.
"Having had training where we actually use tools such as a fire extinguisher is vital when real life emergency situations happen," he said.
"In the case of the incident, it was a scary situation, but we remained calm and knew how to assist the driver with the spreading fire because we had been trained on properly using fire extinguishers---PASS (pull the pin, aim the extinguisher, squeeze the trigger and sweep side to side)," Morelos said.
SRP Substation Troubleman helps save the life of a car crash victim
In another example of frontline public power workers quickly responding to dangerous situations in the field, Salt River Project Substation Troubleman John Boyle recently helped to save the life of a car crash victim in Mesa, Ariz.