Transmission project developers should show that they have considered all available alternatives before moving forward with a grid project and that the project is the most cost-effective solution, said Sue Kelly, President and CEO of the American Public Power Association on May 15.
She made her comments at an event in Washington, D.C., hosted by Politico on electric infrastructure issues. Other panelists were Sen. Martin Heinrich, D-N.M., and Andy Ott, CEO of the PJM Interconnection. Zack Colman, energy reporter at Politico, served as the moderator.
She cited a category of transmission projects in the PJM Interconnection referred to as supplemental projects. Other RTOs have also seen similar lower-voltage projects proposed in their footprints, albeit with different names.
These types of projects "go through the process with not a lot of scrutiny and they're becoming an increasing portion of the transmission revenue requirement."  
The combination of insufficient scrutiny of a lot of these lower voltage projects and the drive by investor owned utilities to obtain higher transmission rates of return and incentives for these projects "makes us need to reconsider how do we evaluate transmission versus other assets," Kelly said.
Lisa McAlister, Senior Vice President and General Counsel, American Municipal Power (AMP), addressed supplemental projects in PJM at an Energy Bar Association meeting this month. She said supplemental projects "don't get the same regulatory oversight and process" as baseline projects in PJM do, "but we're footing the bill for all of them."  
"You have to think about what those alternatives are and when you do a transmission planning process you need to show that you've considered those alternatives," along with "more discrete transmission alternatives before you do the eight-state ones," Kelly said.
Kelly also said that further improvements are possible when it comes to the transmission planning process "to ensure that indeed the most economic portfolio of resources are being built."
Wyden bill offers 'holistic and thoughtful approach,' Kelly says
Kelly praised legislation recently introduced by Sen. Ron Wyden, D-Ore., that would take a technology neutral approach to carbon reduction in tax policy. 
The Clean Energy for America Act looks at the tax code "and tries to overhaul it to make it concentrate on the end you're trying to achieve, as opposed to – this much for wind, this much for solar, this much for batteries," Kelly said.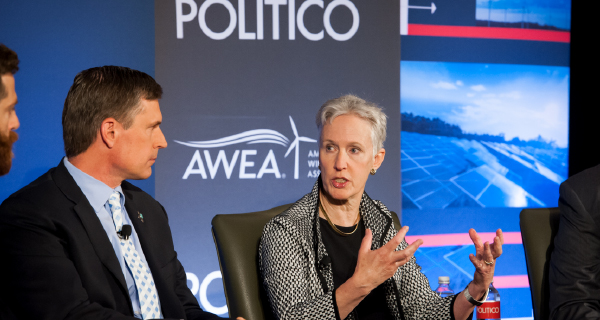 The bill also allows for comparable incentives for entities such as public power utilities and cooperatives that are not taxable "and therefore don't qualify for any of those tax incentives," Kelly pointed out.
"To me that is just a much more holistic and thoughtful approach that we would really like to see more discussion of," she said.
"I couldn't agree more," said Heinrich. "It's a great piece of legislation because in part it starts with a baseline where we've baked in so many incentives to incumbent technologies and says -- our start here has to be we need to move towards a cleaner grid." But rather than picking winners and losers, the bill takes a technology agonistic approach, the senator said.
Hydro is 'the Rodney Dangerfield of renewable resources'
Meanwhile, Colman raised the question of whether environmental permitting laws may need to be changed in order to allow for modernization of the power grid.
"I think we're going to need to relook at how the processes are done," Kelly responded, using hydro licensing and relicensing as an example.
"Hydro is the Rodney Dangerfield of renewable resources," Kelly said. "We could do so much more with hydro, but it's just so difficult to get it done and it's frankly only being done by people like my members who have the intestinal fortitude to pour concrete and spend ten years doing something." But hydro is a valuable carbon-free power source that can back other, intermittent renewable resources.  
The Association's president and CEO said that "part of the problem is that there are no timelines and there's nobody who's really as in charge as they need to be of the actual process."
Grid edge technologies and new retail loads
At a later point, Kelly said that creating a smart grid is a necessary predicate for implementing a variety of programs.
"Once you understand your customers' behavior and when they are taking power and, if possible, from what appliances they are taking it, then you can construct programs that can be of great assistance," she said.
Kelly also said that "if you can electrify transport, that is a huge community reduction in the carbon footprint so to me being able to implement that as part of a distribution grid upgrade is really important," noting that this is something that a lot of Association members are either doing now or are very interested in pursuing.
More than 130 people attended the event and more than a combined 445 people joined the event over livestream on POLITICO.com and on social media.