Installed nameplate power capacity of U.S. large-scale battery storage reached 1,650 megawatts (MW) by the end of 2020, the U.S. Energy Information Administration (EIA) reported on July 26.
The 2020 figure represents a 35 percent (or 428 MW) increase compared with installed battery storage capacity at the end of 2019 (1,222 MW), EIA said in its Electricity Monthly Update.
EIA defines large-scale capacity as those systems with a nameplate capacity of 1 MW or greater. Although the first battery storage system reported to EIA as of December 2020 began operation in 2003, cumulative battery storage did not surpass 100 MW until 2012, it said.
The federal agency noted that significant battery storage growth began in 2015 when 153 MW of annual operational capacity were added, a 90 percent increase relative to 2014 levels. Following that growth, battery storage surpassed the 1 gigawatt (GW) mark in 2018.
"As currently reported to us, cumulative planned battery storage power capacity additions for 2021 through 2024 equal 10,904 MW (or 10.9 GW). If all of these projects come online and if no current operating capacity is retired, battery storage power capacity could exceed 12 GW by 2024," EIA said.
EIA said that battery storage systems are being installed tor a number of reasons including:
Balancing grid supply and demand

Reserving energy for times of high demand (referred to as peak shaving)

Storing energy from intermittent renewable sources, such as wind and solar, to dispatch at a later time

Providing fast response ancillary services, such as frequency regulation

Creating opportunities to take advantage of price arbitrage
According to EIA, the most recent increase in new storage capacity is mainly due to the installation of battery energy systems connected to solar projects.
The federal agency reported that the 1,650 MW of operating battery storage power capacity at the end of 2020 were spread out across 33 states, although more than 70 percent were in five states: California, Texas, Illinois, Massachusetts, and Hawaii. Each of these states have over 50 MW of battery storage power capacity. California has the most with 506 MW of battery storage power capacity. Each of these five states have passed legislation in recent years, either to establish requirements for energy storage or to provide financial incentives for new projects, EIA noted.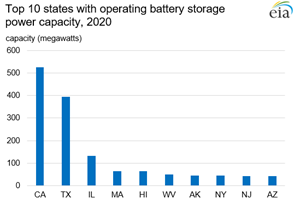 The 10,904 MW of planned battery storage power capacity additions through the end of 2024 are spread out across 22 states, although over 70 percent were in four states: California, Texas, New York, and Arizona.
California has more than 4 GW of battery storage power capacity planned by 2024, Texas and New York are planning to install over 1 GW each, and Arizona plans to install just under 1 GW.
EIA said that the top 10 states for planned battery storage capacity additions (including Nevada, Florida, New Mexico, Hawaii, Colorado, and Massachusetts) account for 94 percent of planned additions, or 10.5 GW, by 2024.
EIA said that the concentration of new battery storage capacity additions in the top 10 states may be partly due to one or more of the following factors:
A high renewable resource base where storage can partner with, or be situated near, projects to take advantage of that resource (for example, very windy or sunny locations)

State policies that encourage renewable and battery systems

The presence of local, real-time, capacity-constrained markets that may present economic opportunities for battery storage systems
EIA noted that it will soon publish an update to the report U.S. Battery Storage Market Trends. This report provides further information about battery storage projects including geographic representation, ownership, chemistry, applications, costs, and future trends.
The American Public Power Association's Public Power Energy Storage Tracker is a resource for association members that summarizes energy storage projects undertaken by members that are currently online.