With no signs that the complexity of the power sector will abate, the importance of the American Public Power Association's annual Legislative Rally and the ability of public power to advocate on a variety of key issues in Washington, D.C., is clear, said APPA President and CEO Joy Ditto on Feb. 26.
"The advent of wholesale electricity markets has added to the complexity," she noted in remarks made at the rally.
Also, the marrying of digital technology with grid operations has caused a cyber risk "that most people didn't anticipate, frankly, when that started happening in the eighties."
Moreover, the integration of intermittent renewables, either on the bulk power system or on the edge of the grid, requires more technology, which again increases cyber risk, Ditto noted.
"The drumbeat of environmental regulations, much less the global issue of climate change, has added to the complexity of producing energy," she said.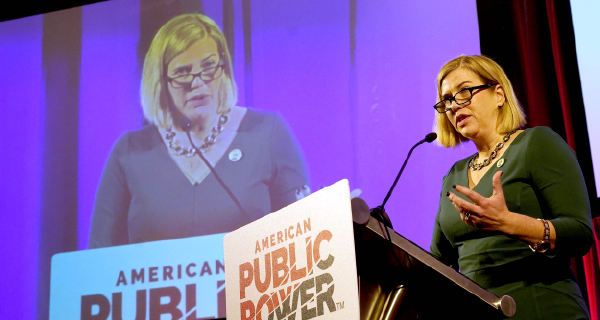 In addition, heightened concern about resilience and security, as well as customer privacy, "is juxtaposed with the democratization of energy use and electricity use, specifically, and the need for us to actually have more information."
Ditto said that given this complexity, as well as the challenges and opportunities facing the power sector, the need for the Legislative Rally is readily apparent. She said that public power must engage in "constant and vigilant education" in terms of what public power utilities are doing to meet the needs of customers.
Throughout the year, it is APPA's job to "keep up that drumbeat, to communicate with you about what's going on, to solicit your input on new proposals and that is something that we want to continue to do in an optimal way."
She said that APPA wants to "work to continue to distill these complex issues and provide them to you in digestible and understandable ways."
APPA is "focusing on prioritizing our efforts and resources deployed for education and training, engineering services and benchmarking, among other things that we do," Ditto said.
"Our programs are excellent and we want to ensure we continue to provide excellent services without inadvertently trying to boil the ocean," she said. "We want to be able to prioritize what we're doing for you," Ditto told Association member officials at the Legislative Rally.
She pointed out that the Legislative Rally, APPA's National Conference and Legal and Regulatory Conference all allow for APPA to effectively engage with its members.
On the engineering services side of APPA, "our Reliable Public Power Provider program is a huge benefit to you all to understand where you are vis-a-vis others and get that peer-to-peer review and feedback about your reliability."
Ditto also highlighted the benefits of APPA's Demonstration of Energy & Efficiency Developments (DEED) program.
Across the board, DEED is one of the most beneficial programs that APPA offers to its members, she noted. "It's an innovation program, a grants program where we can provide seed money for you all to try things on the ground," Ditto said.
Ditto took the reins as APPA's President and CEO on Jan. 13.
Prior to being named president and CEO of APPA, Ditto was the president and CEO of the Utilities Technology Council, a global trade association representing electric, gas, and water utilities on their mission-critical information and communications technologies.
Before joining UTC, Ditto was with the Association for 15 years, rounding out her tenure as the senior vice president for legislative and political affairs.