A subscription plan concept for the energy industry with characteristics similar to Netflix and Verizon was outlined by Navigant's Lon Huber on Feb. 10 at a National Association of Regulatory Commissioners (NARUC) panel that focused on rate design innovations.
In his remarks during a panel discussion at the NARUC Winter Policy Summit in Washington, D.C., Huber, a director at consulting firm Navigant, said it was important to understand some of the trends that are occurring around the rate design space.
"We have declining or flat traditional usage" on a customer basis. There are also low energy costs and less volatility, "but we still have high peak infrastructure costs," Huber told the NARUC meeting audience.
In addition, advanced metering is "spreading to more and more customers out in the U.S. and the customer classes, and then an abundance now of onsite technology that can go into the home or business that's connected through low-cost means," he said.
Other trends include electric vehicles, which Huber said, "are on the horizon, but will be coming in a big way," as well as grid-scale renewable energy.
Huber said that all of these trends are having a large impact on the energy industry "and many of these have not really been around for very long and so the question is how do our pricing structures modernize to reflect this new reality?"
He said that "we've had over a hundred years of a certain set of industry trends that has shaped pricing," but now with these more recent trends, "I would argue that it's time to think a little bit bigger."
What do customers want?
In the context of the industry being at this inflection point, the question goes back to what customers want, the Navigant director said.
"I've been a part of several surveys that go out to customers and" there are common themes that emerge, Huber told the state utility regulators.
For example, for the most part, customers do not understand the common energy terms "that we all throw around." A slide presentation by Huber at the summit also said that that most customers spend very little time reviewing their bill and are unlikely to know what they're paying for. Instead, they look at the total amount due.
Also, a majority of customers have experienced higher than expected electricity bills, the Navigant official noted.
Huber said that customers ultimately desire increased control over their bills and exhibit favorability towards having options.
"Other really successful companies out in the economy have cracked this code," he said. One of his presentation slides provided an example of Netflix and Verizon pricing structures, "where it's simple, but it also offers some choice and control."
An energy service subscription plan
"What if we were to have a little bit of a thought experiment and apply this to the energy world?" Huber said at the summit. "How would that look?"
He has developed a term, energy service subscription pricing, that attempts to try to break down "how this would look."
An energy service subscription plan would allow a customer to pay a fixed monthly bill for energy use and it would be a custom rate for that customer, "based on their historic usage, their selected perks, and how much flexibility they have in their load or they would like to offer for their load," Huber said.
The subscription plan would allow a customer to swap their volumetric risk to another party and it can be a long-term lock, "which is key," he said.
Also, the customer would be outfitted with a variety of different onsite technologies to "essentially help with communication and control of key load sources within the home," Huber added.
"Most importantly, it can be designed to bring much needed upgrades and weatherization upgrades and comfort upgrades to homeowners that might not have the upfront capital because it will be based and built into their subscription," the Navigant executive went on to say. "A lot of the upgrades would have the positive effect of reducing their cost of service."
Huber's presentation included a slide with a mock up to illustrate how such a plan could look (He underscored the point that the slide did not represent an actual proposal). It shows, he said, how different types of "Netflix style choices" could be offered with different levels of clean energy and devices at the home and the more flexibility a customer would give, then the lower the price.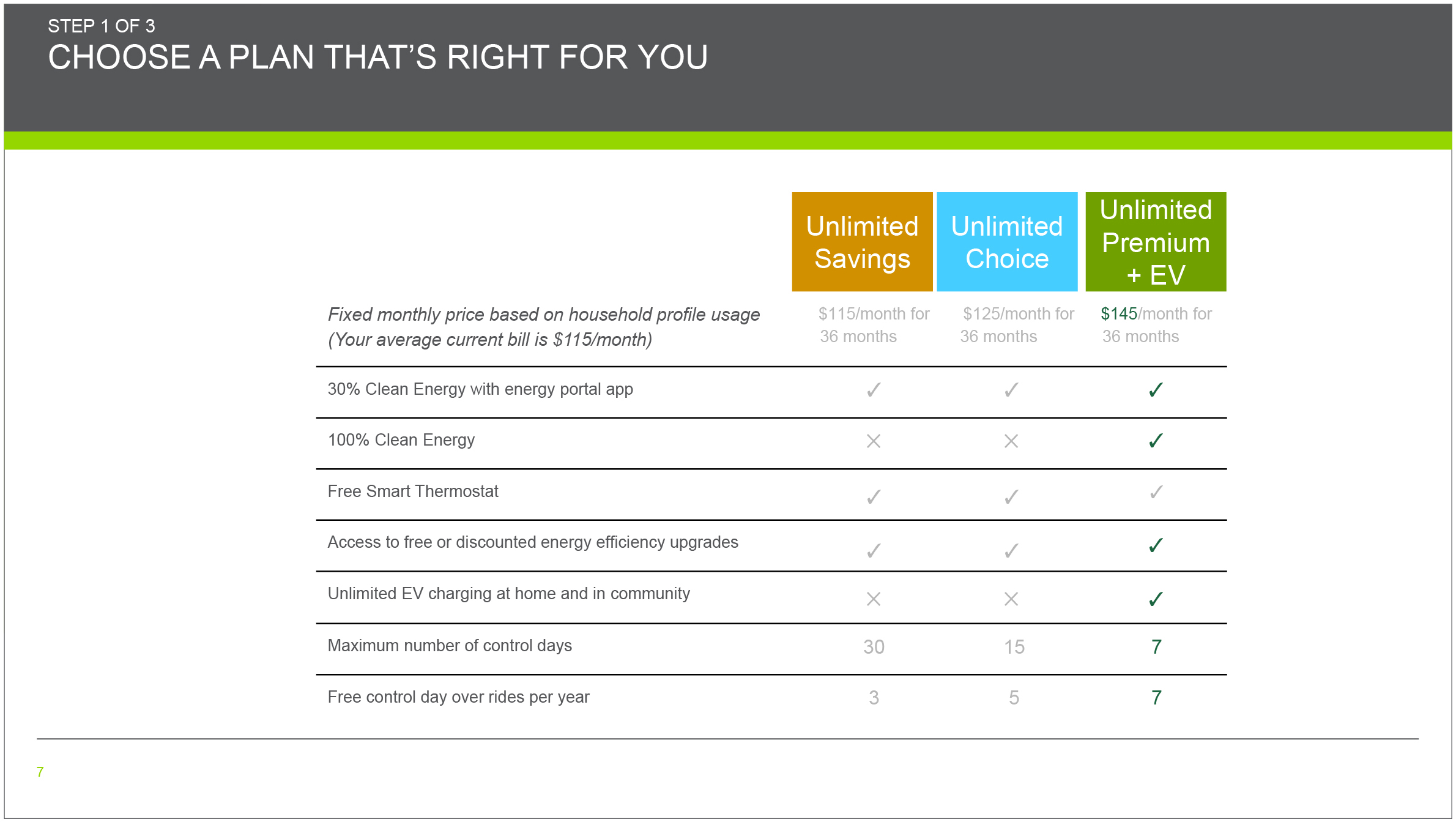 "You would have the utility or aggregator in the background that manages their cost of service to overcome the moral hazard effect of not having the price risk on the actual customer," he said.
Huber said that with respect to his energy plan concept, this could be a "win-win-win" for parties and customers "that aren't the tech enthusiasts to handle the complex rates."
He said that "this is not a way to increase consumption. It's a way to have a more sophisticated entity manage the consumption." There would be conservation obligations and price signals "throughout this, it's just the customer is somewhat masked by that."
In addition, there would be business symmetry "with whoever the provider is – they will be on the hook for any overage in the cost to serve, but they'll also gain between the cost to serve and the subscription rate."
And there would also be low-to-moderate income homeowner benefits, with access to a predictable and stable bill and home upgrades.
Moreover, Huber said the concept he is laying out "is very customer-centric and friendly and really forces the provider to provide really excellent customer service."
Huber wrapped up his presentation by noting that the subscription-style transaction "is actually gaining a lot of popularity in other segments of the economy for a variety of reasons." A slide from his presentation noted that analysts say that investors are giving higher valuations to companies with a subscription business than those with transactional sales.