Whether it is successfully responding to the COVID-19 pandemic and natural disasters or building a more united and comprehensive response to the evolving threat of cyberattacks, connectivity has provided the public power community with the ability to successfully respond to these challenges, said Joy Ditto, President and CEO of the American Public Power Association (APPA), at APPA's National Conference in Orlando, Fla., on June 21.
Public power's connectivity "is important because we are a community," Ditto said. "That is an important part of who we are. I say that not just to tout the importance of APPA, although of course your membership and participation are crucial, but because it defines who we are as part of the broader electric sector." 
For over 80 years, the entire public power community "has not only shared information and insights into best practices but have grappled with difficult federal policy issues. Issues such as transmission rates, regional transmission organizations and wholesale electricity markets, comparable tax incentives, environmental regulation, cyber security, and climate change policy, to name several."
On the issue of climate change, "in early 2020 you all coalesced around a broad position that Congress should act on climate change in federal legislation. You've made it clear that that legislation should ensure that the affordability and reliability of electricity must be weighed equally with greenhouse gas emissions reductions – this is a three-legged stool."
Ditto noted that she often remarks that public power utilities "are representatives of the variety of perspectives embodied in our great country – and if your blue, red and purple communities in large cities and very small towns can come together around difficult policy positions like this one, then anything is possible. It gives me hope."
In addition to working through a myriad of COVID-19 related challenges this year public power's connectivity "helped us through many natural disasters. The public power mutual aid network has been an enduring testament to our connection – one that some surmised might suffer in the pandemic."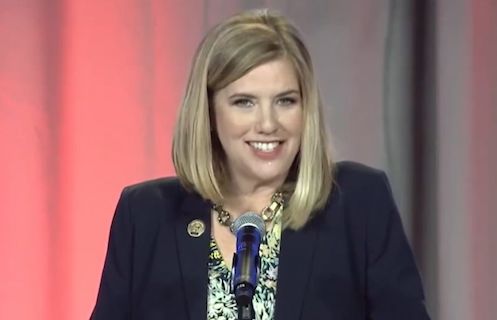 In addition, public power's connectivity "helps us to have a more united and comprehensive response to another evolving threat: cyber-attacks. From threats garnering national headlines such as the SolarWinds compromise and the Colonial Pipeline ransomware attacks – our communities are seeing how critical infrastructure is threatened by cyber criminals and nation-state adversaries thousands of miles away," Ditto said.
"As far as we know, a cyber-attack has not yet resulted in a power outage in the U.S. to date, but we do know that public power utilities are not immune to such attacks, and we are dedicated to helping you mitigate your risk."
"By curating the most critical information, finding ways to tailor industry information for public power, and connecting regularly as a community – our connectivity helps to protect us," Ditto said.
 A full, fair seat at the transition table
"We know that members, reflective of the country as a whole, approach climate change topics from very different angles depending on their resource mixes," she said.
A CEO-led task force has created multiple working groups to determine if there are areas of consensus on federal climate legislation, such as a clean energy standard.
"It's clear from the conversations thus far that most agree that a net-zero carbon emissions goal by 2035 is unachievable by the majority of public power utilities and that a 2050 goal would still be difficult, but perhaps more achievable if there are breakthroughs in technology and the siting and permitting process is reformed. Infrastructure buildouts are often hampered by lengthy federal permitting processes. Given the scale at which transmission and new generation will need to be built, Congress and the Administration need to address this significant obstacle to getting to net-zero emissions."
But these discussions "have shown that public power has significantly reduced greenhouse gas emissions and will continue to do so if given additional time, comparable tax incentives, and stranded cost recovery -- and assuming major technological breakthroughs that will help with maintenance of reliability and affordability," Ditto went on to say. 
"We each have a deep commitment to our communities – wanting to be the best providers we can be, to embody environmental stewardship, to practice safety and reliability, and to uphold the tenets of the public power model. Acting on what the community wants means being nimble. That can be hard."
Mitigating climate change "is one of the biggest issues of our time, and we are the ones on the ground who have to tackle it head on," she said.
"We have been approached and asked for our position by policymakers, members of the media, and more. And while we share our perspective, we know that our position and actions are both aspirational and grounded – we need to be," Ditto said.
"We are the ones who must temper the ideals of making a transition with the practical realities of where the technology and industry capabilities are in terms of cost and reliability. And we need a full, fair seat at the transition table. That's why one of our top advocacy priorities is comparable tax incentives. Because you can't leave out 30% of the industry, which is us combined with rural cooperatives, and still expect to get to 100% of anything."
APPA is encouraged by the direction of policy discussions in Washington, D.C., on this issue, which is "a testament to our ongoing lobbying efforts. We're on the brink of gaining access to a comparable tax incentive for clean energy development in the form of a direct-pay refundable credit."
There is bipartisan support for the Clean Energy for America Act, which includes a provision for the credits, and the act has the backing of key leadership in both the House and Senate. When passed, this type of credit will allow public power utilities to directly own applicable energy projects and pass the savings from the incentives back to customers.