With aggressive cost reductions, supportive policies and large-scale electrification, solar energy could account for as much as 40% of the nation's electricity supply by 2035 and 45% by 2050, according to a study released on Sept. 8 by the U.S. Department of Energy's (DOE) Solar Energy Technologies Office (SETO) and the National Renewable Energy Laboratory (NREL).
To reach these levels, solar deployment will need to grow by an average of 30 gigawatts alternating current (GWac) each year between now and 2025 and ramp up to 60 GW per year between 2025 and 2030 -- four times its current deployment rate -- to total 1,000 GWac of solar deployed by 2035. By 2050, solar capacity would need to reach 1,600 GWac to achieve a zero-carbon grid with enhanced electrification of end uses, such as motor vehicles and building space and water heating.
Preliminary modeling shows that decarbonizing the entire U.S. energy system could result in as much as 3,200 GWac of solar due to increased electrification of buildings, transportation, and industrial energy and production of clean fuels.
Study Used Three Core Scenarios
The Solar Futures Study uses a suite of detailed power-sector models to develop and evaluate three core scenarios. The "Reference" scenario outlines a business-as-usual future, which includes existing state and federal clean energy policies but lacks a comprehensive effort to decarbonize the grid.
The "Decarbonization" (Decarb) scenario assumes policies drive a 95% reduction -- from 2005 levels -- in the grid's carbon dioxide emissions by 2035 and a 100% reduction by 2050. This scenario assumes more aggressive cost-reduction projections than the Reference scenario for solar as well as other renewable and energy storage technologies, but it uses standard future projections for electricity demand.
And the "Decarbonization with Electrification" (Decarb+E) scenario goes further by including large-scale electrification of end uses.
The study also analyzes the potential for solar to contribute to a future with more complete decarbonization of the U.S. energy system by 2050, although this analysis is simplified in comparison to the grid-decarbonization analysis and thus entails greater uncertainty, DOE noted.
Even under the Reference scenario, installed solar capacity increases by nearly a factor of seven by 2050, and grid emissions decline by 45% by 2035 and 61% by 2050, relative to 2005 levels, DOE said. "That is, even without a concerted policy effort, market forces and technology advances will drive significant deployment of solar and other clean energy technologies as well as substantial decarbonization," the study said.
The study said that the target-driven deep decarbonization of the grid modeled in the Decarb and Decarb+E scenarios yields more extensive solar deployment, similarly extensive deployment of wind and energy storage, and significant expansions of the U.S. transmission system.
In 2020, about 80 gigawatts (GW) of solar, on an alternating-current basis, satisfied around 3% of U.S. electricity demand. By 2035, the decarbonization scenarios show cumulative solar deployment of 760–1,000 GW, serving 37%–42% of electricity demand, with the remainder met largely by other zero-carbon resources, including wind (36%), nuclear (11%–13%), hydroelectric (5%–6%), and biopower/geothermal (1%).
By 2050, the Decarb and Decarb+E scenarios envision cumulative solar deployment of 1,050–1,570 GW, serving 44%–45% of electricity demand, with the remainder met by wind (40%–44%), nuclear (4%–5%), hydropower (3%–5%), combustion turbines run on zero-carbon synthetic fuels such as hydrogen (2%–4%), and biopower/geothermal (1%). Sensitivity analyses show that decarbonization can also be achieved via different technology mixes at similar costs, the DOE noted.
Although the study emphasizes decarbonizing the grid, the Decarb+E scenario envisions decarbonization of the broader U.S. energy system through large-scale electrification of buildings, transportation, and industry. In this scenario, electricity demand grows by about 30% from 2020 to 2035, owing to electrification of fuel-based building demands (e.g., heating), vehicles, and industrial processes. Electricity demand increases by an additional 34% from 2035 to 2050. By 2050, all these electrified sectors are powered by zero-carbon electricity. In this scenario, the combination of grid decarbonization and electrification abates more than 100% of grid CO2 emissions relative to 2005 levels.
With respect to the broader U.S. energy system, the Decarb+E scenario reduces CO2 emissions by 62% in 2050, compared with 24% in the Reference scenario and 40% in the Decarb scenario. The 38% residual in the Decarb+E scenario reflects emissions from direct carbon-emitting fossil fuel use, primarily for transportation and industry.
"We do not model elimination of these remaining emissions in detail, but a simplified analysis of 100% decarbonization of the U.S. energy system by 2050 shows solar capacity doubling from the Decarb+E scenario -- equating to about 3,200 GW of solar deployed by 2050 -- to produce electricity for even greater direct electrification and for production of clean fuels such as hydrogen produced via electrolysis."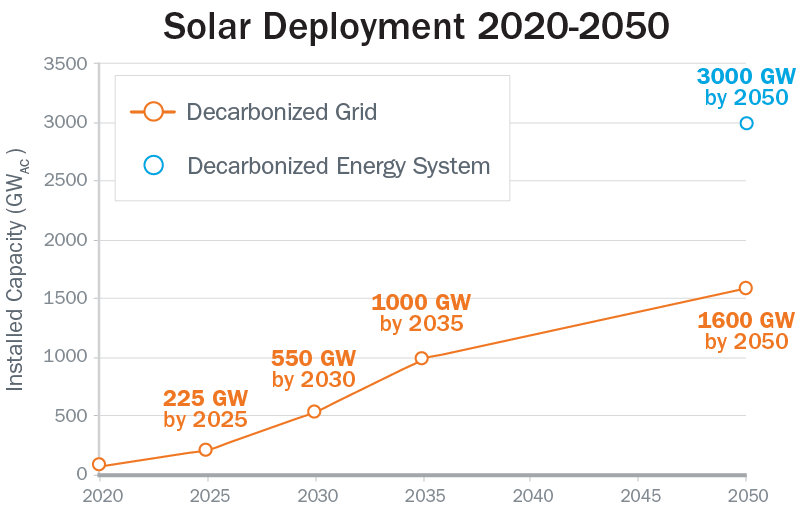 Additional Key Findings
Additional key findings of the study include, among others, the following:
Achieving the decarbonization scenarios requires significant acceleration of clean energy deployment;

Continued technological progress in solar—as well as wind, energy storage, and other technologies—is critical to achieving cost-effective grid decarbonization and greater economy-wide decarbonization;

Solar can facilitate deep decarbonization of the U.S. electric grid by 2035 without increasing projected 2035 electricity prices if targeted technological advances are achieved;

For the 2020–2050 study period, the benefits of achieving the decarbonization scenarios far outweigh additional costs incurred;

Maintaining reliability in a grid powered primarily by renewable energy requires careful power system planning; and

Although land acquisition poses challenges, land availability does not constrain solar deployment in the decarbonization scenarios
In addition, the study said that challenges must be addressed so that solar costs and benefits are distributed equitably. "Low- and medium-income communities and communities of color have been disproportionately harmed by the fossil-fuel-based energy system, and the clean energy transition presents opportunities to mitigate these energy justice problems by implementing measures focused on equity," the study said. The study "explores measures related to the distribution of public and private benefits, the distribution of costs, procedural justice in energy-related decision making, the need for a just workforce transition, and potential negative externalities related to solar project siting and disposal of solar materials."
Solar Futures Study Is Third In A Series Of Studies
The Solar Futures Study is the third in a series of vision studies from SETO and NREL, preceded by the SunShot Vision Study (2012) and On the Path to SunShot (2016).
While the previous studies focused on the impacts of low-cost solar technologies on the economy, this study dives into solar energy's role in a decarbonized grid and provides analysis of future solar technologies, the solar workforce, and how solar energy might interact with other technologies like storage.