A Q&A with Rep. John Curtis, who represents Utah's third district. Prior to being elected to Congress, Curtis served as mayor of Provo and as chair of the American Public Power Association's Policy Makers Council.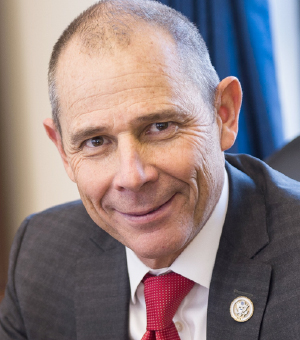 You were the mayor of Provo, which is powered by a community-owned utility. What did you see in terms of citizen involvement in decision-making and the impact on the community?
When I started as a new mayor in Provo, power rates had not been increased in almost 20 years. Prices began skyrocketing, and our reserves were being depleted. I had to be the one to deliver the bad news to my residents. We rolled out an aggressive engagement strategy, which included dozens of town halls, meeting with the press, and engaging with community leaders, because it is vital that Americans have a say in the decision making that affects them. We used the opportunity to listen to our residents and make them feel part of the decision-making process. In the end, not one ratepayer came to our public hearing when we increased prices, because they felt like they were a part of the process.
How has your time working with a public power utility as a local elected official shaped your perspective on national energy (or other) policy?
Before I set foot in the halls of Congress as a member, I participated in advocacy trips with the American Public Power Association to represent the needs of the people of Provo. In my current role, I rely on flyouts to D.C. from Association members and others to stay up to date with the needs of my constituents. Their firsthand experiences help me make informed decisions when I am voting on the House floor or pushing legislation. For example, after having many conversations with local leaders, I introduced the SPEED Act, a bill designed to help streamline the process for responsible energy projects and ensure communities in Utah have access to cheap and reliable energy.
How did being a mayor prepare you for being a member of Congress?
I'm a strong believer that some of our best elected officials serve at the local level. That's where so much of the real work is done. Being a mayor helped prepare me for knowing how to solve difficult problems and how to communicate with residents. Eight years of tough and honest conversations with my constituents have helped me build a foundation of trust and an expectation that while I may be voting in D.C. now, I will always listen to and do what's best for my neighbors in Utah. 
When you go back home, how do you stay connected with your constituents? 
Since being in Congress, I have averaged almost 10 town hall meetings a month and have held at least one in every county of my district. Having face-to-face conversations about any issue my constituents want to bring up is my favorite way to get feedback and suggestions. It has always been important for me to be accessible, and it is essential to doing my job in Congress. One of my favorite town hall meetings was a walking town hall. I invited Utahns to join me for a Hiking Town Hall to discuss how we could be better stewards of the earth. The group ranged in age from 8 to 80, and we enjoyed a 10-hour hike up one of Utah's most beautiful mountains.
What have been your priority issues this year, and how do these relate to what you are hearing from your constituents?
There are a number of issues I am focused on addressing, from representing Utah on the House Foreign Affairs Committee to ensuring small business owners have access to capital. One of my highest priorities is working with local stakeholders to address some very difficult public lands issues. In some of my counties, over 90 percent of the area is public land. Many of these counties are energy rich and the local economies depend on an efficient and fair permitting process. The decreased use of coal in some areas has left them with high unemployment and other challenges. I've made it a high priority to be their advocate and help them work through these difficult issues. 
What are the most effective ways that local policymakers can connect with national policymakers?
As part of the Association's Policy Makers Council, I always enjoyed coming to visit my representatives in Washington. Now as a congressman, I find that it is very important to stay in touch with my local leaders. I know from firsthand experience that they have their hands on the pulse of the district and have invaluable insight that comes with their job. It's important for me to remember I work for them and that the heavy lifting comes at the local level.