City Utilities of Springfield, Mo., on Nov. 2 formally dedicated and put in service a battery energy storage system that will allow for the use of renewable energy to charge the batteries during off-peak times and then discharge at times of peak demand. The storage system is located at an electric substation.
City Utilities first unveiled the project and its partnership with NorthStar Battery earlier this year.
Scott Miller, general manager of City Utilities, spoke at the dedication ceremony, along with Ann Marie Baker, chair of the Board of Public Utilities for City Utilities, and Dr. Frank Fleming, co-founder of NorthStar Battery. Fleming currently serves as senior technical advisor for NorthStar Battery.
In his remarks, Miller noted that City Utilities' current generation supply portfolio includes solar energy, wind power, hydro, as well as landfill gas in partnership with the city of Springfield, Mo.
In 2017, City Utilities estimates that over 35% of the energy delivered "to this community is going to come from renewable energy," he said.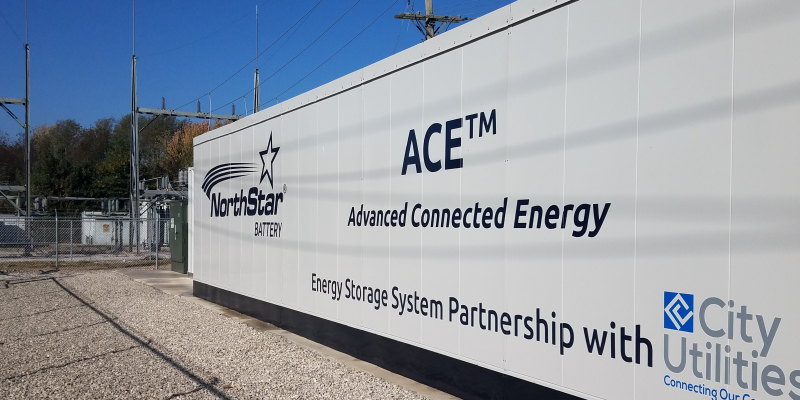 The new storage system "is just another example of what we're trying to do to balance renewables in our system," Miller went on to say. Moreover, the system can serve as a research project that, if successful, could show that battery storage can be economic in the central part of the U.S., Miller said.
He added that the project could allow "us to take those intermittent, renewable energy sources and incorporate those not only" for City Utilities, "but also across the United States electric grid."
Miller praised NorthStar Battery, from both a technology and personnel perspective. NorthStar Battery is "world class when it comes to battery technology and battery storage systems," he said. "As we worked with them on the project, what we found out is the folks who work for NorthStar Battery are top-in-class."
A news release issued by City Utilities said that the energy storage system is comprised of 1,140 12-volt batteries that combined will provide an additional 1 MWh of electric energy to the utility's electric distribution grid.
One of the unique aspects of the storage system is that it consists of advanced sealed lead acid batteries manufactured by NorthStar, which has a factory in Springfield. The batteries will not only be made locally in Springfield, but also will be recyclable.
In his remarks at the dedication ceremony, Fleming said that "we can draw power when we need to, we can deploy power when we need to, and in the event of an ice storm, we have two-and-a-half-megawatt hours of energy available for the local community."