As part of a broad electric vehicle initiative, Austin Energy has started EVs for Schools, a program that brings EV curriculum and charging stations to Austin public schools.
The public power utility serving the Austin, Texas, area partnered with ChargePoint and Smart Charge America to provide and install dual-port charging stations at four Austin schools. School staff, students, parents and visitors can use the EV charging stations.
Currently there are charging stations at three high schools and one middle school and the Austin Independent School District plans to retrofit 17 additional campuses in the coming months. Also as part of EVs for Schools, all AISD campuses will receive educational materials related to EVs.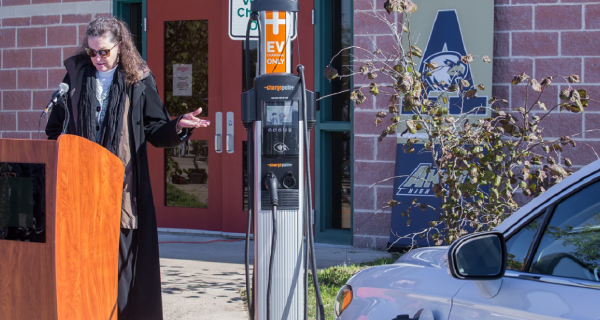 The charging stations will serve as "living labs," said Amy Atchley, senior project lead for Austin Energy's EV and emerging technologies team. Students will use the charging stations to collect data and measure usage.
Austin Energy on Nov. 14 held a ribbon cutting ceremony for the program, which included hands-on demonstrations and is the first of its kind in Texas.
"It was great to watch the kids light up," Atchley said. "I see this generation excited about technology and solutions to accelerate a sustainable future."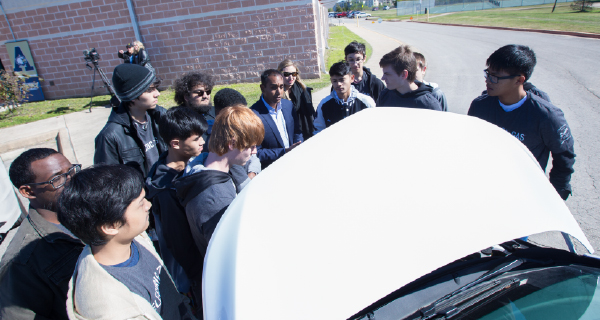 The school program is part of Austin Energy's overall EV program, which was launched in 2011. The program is partly driven by Austin's goal of having net zero greenhouse gas emissions by 2050, according to Atchley. The transportation sector is quickly becoming the largest source of greenhouse gas emissions, she noted.
Austin Energy has installed about 750 public Level 2 EV charging ports at retail, workplace, multifamily and fleet locations. The utility is in the process of installing 34 DC fast chargers in the Austin area over the next two years. The chargers are powered by Texas wind generation through Austin Energy's GreenChoice program, said Atchley.
Austin Energy's customers pay $4.17 per month to have unlimited access to the utility's public charging stations.
The school program, which will expand to other schools, is part of an Austin Energy initiative called EVs for EVeryone, which focuses on getting EVs into low- and moderate-income communities.
"Success with this unique partnership will help Austin achieve its affordability and climate protection goals and opens the door to launch programs like it in other schools and school districts in the Austin area," said Jackie Sargent, Austin Energy General Manager.