The American Public Power Association's Legislative and Resolutions (L&R) Committee on Feb. 25 approved a resolution voicing support for congressional action to address climate change but doing so in a way that maintains a reliable grid with affordable rates for retail customers.
Speaking with reporters at APPA's Legislative Rally in Washington, D.C., where the resolution was approved, Joy Ditto, President and CEO of the Association, noted that APPA has had a climate change resolution for more than 10 years, but felt that now was the time to refresh the resolution.
The climate change resolution, which was passed unanimously, says that Congress must recognize regional power generation and consumption differences, consider all non-emitting power sources, and rely on technologies that are demonstrated and economically feasible.
"What we want as public power is really a legislative approach that is economywide" and allows public power to "get credit for early action because we have made significant progress on greenhouse gas reductions," Ditto said. Moreover, electricity must remain affordable and reliable, she said.
The last climate change resolution was passed by APPA members in 2007.
"The world has evolved, in my view, in the last thirteen years," Ditto said. "I think you see an evolution of the desire to address climate change, but also move forward on clean energy. There are obviously concerns that we have about affordability and how you do that, so the devil is definitely still in the details in terms of how we move forward."
Moreover, there is a recognition that the current Clean Air Act "is not the place to regulate greenhouse gas emissions," Ditto went on to say. "We've seen how that has evolved" in terms of the legal and regulatory process over the last thirteen years.   
Desmarie Waterhouse, Vice President, Government Relations and Counsel at the Association, said that there is recognition "that something is going to eventually happen here in D.C. on climate and we think it's best done on the legislative level."
Waterhouse also said that if Congress were to decide that coal generation needed to be phased out, such a move needs to take into account the fact that there are public power utilities that have existing debt on coal facilities.
"We want to make sure that those utilities and their communities are not harmed and that there are ways to help them transition in a way that wouldn't hurt their economies, and wouldn't hurt the utility and their customers," she said.  
Comparable incentives
Another key resolution approved by the L&R Committee and a legislative priority for the APPA this year involves comparable tax incentives.
With respect to comparable incentives, the Association believes that if Congress is going to continue to use the tax code to drive federal energy and environmental policy, public power must be able to take advantage of incentives, such as the wind production tax credit and the solar investment tax credit.
"Public power has long supported development of renewable energy of all types and, in fact, we've been first movers," Ditto said.
However, tax credits cannot be used by tax-exempt entities like public power. "If the tax code continues to be used to promote clean energy either under a climate framework or otherwise, we have to figure out (how) to use those credits," Ditto said.
She noted that public power utilities can indirectly benefit from energy tax credits when purchasing power from entities that can, but it is unclear how much of the value of the credit flows through to the purchaser in those arrangements.  Instead allowing public power utilities to directly benefit from these tax credits would ensure that all the value is retained by the utility.
Even if a utility still wanted to purchase power from a qualified facility, rather than own that facility, public power would benefit from the availability of a comparable incentive, she said. "Knowing that we had access to a comparable incentive, we'd be able to negotiate a better rate," Ditto said.
There are several pieces of legislation pending on Capitol Hill that the Association supports that include some form of comparable incentives.
Here are details on the other resolutions passed by the L&R Committee:
Guarding Sensitive Utility Information: APPA urges Congress to amend the definitions of critical electric infrastructure and defense critical electric infrastructure in the FAST Act to explicitly include cybersecurity measures and assets.
Spectrum Protection: APPA would oppose any Federal Communications Commission order allowing unlicensed devices to operate in the 6 GHz band without appropriate demonstration that frequency coordination technology would effectively mitigate interference with vital utility communications.
Self-Supply Preservation: APPA urges the Federal Energy Regulatory Commission to grant rehearing of its orders pertaining to the unreasonable and unlawful decision to apply a Minimum Offer Price Rule to new public power self-supply resources in the PJM Interconnection.
Members of the Association's L&R Committee meet once a year to propose and vote on new policy resolutions, which are then voted on by all Association members.
"I appreciate APPA's ongoing efforts to afford all members an opportunity to shape the Association's policy positions – and especially want to recognize the hardworking APPA team for all their efforts to ensure that we are fully briefed on the issues," said Tanya DeRivi, Vice-Chair of the L&R Committee in discussing the importance of the process at the L&R Committee.
The Legislative Rally "represents an incredibly important opportunity for public power to exercise our collective voice and to positively influence federal policy outcomes," said DeRivi, Director of Government Affairs at Southern California Public Power Authority.
Nicki Fuller, Executive Director at Southwestern Power Resources Association, serves as chair of the L&R Committee.
Legislative priorities for 2020
Along with climate change and comparable incentives, APPA's legislative priorities for this year include modernizing municipal bonds to support electric system investments, strengthening industry/government partnerships for a secure grid, supporting the adoption of electric vehicles, and preventing the sale—in whole or in part—of the Power Marketing Administrations and the Tennessee Valley Authority.
 With respect to municipal bonds, the Association would like to see Congress take the following actions:
Reinstate advance refunding bonds;

­Stop sequestration of Build America Bonds;

­Simplify private-use rules; and

­Increase the small-issuer exception to $30 million
In terms of EVs, APPA wants to ensure federal incentives for EVs are available to public power and its customers and promote EV policies that prioritize system reliability, flexibility, and local choice.
Delia Patterson, Senior Vice President, Advocacy & Communications and General Counsel, pointed out that the Association has partnered with Nissan to offer its member public power community across the U.S. exclusive rebates on EVs. Specifically, the rebates are available for the all-electric 2019 Nissan LEAF through March 31, 2020.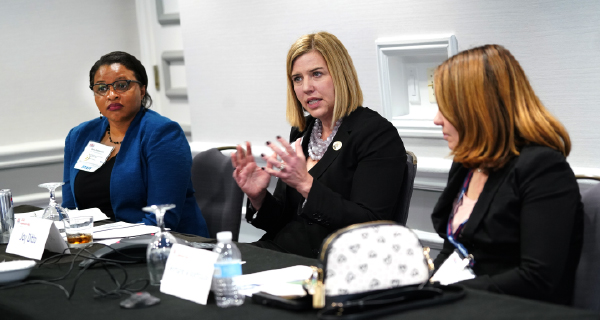 Meetings with FERC Commissioners
Along with meeting with lawmakers and congressional staff, the Legislative Rally offers the opportunity for Association officials and public power executives to meet with FERC Commissioners.
Ditto was joined by officials from American Municipal Power, the Indiana Municipal Power Agency, and Lincoln Electric System in meetings this week with FERC Commissioners (see this related tweet from the Association).
Ditto noted that at these meetings, public power officials raised transmission issues with Commissioners.
"We come back to a very commonsense approach around transmission planning," she said. Specifically, the more joint ownership there is among public power, investor-owned utilities and cooperatives "where it makes sense, it goes much better" in terms of things like siting.
FERC last year issued two notices of inquiry, the first in which it sought comments on possible changes to its electric transmission incentives policy, and one in which FERC said it was examining whether, and if so how, to revise its policies on determining the allowed return on equity used in setting rates charged by utilities it regulates (Docket Nos. PL19-3, PL19-4).
In August, the Association joined more than 40 entities in a letter sent to FERC commissioners that said that  against the backdrop of increasing transmission costs, FERC should strive to ensure that those costs remain at a reasonable level for consumers as it weighs possible changes to its transmission incentives and return on equity ROE policies.