To honor National Hispanic Heritage Month – commemorated September 15 to October 15 – the American Public Power Association's Public Power Current is proudly spotlighting our Hispanic heritage colleagues across the United States and our U.S. territories. Observance began in 1968 as "Hispanic Heritage Week" and was later expanded by federal law to cover a 30-day period beginning on September 15. That date marks the independence anniversary for Costa Rica, El Salvador, Guatemala, Honduras, and Nicaragua; Mexico and Chile celebrate their independence days on September 16 and September 18, respectively.
We begin our coverage by profiling some of public power's Hispanic heritage leaders at the chief executive and governing body leadership levels. We hope you enjoy getting to know them better as much as we are honored to help celebrate the rich histories, cultures, and contributions of our fellow colleagues whose ancestors came from Spain, Mexico, the Caribbean, and Central and South America.  
Our second feature article, to follow in early October, will detail how mentorship programs have helped to develop and promote Hispanic heritage employees at public power utilities.
Imperial Irrigation District (IID) – Imperial, California
Henry Martinez serves as IID's chief executive, managing one of the nation's largest irrigation districts and California's third largest public power provider. He has over 45 years of utility sector experience with increasing responsibility involving administration, technical, and field organization positions. His tenure includes nearly 25 years with Southern California Edison, 10 years with the Los Angeles Department of Water and Power, and seven years with the Tennessee Valley Authority. An engineer by training, he also pursued graduate-level executive training at Pepperdine University and at the University of Virginia.
Having worked for both investor-owned and public power utilities, Martinez appreciates how not-for-profit utilities work to safely provide reliable, low-cost electricity and high-quality customer service. "It also means you get a utility that cares about the overall well-being and growth of your community by providing a transparent and committed public provider to the communities it serves," he said.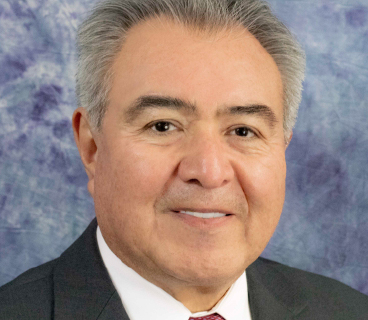 The community-owned utility also strives to reflect the population it serves. IID serves Riverside and Imperial counties, the latter of which shares a border with Mexico and where Hispanics comprise 84% of the population.
Amongst the members of IID's governing board is Division 5 Director Norma Sierra Galindo. A homegrown talent, she has served as both the board's president and vice president during her nearly decade-long tenure and, before that, was appointed to IID's Energy Consumers Advisory Committee, serving for eight years.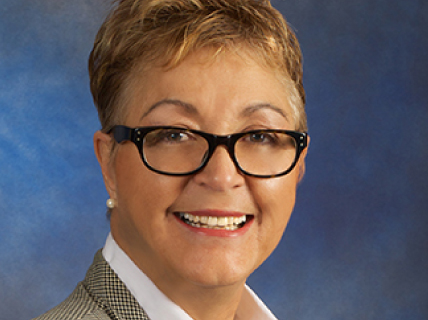 Martinez is the first of our Hispanic heritage leaders to offer advice on recruiting and mentoring more Hispanic workers to join and eventually lead public power utilities. "Expanding the opportunities for high-potential talent to network and develop leadership and managerial skills for personal growth" is important within IID, he said.
"Give them the tools and skills needed to accelerate their development into the executive ranks, bring them a step closer into leadership roles, and promote the value of a bicultural influence," he added. Martinez said that providing scholarships to local Hispanic students who want a career in public power can help show them how to become an influential Hispanic leader within the organization. "Also, joining a STEM advisory board at a local college or university to provide curriculum input and work with students to develop career options following graduation," he advised.
Puerto Rico Electric Power Authority (PREPA) – San Juan, Puerto Rico
Efran Paredes Maisonet, P.E., serves as Executive Director of PREPA. He joined PREPA in February 2000 as General Engineer Supervisor in the Planning and Research Division, under which he was responsible for overseeing the planning and research for PREPA's Transmission System Division.
In 2009, he was appointed under the administration of former Governor Luis Fortuño as Deputy Advisor to the Governor in the Energy and Environment Sectors. In 2013, Paredes returned to PREPA in his former position as General Engineer Supervisor of Planning and Research Division.  In 2015, he was promoted to Director of the Planning and Research Division, where he oversaw the main areas, Generation, Transmission, Distribution, Renewables, Engineering Systems, Rates and Forecasts, of the power system from a planning standpoint.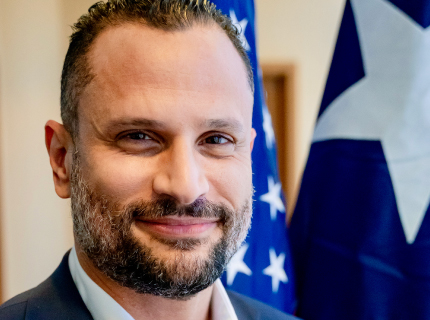 In August 2020, PREPA's Governing Board selected him as the Interim Executive Director for PREPA and in November 2020 he was appointed as Executive Director. He also serves as a Member of the Board of PREPA Net, a division of PREPA that offers a full range of information technology services. 
Paredes said that being part of the public power sector "represents a balance between two sides of a coin. On one side, you have the opportunity to be part of the technological development that will allow energy to reach every home and serve people in practically every aspect of their lives. You provide security to their homes, contribute to economic development in all sectors, such as tourism, entertainment, manufacturing industries, hospitals, pharmaceuticals, trade, in other words, energy is crucial to provide stability and development."
On the other side, "you have the responsibility to evolve, to transform the energy sector, to adapt it to the current times, facing the future, looking for new sustainable, reliable, cost-effective and efficient alternatives to ensure the energy supply," he said.
"I have worked for the Puerto Rico Electric Power Authority for the past 20 years, and exactly a year ago I became Executive Director of this public corporation and I am proud to be part of Puerto Rico's history and to contribute positively to the transformation and evolution of the energy system."
When asked if he has any advice for recruiting and mentoring more Hispanic workers to join the public power ranks, Paredes said that being a mentor is having the role as a trusted advisor. He noted that PREPA currently employs over 1,300 Hispanic workers, working in different areas from generation, dams, irrigation and administration.
"During the past 20 years at PREPA I have had the opportunity to meet and learn from various people with whom I have had the opportunity of working with, and in the same way shared my knowledge and experiences," he said.
"While I was working as a university lecturer my goal was to support and motivate my students to learn more about the public power systems," Paredes noted. He was eager for them to "desire in contributing their knowledge to the energy transformation of our island, a way of them giving back but mainly helping the Power Authority's transformation."
He said that every day "without a doubt is a challenge, every day we learn something new, every day is an opportunity to become part of the present and the future of the main source of energy for Puerto Rico."
Paredes studied at the University of Puerto Rico, Mayagüez Campus, where he obtained his Bachelor of Science Degree in Electrical Engineering. In May 1999, he graduated from University of Puerto Rico, Mayagüez Campus, earning his second degree fr0m his Alma Mater, a Master of Science in Electrical Engineering. His master's thesis research was on the Determination of Required Rapid Response Spinning Reserve to avoid under Frequency Load Shedding under Generation Deficiency Conditions in Puerto Rico's Electric Power System. After completing his engineering degree, he passed the Fundamentals of Engineering examination, becoming a Licensed Electric Engineer.
New York Power Authority (NYPA) – White Plains, New York
Bethaida "Bea" Gonzalez serves as one of seven gubernatorial appointees to NYPA's Board of Trustees. Born in Puerto Rico, she is a longtime Syracuse resident and a graduate of the State University of New York at Binghamton and Syracuse University's Maxwell School of Citizenship and Public Affairs. Gonzalez has over 40 years of experience in higher education with a distinguished record of public service. She has been appointed to high-level positions at Syracuse University and has been elected to public office three times.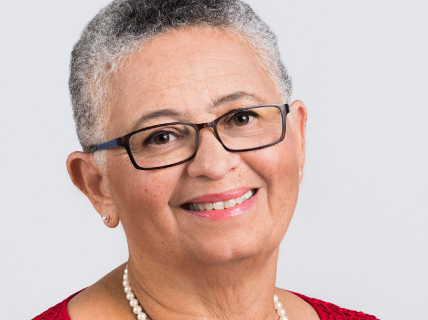 In 1991, she was the first Latina to be elected to the board of education in the City of Syracuse and, in 2001, was the first Latina elected as president of the city's Common Council. In 2017, she received the University Professional Continuing Education Association's Julius M. Nolte Award for Extraordinary Leadership. Last year, the Allyn Foundation – in partnership with Syracuse University, the COVID-19 Relief Fund, the Gifford Foundation, Reisman Foundation and the United Way – developed the "Bea Gonzalez Summer Scholars" program that serves over 800 youth.
She was drawn to public power as it represents a "common good" community asset to be leveraged. "Public power can be an economic catalyst – a leader in the shift from fossil fuels, and a leader in addressing issues of access, equity and inclusion by its actions and decisions," she said. More can be done to bring awareness about opportunities at public power utilities for young, underrepresented people. She suggested "building partnerships with school districts, working with educational opportunity programs at our institutions of higher education, youth development work with community- and faith-based organizations, and hosting events and programs for students to learn more about the many career opportunities within public power" as examples. 
Her work ethic and a sense of responsibility to doing a good job are rooted in her Hispanic heritage. "These values were modeled for me by multiple generations of my family," she said. "I stand on the shoulders of some amazing Latina women (and men) and have a responsibility to pay it forward. As a first-generation high school graduate, college graduate, elected official and many other firsts, it is imperative that I insure there be a second and third. I cannot be the first and the last."
Omaha Public Power District (OPPD) – Omaha, Nebraska
Javier Fernandez joined OPPD as vice president and chief financial officer in 2017 before being selected by the Board of Directors to serve as president and chief executive officer in July 2021. We appreciate the opportunity to have recently interviewed him on our Public Power Now podcast.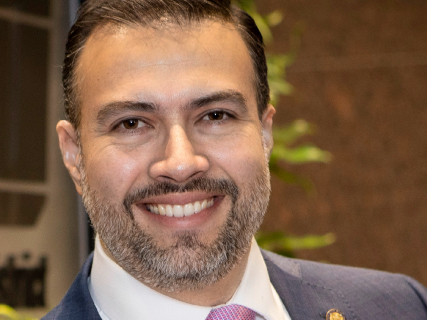 Fernandez previously worked for the Bonneville Power Administration in Portland, most recently serving as chief financial officer, and had worked for private financial services firms where he advised municipal entities before that. Fernandez holds a bachelor's degree in economics from the Instituto Tecnológico Autónomo de México in Mexico City, a Master of Business Administration degree from Yale University, a Utility Management Certificate from Willamette University in Oregon, and a Utility Executive Certificate from the University of Idaho. He currently serves as a board member of the Federal Reserve Bank of Kansas City (Omaha Branch), Bellevue University in Nebraska, and for Habitat for Humanity – Omaha.
Fernandez joined the public power sector after being inspired by his own journey to America. He left his home country and adopted the United States as his own after embracing the American Dream. Having studied America's history during high school in Mexico City, "I fell in love with the language in the Declaration of Independence: 'We hold these truths to be self-evident, that all men are created equal, that they are endowed by their Creator with certain unalienable Rights, that among these are Life, Liberty and the pursuit of Happiness.' Today, 21 years after having migrated into this country and now being a proud U.S. citizen, these truths ring just as true to me now as they did back then," he reflected.  
Fernandez wants to weave a purposeful thread as an industry leader. "The energy services we deliver are behind the unalienable rights quoted in the Declaration of Independence: A cleaner world and powering essential services that supports Life, customer representation in our elected boards that reflects Liberty and the pursuit of perfect power that enables Happiness. It's a powerful triad." He called public power a noble industry; one which serves customer-owners and where growth and learning are constants.
He also wants to help the next generation of public power leaders. "Unfortunately, the concept of public power – and public power career options – are also not widely known," he said. "This is especially true in communities where there are no family ties or traditions" with public power. Fernandez advised being more proactive in outreach to traditionally less represented communities in our workforce and to share public power's amazing story. "The value we deliver to the people who own these public assets is immense. We are stewards of incredibly valuable and critical assets, in an industry that is experiencing significant technological changes," so being part of the public power solution will help our nation thrive.
Brownsville Public Utilities Board (BPUB) – Brownsville, Texas
Sandra A. Saenz serves as Vice-Chair on the board at BPUB. She was a board member on CASA of Cameron and Willacy Counties for a number of years and is the owner of Spanky's Burgers & More, which has been in operation for more than 20 years.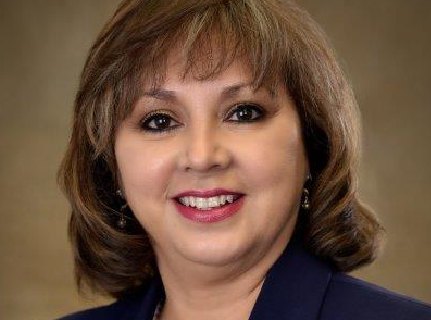 "As a Hispanic female, the main advice that I would give is to get involved with your community and your local schools," said Saenz. "The industry is rapidly changing, and we all need to be ready and willing to change with it. By staying involved within the schools in your area, this will create a great opportunity to mentor the professionals of today, tomorrow and the future."
She noted that BPUB is in a predominantly Hispanic area, "and we put a lot of focus on recruiting locally and promoting the talents of our community in the City of Brownsville. We go to local job fairs and career days. We offer internships for high school and college students. We push our job openings on social media, and we have reached out and formed a close relationship with local colleges."
It is "critical for BPUB to perform this outreach to educate people about who we are and build awareness of the opportunities we offer. You don't have to leave home to get a good job and a good education; you can make a difference right here within your community," Saenz said.
"Unlike other municipalities, public power provides the community with its own utility company, and because it is owned by the city, officials can help assure affordable rates and reliable service for its citizens. Decisions about the utility are made by people who live here and understand the challenges the area faces," she said.
BPUB was formally chartered by the city of Brownsville in 1960 to provide electrical, water and wastewater services to its customers in the southernmost part of Texas. Under the charter, management, operation and control of the city's combined water, wastewater and electric utility systems were delegated to the BPUB Board of Directors. The Board is composed of seven members: six appointed by the City Commission to four-year terms and the city's mayor serving as the seventh member (ex-officio).
The utility serves 51,000 industrial, commercial and residential customers with electric service, 52,000 industrial, commercial and residential customers with water service and 52,000 industrial, commercial and residential customers with wastewater service.
Our second feature article will follow in early October. In it we will detail how mentorship programs have helped to develop and promote Hispanic heritage employees.