Utility and other energy efficiency programs can realistically lower U.S. electric demand growth to 0.46 percent a year through 2040, down from the Energy Information Administration's 0.62 percent annual demand growth forecast, according to the Electric Power Research Institute.
The EIA's 2018 baseline forecast sees electric use growing to 4,272 billion kilowatt-hours in 2040, up from 3,683 billion kWh in 2017, according to EPRI. The EIA forecast includes the effects of current federal appliance standards and building codes and rulemaking procedures.
However, EPRI estimates that efficiency programs can reduce the EIA's baseline forecast by 161 billion kWh to 4,112 billion kWh in 2040.
"This estimated level of potential electricity savings can be achieved through voluntary programs for energy efficiency implemented by utilities or other groups," EPRI said in the report's executive summary.
EPRI noted that adoption of more stringent codes and standards would increase overall energy savings, but decrease the potential for energy savings claimed by utilities or other program administrators.
EPRI's study, "U.S. Energy Efficiency Potential Through 2040," aims to help utilities, electric system operators and planners, policymakers and other industry stakeholders develop savings estimates for end-use energy efficiency programs.
To develop its estimates, EPRI takes the EIA's baseline and adds to it energy efficiency savings that the federal agency had taken out. EPRI then calculates savings based on the adjusted baseline to avoid double-counting energy efficiency already included in the EIA forecast.
Once it has an adjusted energy consumption baseline, EPRI calculates the economic potential for energy savings and then adjusts that downward for an "achievable" estimate that accounts for barriers to the adoption of efficiency measures.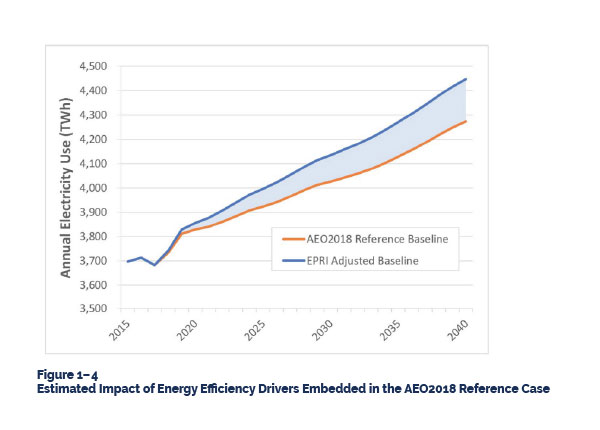 The potential for achievable savings is shrinking, partly because energy costs have dropped since EPRI's last forecast in 2014 when the research organization estimated that efficiency could reduce demand growth to 0.36 percent a year.
In the last five years, changes in the generation resource mix across the United States have dramatically altered the avoided cost of energy, which affects the cost-effectiveness of energy efficiency, EPRI said.
Avoided transmission and distribution costs are major contributors in the cost-effectiveness of efficiency programs, especially in high-cost regions such as New York and California, EPRI said.
For residential customers the top three areas for potential efficiency savings are central air conditioning, water heaters and dishwashers, according to EPRI.
Electronics, not counting computers, are the leading source of possible savings for commercial customers, followed by chillers and personal computers, the report said.
Industrial facilities, which includes heating, air conditioning, water heating and lighting, is the main source of potential savings for industrial customers, EPRI said. Other top areas of savings for industrial customers are pumps, fans and blowers, according to the report.
Regionally, driven by air conditioning and heat pumps, the South has the highest electricity use in the United States and is expected to grow by 0.7 percent a year before accounting for efficiency efforts, according to EPRI.
Some regions, such as the Northeast and California, have already harvested most of their potential for savings by 2040 while other areas, like the South, have a long way to go, according to EPRI.
New York, for example, has captured nearly 90 percent of its achievable potential savings while Texas has captured about a quarter of its achievable potential savings, EPRI said.
EPRI highlighted several technologies that are expected to play a continuing role in energy efficiency, including advanced heat pumps, advanced metering and adoption of electric vehicles and energy storage.
The executive summary is available here.