In this Q&A from December 2019, the American Public Power Association's outgoing president and CEO, Sue Kelly, and incoming president and CEO, Joy Ditto, shared their thoughts on the leadership transition and what's in store for public power in the years to come.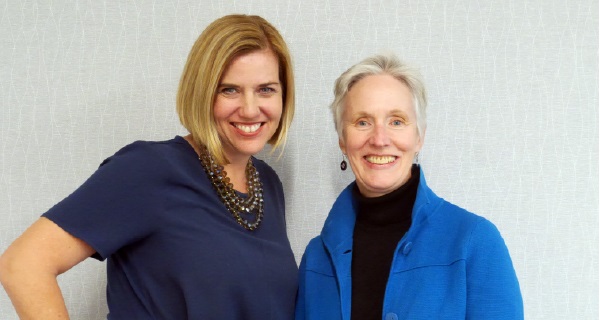 What do you see as the biggest challenge for public power in the coming years?
SUE KELLY: I talked about three big challenges for public power in my last National Conference speech. The first is offering products and services that our retail customers will want to purchase, even if they don't have to buy from us anymore. We should be their preferred provider. To do that, we must incorporate new technologies and offer the array of services the community wants — quick access to customer information, whole home energy efficiency services, renewable energy and storage options, electric vehicle charging, time of use rates to send better price signals — you name it.
The second is cyber and physical security. We are improving on that front, but unfortunately so are our adversaries. We need to build a security culture at our utilities, just as we've done with safety, and have it permeate everything we do.
The third is climate change. Our customer base is changing and the political environment in Washington is changing. We need to understand where public power as a whole is on the policy issues, so we know what we can support in legislation.
JOY DITTO: Public power utilities have long had a close relationship with their customers, but they're still mostly pushing out electricity to those customers versus "having a conversation," operationally speaking. Each utility is going to have to decide what their customers want in this future "grid conversation" and how they are going to meet those needs. A modern grid gives us great benefits, including enabling that two-way conversation with our public power customers and enhancing efficiency, but it opens up risks as well. Utilities are deploying communications devices to understand what is happening at the edge of the grid at a more granular level and to maintain a high level of situational awareness. Those devices are only as safe, secure, and reliable as the network they are on. We can't have a flexible grid without adding more communications devices to the grid, and those devices add cybersecurity risk — a risk that must be managed very closely over time.
Are there any ways you expect (or would like to see) the Association or public power overall to change in the next few years?
KELLY: We have a new generation of mayors, policymakers, employees, and customers. We have to tell the public power story to all of those groups. To the customers, so they understand what it takes for us to provide affordable, reliable, and environmentally responsible electric service, and all the benefits we bring to our communities. To the employees, because if they don't know why they are doing what they are doing every day, then they can't carry our message to the customers. And to our policymakers, because we want to make sure they understand the ongoing value we bring to them and their communities.
If our customers and policymakers don't know the value we provide, they can make very shortsighted decisions they may come to regret. We have seen instances recently where a new mayor or policymaker has proposed to sell the public power utility to pay for a one-time gain — parks, schools, roads, or pension funding. On the other hand, leaders and residents in other communities are taking notice that public power can help a community support its local priorities, provide revenue and jobs, and serve as a key economic development and community partner.
DITTO: There are many opportunities in the utility of the future to provide services that our member utilities' customers want. But we have to get ahead of other entities that may want those customers. We have to be "eyes wide open" to potential threats about who wants our customers. In so doing, we can create an opportunity — clearly articulating the benefits of public power so that we will be the obvious choice, hands down. Because if we have already gotten ahead of the curve, if we're offering great service, then there's not going to be a question of how it's going to go. That's what I want for our members to be able to do, with the Association supporting those efforts nationally.
I want to continue to partner with our brethren trade associations and others in the industry, because the challenges we see about defining the utility of the future affect us all. Each utility type has different governance and accountability mechanisms, but in terms of operations and mindset, we're very similar. The more we can leverage each other's knowledge, the better. Expansion of those partnerships and deepening of relationships will be an important component of what I want to do.
What opportunities do public power utilities have for showing greater industry leadership?
KELLY: If you look at the number of communities considering municipalization — San Francisco; Pueblo, Colorado; Chicago; the state of Maine — you see that people are realizing community ownership of their electric utility can be a real boon. If the community has an agenda, e.g., to reduce carbon emissions, assure greater reliability, increase energy efficiency, or help low-income customers — we are there to help make that happen. We can help the community reach its goals. For example, there are many public power utilities working with their cities on smart city initiatives. That's because we are already there to help do it, as a community-owned utility partner.
DITTO: Public power utilities are closely governed at the local level. That local control gives us greater flexibility to convince our local governance about what we need to address our customers' needs. It's a great advantage for us to be able to make many of those decisions at the local level. Because public power utilities are close to their customers, they have great opportunity to deal with the changing expectations of their customers. If they're allowed to respond to their customers unencumbered by unnecessary or burdensome regulation or policy, public power utilities will meet their customers' needs. The Association's office is in the Washington, D.C. area, for a reason — we are here to ensure that when our public power members deploy their essential services, the federal government doesn't impose unnecessary barriers.
Joy, what are you hoping to address right away as the new leader of the Association?
DITTO: As an association, our members are most important. We can serve them best if staff is rowing in the same direction and understand what members' needs are. A big priority is meeting with every member of the staff to learn what the current focus is in their particular arena, understand how their work aligns with the Association's strategic plan, and identify where there are gaps. A parallel focus for me will be to meet with policymakers inside the Beltway and other key stakeholders, many of whom I have kept great relationships with over the years, but to whom I now need to reintroduce myself in this new capacity.
I want to find the appropriate balance between being on the road and in D.C. Therefore, I am limiting travel for the first 100 days of my tenure so that I can work with the staff on an assessment of our programs to ensure they align with our strategic plan and ensure we are deploying resources optimally to meet the members' needs. I will also consult with the Board of Directors and will see many of the members at the Legislative Rally at the end of February.
Sue, was there a particular accomplishment or milestone the Association achieved under your leadership that you are most proud of?
KELLY: When I took over in 2014, the Association had a negative net worth, and our (frozen) pension plan was substantially underfunded. My predecessor, Mark Crisson, made some very tough decisions to begin to address our fiscal problems. But we had to "stay the course" to get back to good financial health. With the help of our Board, staff, and members, we did that. At this point, the Association has a positive net worth, a line of credit, and a fully funded pension obligation. I think we're in a sound position to support the membership for years to come. So, it is a good time for a transition.
Joy, what leadership qualities or organizational culture are you hoping to emulate/maintain?
DITTO: First I want to thank and applaud Sue for her leadership. She is brilliant, she understands the policy issues well, and she is a passionate advocate for public power. She is also an extremely ethical person. I certainly want to build on the financial strength that has been solidified under Sue's leadership. We are a not-for-profit association, but we are also a business — and we have to ensure that we are financially accountable to our members and viable now and into the future.
But I'm not expecting to fill Sue's shoes — after all, we definitely don't wear the same shoe size!
The mindset of working hard for our members has existed for a long time and will continue to exist. I want to build on that to create a culture of trust, accountability, collaboration, and transparency.
Sue, any leadership advice for Joy as she takes the helm as CEO?
KELLY: Stay nimble, stay focused, and be prepared to cope with whatever life and our industry throws at you. You will be like a cook with four different pots on the stove, any of which might boil over at any time. This job has tested me in ways I had not imagined and helped me develop skills and abilities that I did not know I had. It has been a wonderful ride.
If you go back to the Association's purpose and mission, it is all about helping our members be the 21st century, community-owned electric utilities of choice. We must constantly keep our eye on that ball. If we don't, our members will suffer and so will the Association.
Joy, you are very well-suited to take this challenge on. You know our members, have worked here, and understand the organization and the issues we face. You have run your own association, so have developed those leadership skills as well. I am confident I am passing the baton to the person who can run the next lap and wish you Godspeed as you begin your race.