Back to National Conference Agenda
Tuesday, June 11

1:30 — 2:30 p.m.
BREAKOUT SESSIONS
Recommended CEUs .1 / PDHs 1 / CPEs 1.2
 Tell Your Story, Save Your Utility
Public power has a strong business model but local politics, fiscal pressures on local government, and the ambitious plans of new contenders in the market may make your utility an attractive takeover target. The best defense against a potential sellout is to help customers and stakeholders understand how they benefit from owning their utility. Long before the future of your utility comes into question, you should communicate regularly with all stakeholders and build goodwill in the community. Learn how every utility leader can be effective ambassador for public power.
Dave Osburn, General Manager, Oklahoma Municipal Power Agency, Edmond, Oklahoma; and Jeffrey Stewart, Interim Director of Utilities, Lafayette Utilities System, Louisiana
Closed to press, consultants, vendors, and non-members.
 

 What Will Your Utility Look Like in 2029?    
Change is truly the only constant in this era of rapidly advancing technologies. The utility industry will likely change more in the next decade than it has in the last century. Back in 1999, you did not think you'd be contending with legacy resources, aggressive expansion of your renewables portfolio, the integration of distributed energy resources, and increased legislative and regulatory pressure on all fronts. And who knows what 2039 looks like? Learn how other public power utilities like yours are forecasting, and preparing, for the long-term future.
Mark Gerken, President/CEO, American Municipal Power, Columbus, Ohio; and Pasi Miettinen, President & CEO, Sagewell, Inc., Woburn, Massachusetts
 

 Electrify Your Fleet and Recharge Your Benefits
Electric vehicles promise not only increased load for your utility but also cost savings and the opportunity to make a positive environmental impact when you integrate them into your own fleet. Learn all about two public power vehicle fleet electrification projects and see how your utility can adapt the lessons learned. Review charging patterns, infrastructure upgrades, cost recovery, retail rate structure alternatives, savings, fuel offsets, and other details that will help you make the right decisions about your own fleet.
David Wright, General Manager, Los Angeles Department of Water & Power, California; and Adam Young, Financial Analysis and Rates Lead, Burns & McDonnell, Kansas City, Missouri

 Are Your Transmission Rates About to Go Up?    
The Federal Energy Regulatory Commission is considering major changes to its method for establishing the return on equity (ROE) that may be reflected in FERC-regulated transmission rates.  FERC has also stated its intent tois also revisiting its policies on granting transmission rate incentives. Join us to discuss the latest developments on in these pending FERC policiesproceedings. See how these changes to FERC's ROE and incentive policies might impact transmission rates for your utility and customers. Learn what the American Public Power Association is doing to urge FERC to keep transmission rates reasonable and fair to all.
Bhaveeta Mody, Shareholder, Duncan, Weinberg, Genzer & Pembroke, Washington, D.C.; and David Pomper, Partner, Spiegel & McDiarmid, Washington, D.C.

 Physical Security: The Threats Haven't Gone Away    
Your organization may be starting on the physical security adventure, or you may already have longstanding physical security programs and protocols. The nature of physical threats towards electric utilities has changed in recent years. With a higher threat of security breaches such as vandalism and terrorist attacks — and related implications for cybersecurity — having a physical security program that addresses the challenges of tomorrow is critical. Learn how you can establish a physical security program to include protection for critical assets, as well as best practices in responding to common physical security related incidents.  
Jim Rigg, Manager, Safety, Lincoln Electric Service, Nebraska; Sam Rozenberg, Engineering Services Security Director, American Public Power Association; and Russ Saffell, Director of Security & Critical Infrastructure, Iowa Association of Municipal Utilities, Ankeny, Iowa

 Upping Your Operations Game to Become a Five-tool Utility  
Becoming a five-tool utility — one that excels in reliability, safety, environmental consciousness, low-cost efficiency, and first-class staffing — takes skills, dedication, and relentless practice. Review operational best practices to see if your game is up to par on all fronts. Learn how to better measure and report on reliability and outage management. Discover the role of staffing, salaries, local weather and topography in performance. Find out how you can harden your systems without breaking the bank. And discuss how to communicate your strengths to your policymakers and your community.
Michael Hyland, Senior Vice President, Engineering Services, and Alex Hofmann, Senior Director, Energy & Environmental Services, American Public Power Association


 Flexible Nuclear for Low-cost Decarbonization
Renewables like wind and solar are not the only options for decarbonizing your power supply. Have you thought of nuclear as an option? Especially if nuclear power plants can operate flexibly, changing power output over time and supplementing the intermittency of renewable energy sources. Flexible nuclear generation, coupled with renewables, can help you lower operating costs, reduce rates, and reach higher targets for decarbonization. Join a panel of experts to preview a future US power system in which flexible nuclear generation plays a critical role. Learn how to meet your community's need for sustainability while keeping the lights on.
Douglas Hunter, Chief Executive Officer, Utah Associated Municipal Power Systems, Salt Lake City, Utah; and Dr. José Reyes, Chief Technology Officer & Co-Founder, NuScale Power, Corvallis, Oregon


 It's Never Too Early for CEO Succession Planning
You don't want to wait until there is a CEO vacancy — planned or unplanned — to start building your succession plan. Succession planning must be a utility board's top priority to mitigate risk and ensure business continuity. Hear from the experts on steps you and your board should be taking now to find a CEO when the need arises. Hear about one public power utility's board-owned search experience that led to a smooth CEO transition. Learn how succession planning can strengthen relations and communications between the board and senior management.
Richard Preng, Energy Practice Leader, Korn Ferry, New York; and Keith Woods, Board Director, Salt River Project, Phoenix, Arizona
2:45 — 4:15 p.m
How to Build a Culture of Excellence in Public Power
Timothy Burke, President & CEO, Omaha Public Power District, Nebraska; David Koster, General Manager, Holland Board of Public Works, Michigan; Debra Smith, CEO/General Manager, Seattle City Light, Washington; and Lynne Tejeda, General Manager & CEO, Keys Energy Services, Florida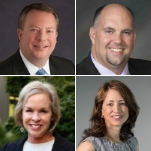 Public power leaders who have shored up their utilities to withstand gale force winds of change know that strategy and culture are pillars of the same strength. And they recognize that strategy extends beyond the mission and vision and that culture is much more than the brand or employee perks. How do successful leaders infuse a passion for public power's core values of affordability, reliability and responsiveness to the community across their organizations? What is their secret to recruiting and retaining the best teams? Join the public power executive panel to hear how these outstanding leaders are overcoming challenges similar to yours. See how they work with staff and board members to introduce new products and services; enhance customer service; support diversity and inclusion; and emphasize safety, reliability, and cybersecurity in the drive for success.
Burke has over two decades of experience in managing all areas of public power — public policy, economic development, safety and technical training, marketing and more. Koster has led his community-owned electric, water, wastewater and broadband utility to win broad local and national recognition for excellence. Smith is only the second woman to lead her utility in its more than 100-year history and tasked with positioning her organization to thrive in the new energy era. Tejeda has a track record as a business leader, with dedicated service to her utility for three decades.