Description
The amount of energy required to cool facilities is significant, resulting in peak demand which is costly to the utility and customer. In this webinar you will hear how Burbank Water and Power explored new options for its Fleet Services Building to address the problems of high energy costs associated with cooling large open spaces, high humidity of direct evaporation systems, and use of potable drinking water for non-drinking water purposes which increases demand on finite water supplies. 
BWP will share project details and lessons learned on the replacement of their building's existing swamp coolers with two Climate Wizard CW-80 Hyper Efficient High Volume Indirect Evaporative Cooling Systems, which use tertiary treated, recycled water instead of potable water.  BWP collected operational data and evaluated the performance of the new systems compared to traditional HVAC systems and for occupancy comfort as compared to swamp coolers, functionality and efficiency using recycled water, and environmental benefits associated with the potable water savings.
Don't miss this opportunity to learn how you can replicate these cost, energy and water savings at your utility or key account customers. This technology is especially suited for unconditioned spaces that need conditioning such as warehouses, big box retail buildings, data centers, car dealerships and garages, gyms, and classrooms, as well as any areas that would benefit from outside air or areas that require ventilation. Although the initial capital costs are high, the energy savings overtime will offset this upfront cost. The typical pay back duration is two to three years.
DEED members may review project information, including the final report, in advance of the webinar on the DEED Project Database.
Recommended For
Anyone interested in sustainable energy practices or water conservation
Utilities and their commercial and industrial customers looking for cost-effective, energy efficient alternatives for cooling large, open spaces
Speakers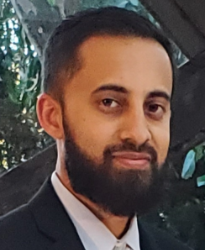 Asif Sheikh, Burbank Water and Power
Asif Sheikh is a manager in Burbank Water and Power's Water Division, a community owned utility serving a population of over 103,000.  He manages a variety of capital improvement and special maintenance projects including pump station rehabilitations, storage reservoir improvements, disinfection system enhancements, and regulatory compliance programs. He holds a B.S. and M.S. in Civil Engineering from Cal Poly Pomona and Cal State Los Angeles, respectively, and is registered as a Professional Civil Engineer in the State of California.