December is often a tough time for business travel. But the time I spend visiting Association members always amply repays the effort it can take to get there.
The week of December 2, I visited both Arkansas and Minnesota. I originally planned to fly out of Washington Reagan on a direct flight to Little Rock on Sunday evening, but just before we were scheduled to board, the incoming plane was diverted to BWI due to "low visibility," and our flight was abruptly cancelled. Lots of other flights were cancelled at the very same time.  Looking out the window at the clear night, my BS detector went off. Given how close Reagan is to the Capitol, White House, etc., I suspected an airspace intrusion or other security issue — but no matter why, I had to go back home and then get up at 3:30 am on Monday to catch a flight to Charlotte and then on to Little Rock (All part of the joy of living in DC!). Sadly, because of this delay, I missed a Monday morning meeting with Arkansas Gov. Asa Hutchison, which I was very much looking forward to. But I guess I can now say I stood up a sitting Governor (not by choice!).   
My destination in Arkansas was the City of Conway, which I soon learned is the home of Toad Suck Daze. 'What is that?' you might ask — as I immediately did. It is a festival held in Conway every May. It used to be held on the banks of the Arkansas River in Toad Suck township, but outgrew that venue, so it is now in Conway proper, and attracts more than 100,000 people each year.  It has entertainment, vendors, arts and crafts, and of course the World Championship Toad Races. There is even an associated Tour de Toad bike race! For the full story, including how it got its very evocative name, go to toadsuck.org.
In Conway, I went first to the spanking new headquarters and Customer Care facility of Conway Corp., the utility that serves the City. Conway Corp is a public power utility, but it has a very interesting corporate structure and origin story. It was founded by the city fathers as a city-owned, non-profit corporation in 1929 and leased the city's electric utility. The corporation then floated bonds specifically to give money to a local college that was planning to leave Conway and move to Little Rock. The fact that the City took this extraordinary step at the start of the Great Depression says a lot about the City's can-do attitude, which is still evident today. The City now has three colleges (University of Central Arkansas, Hendrix College and Central Baptist College), so it is called "the City of Colleges."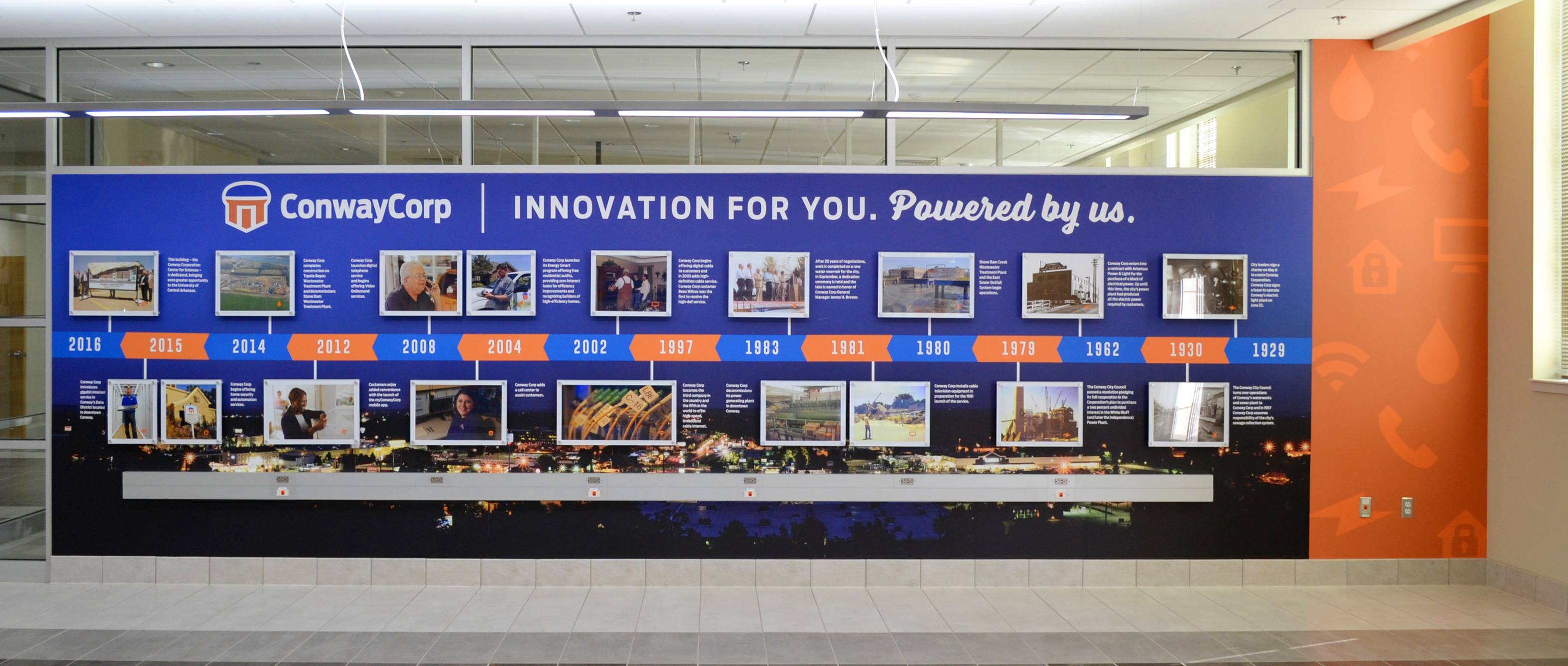 Conway Corp provides electric, water, wastewater, cable, internet, telephone, and security services. It prides itself on its electric rates (lowest in the state) and high reliability (it is an RP3 Platinum utility!). Under the guidance of its new CEO, Bret Carroll, it is continuing its long tradition of strong customer service and close attention to rates and reliability.
I had the chance while in Conway to meet with the Board of the Arkansas Municipal Power Association, the statewide organization. AMPA's President, Jake Rice of Jonesboro's City Water & Light, explained that AMPA has members all over the state, ranging from sizable (North Little Rock, Conway) to small (Piggott, Paris). Another of its members, Bentonville, serves the community that is the worldwide headquarters for Walmart. Like public power everywhere, these utilities have their challenges, but they also have considerable advantages, which include pride in their communities and dedicated managements. Jason Carter, former general counsel and general manager of North Little Rock, who I worked with when he was GC and I was GC of the Association, is now the GC of AMPA, and is helping it to get more active on the state and national level. I was glad to loop him in to the Advisory Committee, the Association's group for state and regional public power associations.
I also got to see Conway. We started with tours of two new buildings Conway Corp has generously supported at both UCA and Hendrix, meeting President Houston Davis at UCA and President Bill Tsutsui at Hendrix. Conway Corp helped build a new science building at UCA that has state of the art labs and equipment (including a 3-D printer), and even a planetarium that hosts more than 2,000 school children each year. At Hendrix, Conway Corp is helping support the construction of a new combined dormitory and arts building. Both presidents expressed their strong appreciation of the community support from Conway Corp. And it works both ways — I met many graduates of both schools who work at Conway Corp, including Bret (UCA) and Bill Bethea (Hendrix).
We capped off the day with dinner at an excellent farm-to-table restaurant in downtown Conway (which I would put up against any foodie restaurant in Brooklyn, where I eat a lot given my daughter lives there). There, I met Brad Lacy, the head of the Chamber of Commerce, and Mayor Bart Castleberry, who came up in city government through the fire department. 
I also met Lindsay Henderson, who works at the Chamber with Brad. It turns out she was the reason I was invited to Conway — she is one of Conway Corp's Board members, heard me speak at the June National Conference and came up with the idea of inviting me to speak at Conway's annual Chamber Luncheon honoring women in the Conway business community. And that is how I ended up having breakfast after a much-needed night's rest with a dozen or so delightful women from Conway — some who work for Conway Corp, and others who work at local businesses, schools and colleges. I had a great time comparing notes with them and talking about issues as varied as cybersecurity (something all of them are dealing with at their jobs in one way or another) and integration of renewables into the power supply.  
After that, I went off to the Chamber Luncheon. As the keynote speaker, I talked about my career path, obstacles I had faced, and my advice to women (and men) still building their careers. But it was most interesting to hear about the career paths of the 2018 Women in Business awardees — some owned their own businesses, others worked in banking, medical care, construction, or hospitality, and still others worked for non-profits. Unfortunately, I had to run to the Little Rock airport before the luncheon ended, but Crystal Kemp and Bill Bethea of Conway Corp made sure I made my flight on time and unruffled. Thanks to all the fine folks at Conway Corp for a great visit!
Sitting in the airport waiting to board the flight to Chicago (and then on to Rochester, Minn.), I had a chance to reflect on my whirlwind tour of Conway. Conway Corp's origin story is surely unique, it is very visible in its community, due to its support of higher education and the number of services it provides. But it is far from alone. Public power utilities all over the country contribute to and enrich the lives of their citizens. Some, however, are not as well known in their communities as Conway Corp is, which is why we need to continue to beat the drum about our Raising Awareness of Public Power campaign. All our members need to tell their stories in their communities, because they have a good one.