In May, I did back-to-back trips through O'Hare to visit members in the upper Midwest. The week of May 6, I went to Sioux Falls, South Dakota, for the Annual Conference of Missouri River Energy Services. The week of May 13, I went to the Annual Conference of the Municipal Electric Utilities of Wisconsin in Delavan, Wisconsin. Despite O'Hare's fearsome reputation as the Fifth Circle of Travel Hell (reserved for angry stranded travelers), both trips went smoothly. I definitely made my step count goals for those travel days!
MRES always puts on a very educational annual conference. I talked about the need for public power utilities to up their technology and cyber games, and the resources the Association has developed to help them with that. Rob Chapman of EPRI talked about EPRI's work, and highlighted the "farm in a box" project that EPRI is doing with MRES (indoor agriculture makes great sense there). The Association's own DEED program is also supporting that project — a great partnership between EPRI, MRES, and DEED.
Other speakers included Marty Kanner, a public power lobbyist, who provided an update on events in Washington, D.C., and Doug Westlund of AESI, who talked about cybersecurity and how MRES members can improve their cyber posture. And the incomparable Phyllis Currie, a former Association board chair who now consults for Hometown Connections, Inc., gave a great presentation on improving customer service.
We heard an update from Tom Heller, MRES' long-time CEO, and from Joni Livingston, Director of Member Services and Communications, about MRES' recent accomplishments and ongoing projects. I was very impressed with the progress MRES has made on its Red Rock Hydroelectric Project. Building a new hydropower facility, even one at an existing dam, is not for the faint of heart, but MRES has taken it on. When complete, it will be a great source of carbon-free energy for years (in fact generations) to come. You can learn more at www.RedRockHydroProject.com. My hat is off to MRES for undertaking this important power supply project.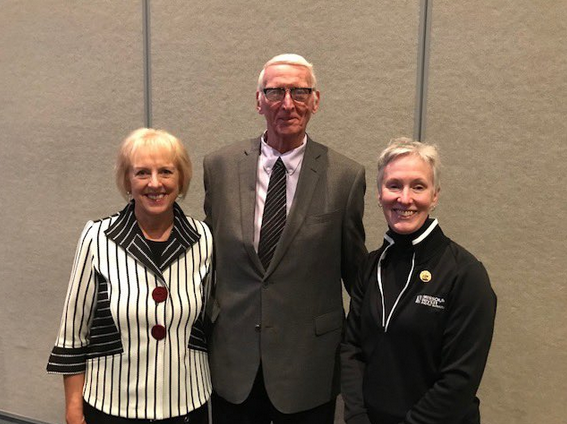 I also had a chance to catch up with Harold Schiebout from Sioux Center, Iowa, who is chair of the MRES Board and a long-time public gas and public power colleague. To my surprise, at the reception I was honored for my service at the Association — Harold gave me a very chic piece of MRES-branded athletic wear. If you know me, you know I wear my public power swag with pride, so I am already sporting this item around town!
The following week I flew back to O'Hare and rented a car to drive to Delavan, Wisc. I always hate driving an unfamiliar rental car on crowded freeways with semitrucks mowing me down while I try to figure out where the heck I am going. But once I got out of the Chicago metro area, and on the secondary roads of southern Wisconsin farm country, things went much better. It gave me a chance to reflect on how much we owe the increasingly small minority of Americans who grow our food and feed the rest of us.
I arrived in Delavan just in time for the MEUW opening reception, where I tried a local beer, Spotted Cow by New Glarus Brewing. It is not available outside Wisconsin, but is very popular there. According to the brewery's website, it goes well with brats (no surprise). A Spotted Cow with Wisconsin public power friends was just what I needed after a hard travel day.
Then I went out to dinner at the Duck Inn, a Supper Club outside Delavan, with Nilaksh Kothari, CEO of Manitowoc Public Utilities and one of our board members, and the good folks from Great Lakes Utilities. I did not know that supper clubs are a thing in Wisconsin, but they are: you can read up here. The Duck Inn carries on the roadhouse/speakeasy tradition into the 21st century. The walleye was very good, but the Door County cherry pie was to die for! Tart cherries and a great pie crust that I could never replicate no matter how hard I tried. If you get up that way, check them out here.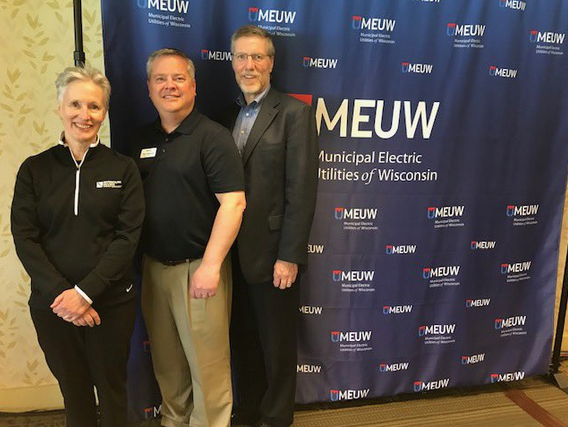 The next day was the MEUW Annual Conference—its 90th! Their new executive director, Tim Heinrich, partnered with the host utility, the City of Elkhorn Electric Department, to put on a very information-packed conference. They had many breakouts, including ones on energy efficiency, emergency response, mutual aid, and telling the public power story.
I also got to hear two great general session speakers: Chairperson Rebecca Cameron Valcq of the Wisconsin Public Service Commission, and Pat Richter, the now-retired University of Wisconsin Athletics Director. Chairperson Valcq comes to the Commission with strong prior regulatory law experience, and a true willingness to work with Wisconsin public power utilities (Wisconsin is one of the few states where our public power utilities are rate-regulated by the PSC). Pat Richter played for the Washington Redskins when it was coached by Vince Lombardi (!), but it was his work turning around the athletic program at Wisconsin that everyone there wanted to hear about.  
 While I was only in Wisconsin for 24 hours, I certainly got the full-on Wisconsin experience — beer, supper club, U of Wisconsin athletics, and a morning walk by the lake! Sadly, I missed the cheese curds, but there is always next time…