Since our National Conference in Austin in June, I have spent more time on the road visiting members prior to my retirement at the end of this year. I have joked that I am like an aging rock star on her farewell tour — I need to get a t-shirt printed up with all my speaking engagements listed on the back. I went to the Large Public Power Council's summer meeting (here in DC, which made it easy for me!), the Tennessee Municipal Electric Power Association's annual meeting in Nashville (where, to my great surprise, TMEPA gave me its "Power of Excellence" award!), and the annual meeting of the Piedmont Municipal Power Agency in Myrtle Beach, South Carolina. I also went to NYC to speak to our co-op cousins at the annual meeting of the National Rural Utilities Cooperative Finance Corporation, appearing on a panel with our own Gil Quiniones, CEO of the New York Power Authority. I always enjoy visiting with our members, although summer storms can make air travel a real trial. I spent seven hours in the Myrtle Beach airport on my way home, stranded due to torrential rain with a horde of unhappy, sunburned vacationers trying to soothe crying babies.
But my most recent summer trip was a unique travel experience. I was invited to speak to the Michigan Energy Providers Conference at the Grand Hotel on Mackinac Island, Michigan. To get there, I had to fly to Detroit, take a regional jet to Pellston Regional Airport, catch a shuttle bus from the airport to Mackinaw City, then take a ferry to the island, followed by a horse-drawn taxi up the hill to the Grand Hotel. There are no cars on the island. All transport is by foot, bicycle or horse.
The conference itself was also unique. It is put on by the Michigan Electric and Gas Association (MEGA), which has a broad-based membership — gas and electric utilities; IOUs, co-ops, and public power utilities; transmission companies; trade associations; you name it. My invite came from Katie Abraham, who recently took over as Executive Director of the Michigan Municipal Electric Association from Jim Weeks, and who is already making her mark in her new position. But as I started to prep for the meeting, I realized I also knew MEGA's new President—Tanya Paslawski, who in her old job as Executive Director of the Organization of MISO States went with me on my summer 2018 fact-finding trip to Germany.
As a result, I added a "compare and contrast" component to my presentation on the trends changing the electric utility industry, talking about what is going on in German energy policy, and in particular its "Energiewende" program to reduce carbon emissions. I made Tanya come up front with me during that portion of the presentation to provide her comments on our Germany trip. That was followed by a very lively Q&A session with the audience. It was great fun.
I also moderated a breakout session with the public power utilities at the conference, including the general managers of Zeeland, Marquette, Grand Haven, Coldwater, Petoskey, Marshall, Lowell, Sturgis, Hillsdale, and Croswell, and three joint action agencies, Michigan South Central Power Agency, Michigan Public Power Agency, and American Municipal Power. We talked about challenges facing public power utilities around the country, including cybersecurity, workforce issues, and mutual aid. I noted the new services joint action agencies and other public power service providers around the country, such as Hometown Connections, are offering their members to help address these needs. It also gave me a chance to remind our Michigan members of the many resources our Association makes available to them, including the Cybersecurity Scorecard, our upcoming Cybersecurity Summit in Nashville, our Mutual Aid Playbook, and our various listservs. One of the functions our Association serves is to be a learning community for public power utilities around the country, so they can trade information and experiences and take advantage of training tailored to public power's needs.
I enjoyed the conference general sessions I attended—we heard from the Commissioners on the Michigan Public Service Commission, FERC Chairman Neil Chatterjee, and Consumers Energy CEO Patti Poppe, among others. But the most out-of-the-box session concerned the potential benefits (and problems) of legal (and not-so-legal) marijuana grow and retail operations. Mary Alice Page-Allen, Administrator of the public power town of Oak Creek, Colorado, talked about the new economic development and infrastructure that legal grow and retail operations had brought to her town and electric utility. Kent Singer, Executive Director of the Colorado Rural Electric Association, talked about some of the downsides, including challenges in handling the large amounts of cash that unbanked but legal customers use to pay their electric bills, and the security and safety issues caused by illegal grow operations that just don't want to comply with Colorado's many regulations (such as having line crews threatened by guns when they discover unauthorized facilities stealing large amounts of electricity). And Shelley Edgerton of law firm Dykema explained why they spell marihuana with an "h" in Michigan (answer: it's spelled that way in the statute).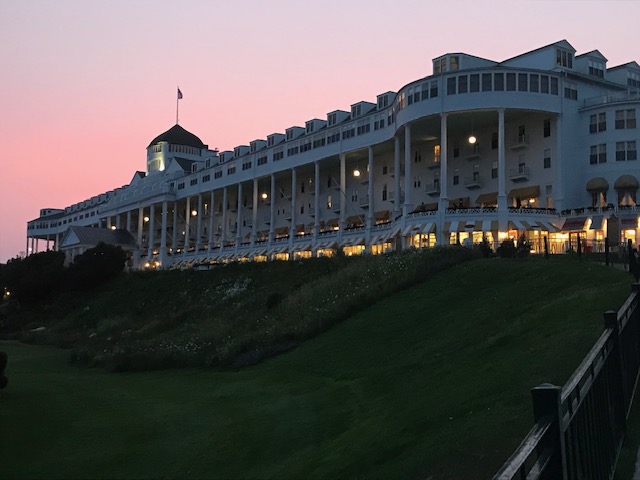 Luckily, I also got some down time to explore the hotel and the island. The Grand is a huge old hotel from the era when railroads and ferry lines built "destination" resort hotels and the well-to-do spent their entire summers there to escape the heat and dust of the cities. It is built entirely of white pine, opened in 1887, has over-the-top décor, amazing views of the Straits of Mackinac from the world's longest porch, and really uneven floors! Check it out at www.GrandHotel.com.   
We also strolled the Victorian town (all the electric lines are buried, so no power lines to destroy the illusion!), patronized one of the famous fudge stores, and toured Fort Mackinac. The fort, located on a hill overlooking the town and harbor, was originally built by the British in 1780. The Americans took control in 1796 after the Revolution (we took some time to get around to it, since the fort was so remote and the Brits were not eager to depart). But the Brits came back in 1812 and retook the fort in the first land engagement of the War of 1812. The poor U.S. commander did not even know his country was at war until British forces appeared on the island in far superior numbers and demanded his surrender — which, after assessing the situation, he promptly did. The U.S. got it back after the war, and it was used as a fort for many years thereafter (among other uses, it housed some VIP Confederate prisoners for a brief time during the Civil War). It is now a state park, with Civil War reenactors and a Boy Scout troop assisting visitors when we visited. The fort overlooks a lovely green park with a statue of Father Marquette, the French Jesuit priest who was one of the first Europeans to explore the Great Lakes and Mississippi River regions.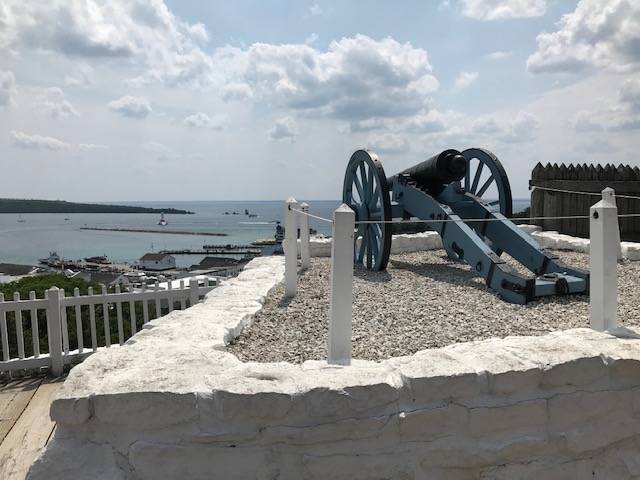 It was wonderful to have the opportunity to visit Mackinac Island (if you want to go, check it out at www.MackinacIsland.org).  I also enjoyed learning about Michigan's energy providers. Having one membership organization with all the utility providers in the state clearly builds relationships and provides a platform to discuss and address the many challenges utilities face in Michigan (as in the rest of the country). And the chance to unplug from the mainland and enjoy a slower way of life (or at least of getting around!) for a few days was an unexpected bonus. So thanks to MEGA and Tanya (and, of course, Suzy Westmoreland who made it all happen), and MMEA and Katie, for the chance to visit and for putting on a great conference!