I titled my last blog post, penned in August, "The Calm Before the Storm." I had no idea just how right I was.
Then, I was referring to the fact that in September, Congress would return to Washington. We would have to gear up to deal with a whole array of legislative and regulatory issues — tax reform, a new FERC that finally had a quorum after many months, possible energy legislation, the Trump Administration's proposal to sell PMA assets, you name it. And I was right about that. The tax policy debate has begun in earnest, and we are on high alert regarding the proposed treatment of tax exempt financing. FERC is back in business with a quorum of three Commissioners, and is putting out orders again. And in an unorthodox move, DOE Secretary Perry on September 29 sent to FERC a proposed rule that, if adopted, would assure cost recovery for certain 'fuel-secure generation' resources in organized RTO/ISO markets. DOE instructed FERC to either to take final action on the proposal by December 11, 2017, or to issue the proposed rule as an interim final rule. (That is lightning speed for regulatory proceedings.)  
But I had not figured on the unholy trinity of Harvey, Irma, and Maria.
One of the things our Association does for its members is coordinate mutual aid if they need resources (crews, trucks, equipment, etc.) to deal with power restoration after storms and other natural disasters. Most such events (storms, tornados, etc.) are localized, and generally can be handled by our utility members in their state or region. But a big event like a hurricane is different — with such a big weather system, resources need to be organized and sent from neighboring states and regions.
The Association did this during Superstorm Sandy. Mike Hyland, our Senior Vice President of Engineering Services, was on point for that event, and was embedded in FEMA's crisis response center for many days, helping to organize crews, find lodging and gas, get highway tolls waived, etc. So Mike and his Mutual Aid team activated, along with our crack state and regional mutual aid coordinator-partners, in September when Hurricane Harvey struck the Gulf Coast. Public power utilities in Texas were thankfully spared the worst, but public power utilities provided mutual aid to others not so lucky.  
Of course, Hurricane Irma then struck Florida a direct blow, taking down much of Keys Energy Services' distribution and transmission systems when it came ashore, and affecting every one of Florida's public power utilities as well, some more significantly than others. More than 800,000 public power customers were out at the height of the outages, but 98% of them were back within 7 days. Our Georgia members also had significant outages.
It was very heartening to sit in on our mutual aid calls, listening to our members offer crews and resources to each other from across the Southeast and well beyond. It was also good to see the cross-utility sector cooperation — public power and investor-owned utilities both requested and accepted mutual aid "across the aisle." I have to give a special shout out to Amy Zubaly, who had just recently taken over as the Executive Director of the Florida Municipal Electric Association, and who right off the bat got her mutual aid baptism of fire.
Of course, the US Virgin Islands, specifically St. Thomas and St. John, also got hit by Irma, and Puerto Rico did as well. And before the USVI Water and Power Authority and the Puerto Rico Electric Power Authority could fully recover, Hurricane Maria dealt USVI (particularly St. Croix) and Puerto Rico devastating body blows. Assistance is coming to both, although much more slowly than anyone would like.  
The Western Area Power Administration has sent crews and trucks to USVI. The New England Public Power Association assembled a contingent of trucks and crews (over 40 people!) from various public power utilities in New England, and they are now working to restore service on St. Thomas.
The New York Power Authority, at the direction of New York Governor Andrew Cuomo, sent technical experts to Puerto Rico to assist in damage assessment soon after Maria hit. JEA and Kissimmee Utility Authority crews recently arrived on the island to assist in power restoration. But given the devastation to the Puerto Rico and USVI transmission and distribution systems, and the need to bring so many resources (both people and equipment) from off-island, restoration is going to be a long and difficult process. FEMA has tasked the US Army Corps of Engineers to lead the power restoration effort, and we will continue to work closely with our industry and government partners to assist the Corps.
In between Irma and Maria, I did manage to fit in a trip to Omaha. I attended the fall Large Public Power Council CEO meeting — I very much appreciate the opportunity to attend these meetings, as LPPC always has interesting speakers and programs. I also met with the senior staff of the Omaha Public Power District. OPPD is a public power utility that has had to make some very hard decisions, including the decision to shut down its Fort Calhoun nuclear power plant in 2016, but it has strong management, led by its CEO, Tim Burke, and is taking some very innovative steps to position itself for the future.  Tim spoke on a general session panel at our National Conference in Orlando last June, discussing the deal OPPD had recently made with Facebook to bring a new data center load to Omaha.
Since I was going to OPPD, I asked if I could also meet with the OPPD Women's Network (OWN). I had heard about this group through the Association's workforce strategic initiative, and wanted to see it for myself. I had a great lunch with the OWN Board and its President, Shawn Moore. I was thrilled to learn that one of the Board members was Laura Strode, a former DEED intern who was offered a job at OPPD at the end of her internship. A walking testament to the power of DEED! After lunch, I had the opportunity to speak to members of all of OPPD's employee resource groups about the Association, changes in the industry and my own career path. I spoke in person to a group of about 20, but the presentation was livestreamed to over 45 other connections — a great use of technology in the workplace.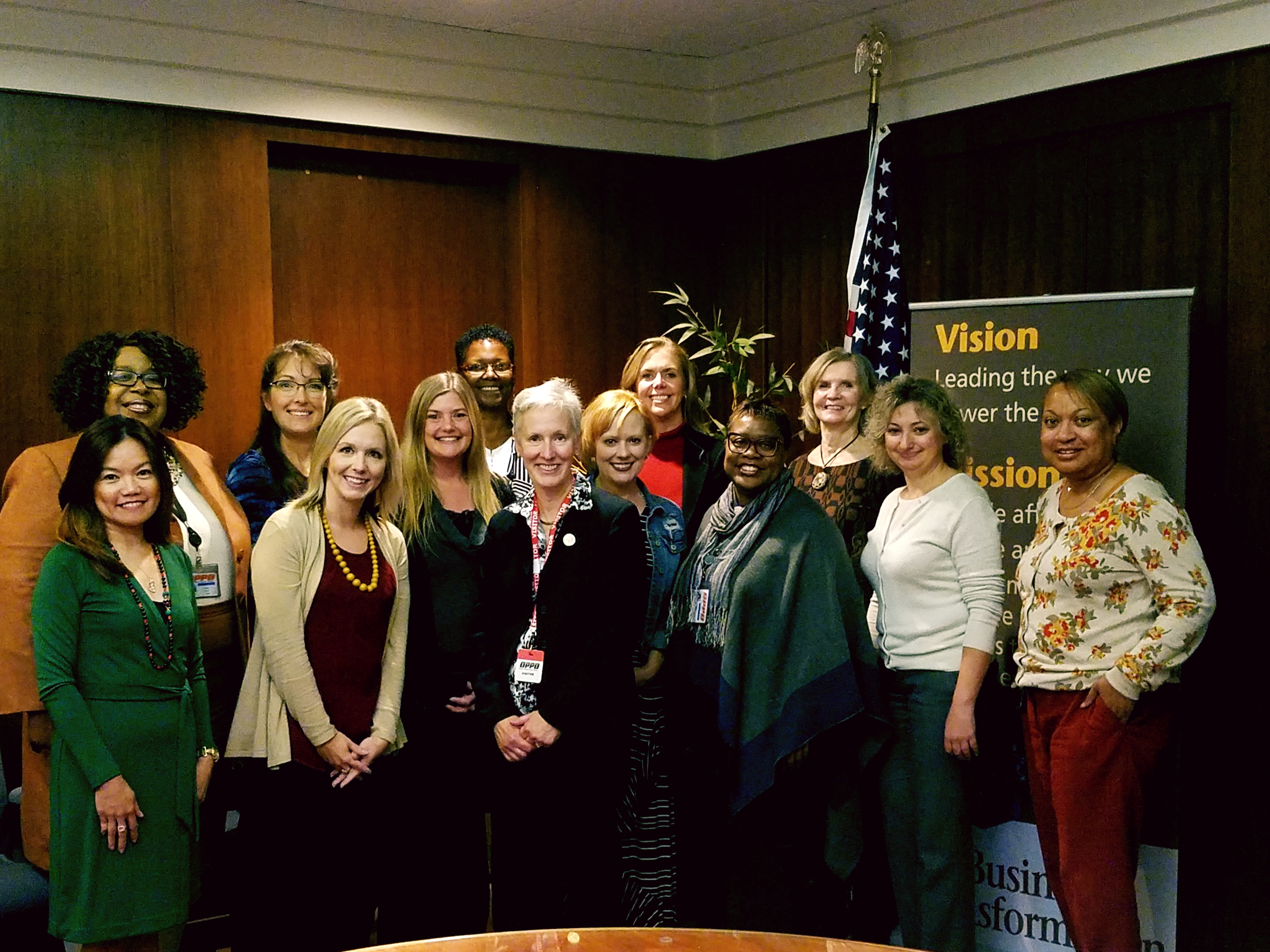 It has indeed been "all hands on deck" for the Association since the beginning of September, given the return of Congress, the new FERC, DOE's proposal, new tax and policy proposals, and the quick succession of hurricanes. We will continue to work on all these issues, including assisting in power restoration to those still without electricity.