A little over 130 miles northeast of Seattle's bustling urban landscape are the majestic views of the North Cascades National Park Complex and Seattle City Light's Skagit River Hydroelectric Project. Located in what is often called the American Alps, this idyllic and Instagram-worthy region is home to emerald waters, scenic drives and nearly 90 years of hydroelectric history that today supplies more than 30 percent of City Light's power requirements.
In keeping with City Light's FERC licensing, Skagit Tours are offered throughout the project from late spring to early fall. The tours include historical walks through City Light's company town, Newhalem, educational powerhouse tours and a boat tour that cruises along Diablo Lake with the beautiful North Cascades towering above.  
The goals of the Skagit Tours social media channels are to promote the tours, educate its audience about City Light's hydroelectric generation and engage with tourists and local communities and their members in the region. Engaging with the local community informs them of the available tours while enhancing the brand image of the utility.
But there is a logistical challenge: the team responsible for Skagit Tours' social media presence is stationed in a high-rise in downtown Seattle. While they wish they could hike and take photos of the gorgeous facility every day, like most communicators, this account is just one facet of their jobs.   
With a little digging around Instagram, the social media team discovered something that greatly shifted their social media strategy. They found that avid hikers, climbers and road trippers were not only posting their photos from their favorite trail, they were also posting photos of the Skagit facilities from selfies on Diablo Dam to the Old No. 6 train in Newhalem. The team realized that they were telling the story of Skagit for the account without including the account itself.
This realization shifted the Skagit Tours social media strategy to wield this user-generated content more regularly to promote the region and ultimately Skagit Tours. Users, both those who registered for a tour and those who were in the area for another reason, were thrilled to see their content reshared on the Skagit Tours account.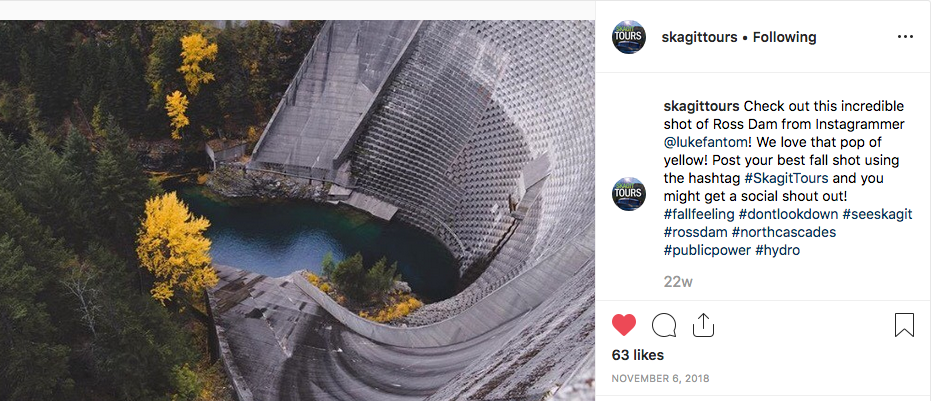 One of the goals of reposting the user-generated content was to help remove any hesitations or objections the audience in Seattle, a key target audience, would have of driving the 2.5 hours to visit the facility. During the vast wildfires in the region last summer, there were posts of the heavy smoke imposing the area. As the smoke began to recede, the team reshared posts from users who were in the area to let the public know that it was OK to return. This firsthand account complemented the account's "all-clear" messaging, making it more authentic and more impactful.
Resharing these posts not only indirectly contributed to Skagit Tours' sales, it was key to Skagit Tours' Instagram following increase of 30 percent during the 2018 season. While it is a part of a larger social media strategy, it is a tactic that can be incorporated easily and can garner new followers and a clearer insight into what's being said about your organization. Here are a few tips and lessons learned to help you implement this tactic into your social media strategy.  
Research and observe your audience
A simple search on your social media channels can uncover a vast amount of content. There may even be conversations about your utility that you didn't even know about. Instagram's search function allows you to identify localized hashtags that your audience may be using to connect with other Instagrammers (this happened to us with the hashtag #NorthCascades) along with locations of interest that may be a favorite selfie spot. Leverage this data by using the most popular hashtags and tag your posts in those locations. If there are other brands in that area that post often, follow and engage with them as well.  
Make reposting part of your social media strategy but create a balance
Most of us have heard the metaphor that a social media strategy should be like a balanced meal with a mostly meaty content with a serving (or two) of dessert, AKA your "fun" posts. The Skagit Tours accounts are no different. The established strategy is to utilize reposted content from its audience to tell its story a few times a week. The majority of posts are to promote the tours, especially during the touring season. But this is not a hard and fast rule. As mentioned in the previous point, the team is continuously listening to how the audience is interacting with content and shifting as needed. For example, reposted content like nature photos from other users garners more likes on Instagram than on Facebook. Conversely, historical posts (such as celebrating anniversaries of events or projects) garner more likes on Facebook than on Instagram. Recognize how your audiences are different for each channel and offer them the balanced meal they crave.
Give credit where credit is due
You're building trust with the audience who is providing you with this empirical data. If someone took a photo of your facility that you want to share, ask them first. While you're technically not required to ask, it's common courtesy and provides you an opportunity to engage with them. This gesture can also become beneficial. The users have even messaged the Skagit Tours account with amazing photos directly unprovoked! 
Be creative with your circumstances and resources
For the last six years, City Light has been courting the media with a complimentary sneak peek at the upcoming tour season. The media familiarization tour ties promotional benefits to the staff's need to get ready in the last week before the regular tour season starts. The pitch to members of the media is that the tour and free lunch comes with the caveat of their posting about their experience. It's been fun to see the evolution of the tour. In 2013, participants were strictly from print, radio and TV. Last year, thanks to research on who had large social media followings, the tour hosted a mix of traditional media, artists and even representatives from a local brewery.
Enhance employee engagement
Get your employees involved! City Light is lucky to have some especially talented photographers who regularly post from their job sites if they are able or allowed. City Light and Skagit Tours alike love to feature their content on their accounts because it engages employees and can also be seen as a recruitment tool.  
City Light's Communications department encourages these shutterbugs to send their photos to the internal communications team to be featured on City Light's internal website. The department has also held employee photo contests to highlight their work. The department in turn can use these photos for phone and desktop wallpapers, posters and even the cover of an annual report.
 Your audience craves authenticity. Every day, brands are tailoring their social media messaging to humanize themselves while engaging at a personal level. Public utilities are no different. We need to connect with our customers and stakeholders where they are most comfortable. Take the time to listen to what they are saying. You may be surprised by what you hear.