Earning recognition as a Reliable Public Power Provider (RP3) demonstrates many things about your utility. An RP3 designation signifies leadership in reliability, safety, workforce development, and system improvement. It shows your commitment to keeping the lights on for your customers, and it's no easy feat – the RP3 application process is rigorous and takes months to complete.
An RP3 designation can also indicate good financial health.
After hearing from public power utilities who used the RP3 designation to explain their performance to bond rating agencies, we were inspired to take the RP3 program on a Wall Street tour. In the fall of 2016, RP3 staff and RP3 panel chair McKinney met with the three key credit rating agencies - Fitch Group, Standard and Poors Global Ratings, Moody's Investors Service - along with the National Finance Guarantee Corporation.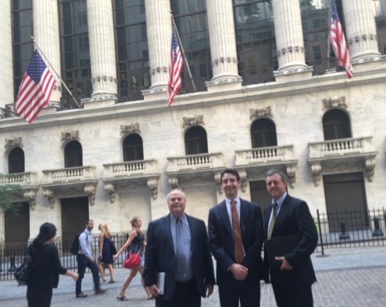 Most of the credit agencies were already familiar with the RP3 program and informed us that they regarded the designation positively when determining ratings or issuing bonds.
Credit rating agencies conduct careful analyses and look at a variety of drivers when determining a company's credit rating. The agencies evaluate a company's market position, their financial position and performance, governance and management, and debt and capital plan. Many of these items are easy to measure, but governance is much more complex. The leading industry practices that the RP3 program measures, from engaging in safety and reliability benchmarking to performing comprehensive system planning studies, can help utilities demonstrate good governance and quality operations in the rating process. If a utility is RP3 designated, we believe they are exhibiting operational characteristics enabled by good governance and management.
Looking at the numbers
In preparation for the meetings on Wall Street, we compiled company ratings for all rated public power utilities from the 2012-2016 Thomas Reuter Bond Buyer Yearbooks. Of the 161 entries for public power utilities, 35 had an RP3 designation. We also searched for ratings for the remaining 184 RP3 utilities with designations starting 2013 to 2016. To better visualize where RP3 utility ratings fall, we split up the ratings for each credit agency, and we compared the ratings found for RP3 utilities and the 126 non-RP3 systems listed in the Bond Books.
Ratings were not available for all 219 RP3 utilities, and the notes underneath each chart indicate how many utilities had public rating information available. For example, the first chart includes ratings for 113 non-RP3 utilities and for 146 RP3 utilities as listed on the S&P website.
Rating comparisons for each agency are available below. RP3 utilities are represented in green, and others are represented by the blue trend line. The charts show that for each agency, a higher percentage of RP3 designees have strong credit ratings.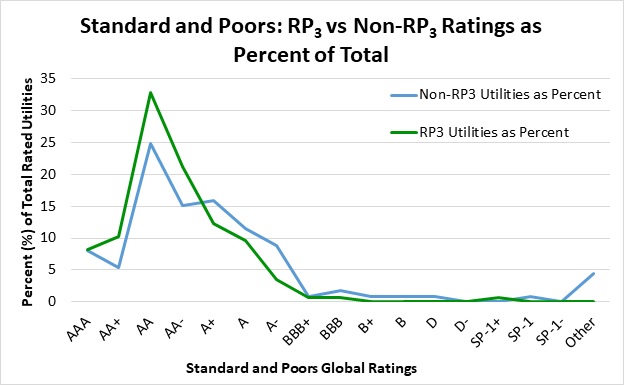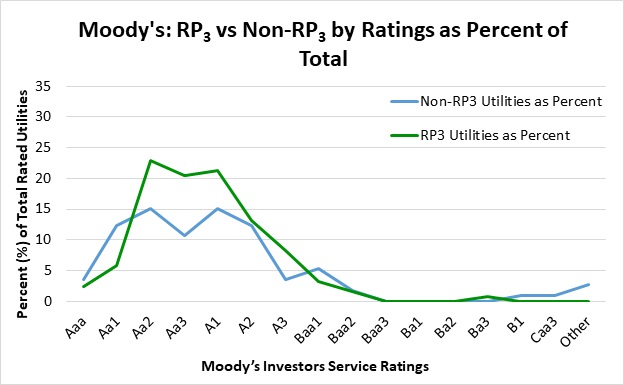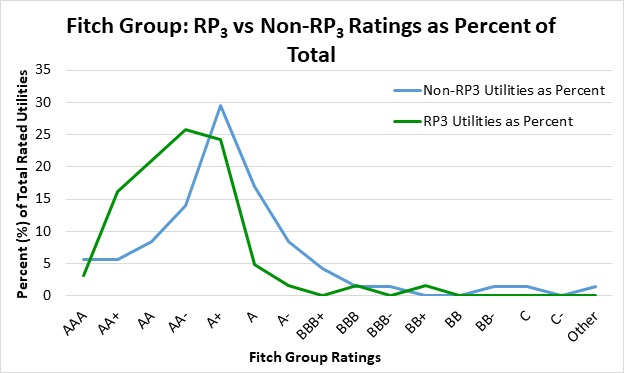 Reaping the Benefits
Credit rating agencies understand that an RP3 designation is useful in many ways. The graphs above reinforce the notion that an RP3 designation correlates with a higher credit rating, meaning these utilities could have an easier time acquiring bonds for their upgrades and projects. Of course, there is no easy formula where you can simply add in an RP3 designation to get a higher rating, and a lack of a designation does not translate to a lower credit rating. If your utility is RP3 designated, you might be able to leverage this in your favor to achieve higher ratings.
Do you think your utility exhibits good governance and excellence in areas like reliability and system improvement? If your utility does not have an RP3 designation, then we recommend applying this year. Applications for a 2018-2021 designation must be completed by September 30, 2017. Even just going through the application process can serve as a great self-evaluation tool. Register today to apply to take advantage of the program.
Have questions about our analysis or about the RP3 program? We'd love to hear from you! Call or email us at 202-467-2945 or [email protected].