As I go through my last year here at the Association, I am realizing there are events or trips that just happen every year—they are part of the annual Association calendar. Having been on staff since 2004, I have attended many, many of them. I just attended my last Legislative Rally, which was a great success—over 600 member representatives came to town to meet with their legislators and help the Association chart its policy course through the resolutions process. We heard from both sides of the aisle at the Rally, with presentations from both Rep. Paul Tonko (D-NY) and Rep. Greg Walden (R-OR). It was bittersweet knowing that this was my last Rally. It was awe-inspiring to look out from the stage at the front of the Mayflower's large ballroom and see all the tables (even the balcony!) filled with members, in DC to tell the public power story. 
One annual event that many members might not know about is our annual pilgrimage to meet with the ratings agencies and the other financial entities that work with public power utilities.  Every year, the Association's CEO and General Counsel go with the current Board Chair on a whirlwind tour of New York City for these meetings. This year, Delia Patterson and I went with Coleman Smoak, General Manager of the Piedmont Municipal Power Agency and the Association's current Board Chair.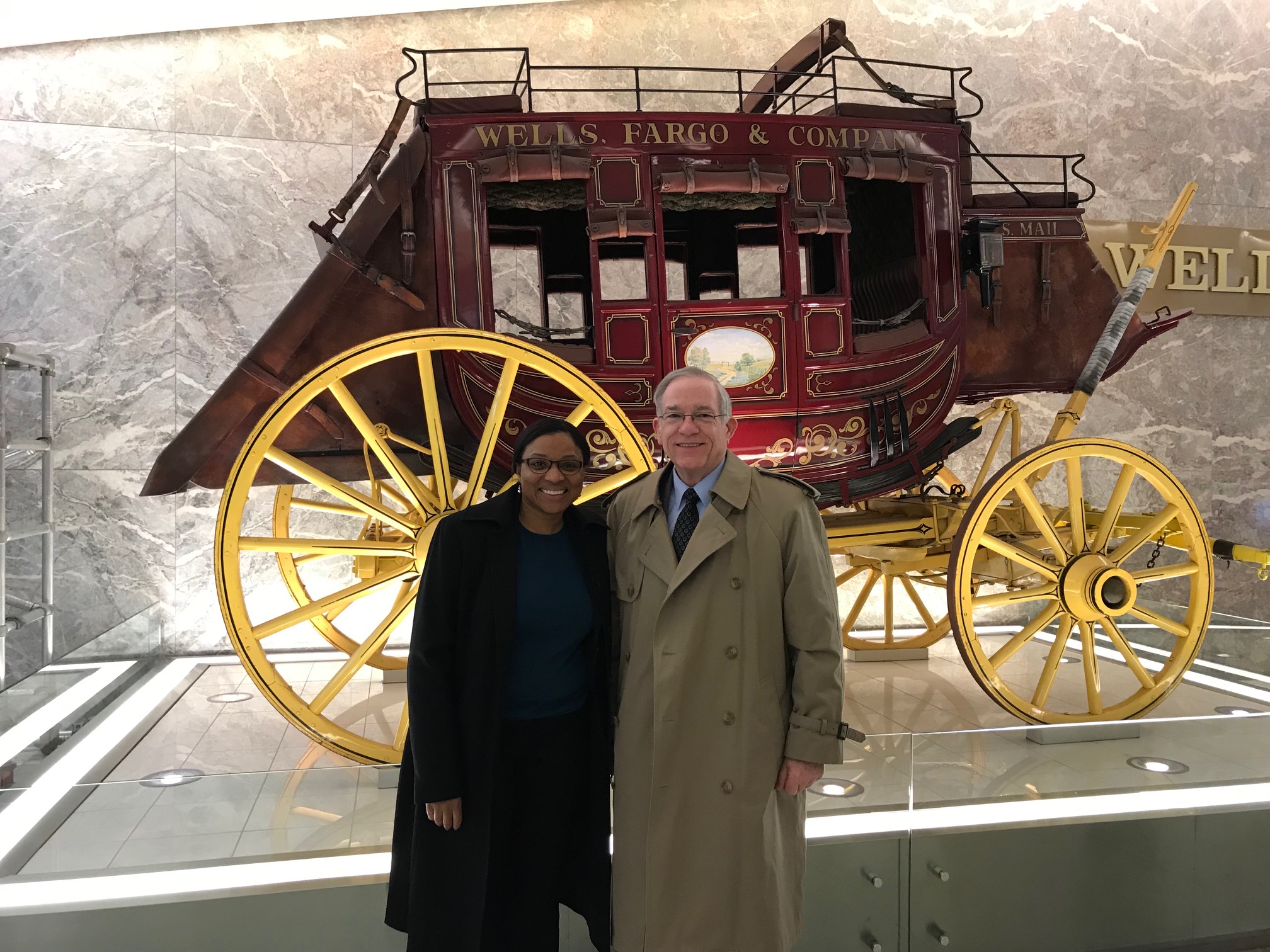 You might ask why the Association would visit the ratings agencies—after all, they do not rate us. But that is why we go. When our members interact with S&P, Moody's and Fitch, the members are usually under the microscope, as the agencies are assessing their financial and managerial fitness, and assigning ratings to their debt. We, however, can talk more freely about the issues that the Association is dealing with on behalf of our members, what the atmosphere is on Capitol Hill and at the agencies/departments, and how our members are addressing the challenges facing all electric utilities. In short, it is an annual opportunity for us to compare notes about what we are seeing, and talk about the good work we and our members are doing to provide reliable, affordable and environmentally responsible electric service. 
It also gives us an opportunity to thank the ratings agencies for their support of the Association—they give generously of their time, speaking at our Annual Conference and B&F Conference, as well as doing webinars to educate our members. Financial institutions like Merrill Lynch/BOA, Wells Fargo and Piper Jaffray also do their part, including supporting our conferences by sponsoring receptions and lunches.  And National Public Finance Guaranty has been a long-time sponsor of the Day of Giving held just before our National Conference. (I have worked up a sweat on a jobsite with John Jordan more than one year!).  
Having gone on this NYC trip every year since 2005, I have learned a few things, which I have tried to pass on to Delia.  Send your "leave behind" packets up ahead of time—don't haul them with you on the Amtrak train from DC and then through the nuttiness that is Penn Station. Stay downtown in the Financial District, since that is where the ratings agencies are (although Fitch is in the process of moving to Mid-town). The financial institutions are in Mid-town, so expect to go back and forth between Wall Street and Mid-town.  Leave enough time between your appointments to allow for that.  Try to group the appointments geographically so you are not bouncing back and forth too much.  Most important, wear good walking shoes (I gave up on high heels for this trip long ago!).  Delia and Jill Allen of our staff did a great job this year of putting together the agenda and the packets, and suggesting the issues we should cover. 
Coleman, Delia and I talked about the legislative issues the Association is highlighting this year (including municipal bond "modernization," a topic of key interest to both the ratings agencies and the financial institutions).  We discussed the outlook for legislation/regulation on climate change, how distributed resources and technologies are changing the business model, cybersecurity issues, and recent discussions about privatization/municipalization. It is important for all of these companies to know that public power utilities recognize the changes afoot on both the technological and policy fronts, and that we are moving to deal with them.  But by our 7th and last meeting in a hectic day-and-a-half, Coleman, Delia and I were finishing each other's sentences—that is the way these things go. 
Of course, you cannot move around NYC without at least looking around you.  Moody's offices are at 7 World Trade Center.  To get there, you walk by the fountains that mark the foundations of the Twin Towers.  You cannot help but contemplate the horror that was 9/11, and how deeply it has changed our country.  On the lighter side, we were in town just before the St. Patrick's Day parade, so the "Wearin' O' the Green" and the copious drinking of green beer were already underway.  (The year before, we were there during Fleet Week—so uniformed Navy and Marine personnel were everywhere.  Delia, as a Naval Academy grad, felt right at home!)  In Mid-town, Merrill Lynch/BOA faces on Bryant Park, home of the main branch of the New York Public Library with its famous stone lions (you may remember them from the 1984 film Ghostbusters). And driving up FDR Drive from the Financial District to Mid-town, you drive under the iconic Brooklyn Bridge. I can never do that without remembering the day that my husband and I (along with 400 very pumped New Yorkers) did an open water swim under the bridge from the Brooklyn side to the Manhattan side. Yes, I swam the East River and lived to tell the tale!  
Having made this trip with a long progression of Association Board Chairs, I am impressed and grateful for the work that they do. Our Board Chairs are volunteers—they do not get paid for their service. Yet they spend many hours on the road for the Association, attending and speaking at our conferences, preparing for and conducting Board meetings and dealing with Association business, and generally carrying the public power flag. They, the other Officers, the Executive Committee, and the Board members all deserve our gratitude for helping move public power forward.