Last week, I was traveling again. First, I went to Loveland, Colorado, to visit the Rocky Mountain Regional Office of the Western Area Power Administration (known to some as just "Western" and others as "WAPA"—WAPA always made more sense to me). I had been invited by Mark Gabriel, WAPA's Administrator, and Erin Green, his chief of staff, to address WAPA's third I2T Summit. This summit is held at a different WAPA regional office each year, and this was the Rocky Mountain region's turn to host.
Erin was kind enough to pick me up at the Denver Airport. Anyone who has traveled to or through that airport can picture the white roof of the central terminal, which looks like a series of teepees. But if you were just connecting and never left the airport premises, you would miss the 32-foot-high statue of a rearing blue mustang on Peña Boulevard as you drive by the entrance. Believe it or not, the statue has its own Wikipedia page. Apparently the statue actually killed its creator; according to the wiki page, the massive head fell on him and severed an artery in his leg. Because of that and because its red eyes that glow at night, the locals have nicknamed it "Blucifer."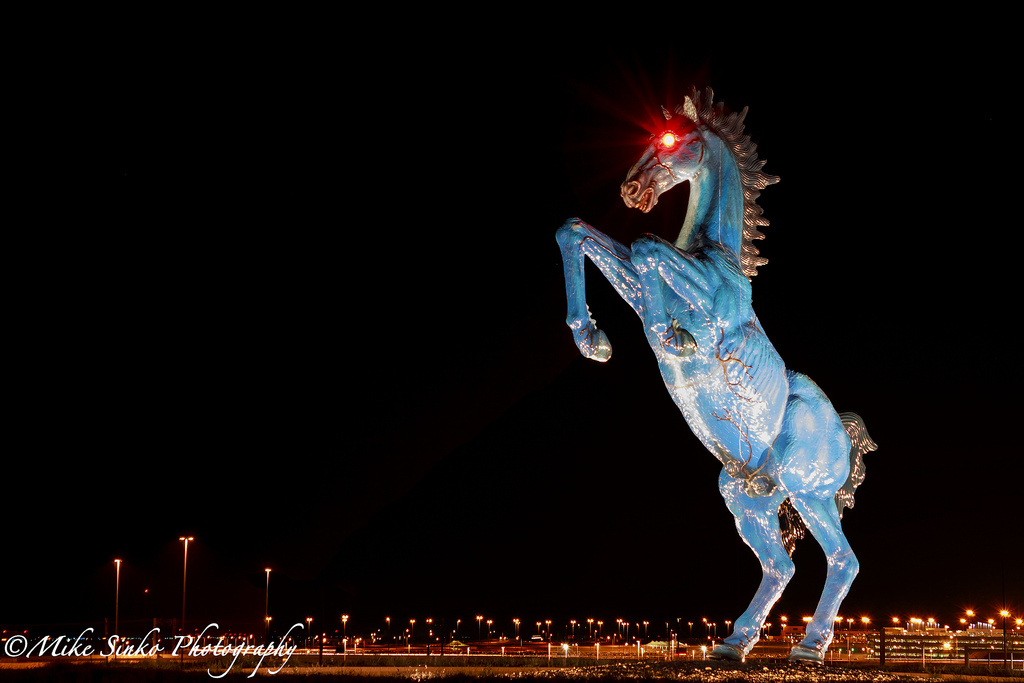 (Apparently not everyone is a fan.)  I had a great time talking with Erin while we made our way to Loveland.
The next morning, Erin and I went to the Loveland office for the I2T Summit, which I learned stands for the Inclusion, Innovation and Technology Summit. Many WAPA staff were there for the meeting, and many more were video conferencing in from other sites. Before we started, I got a personal control room tour from Michael McElhany, head of WAPA's Rocky Mountain region. It reminded me of just how big a transmission system WAPA runs — it spans many states and regions. Compliance with NERC Reliability Standards is therefore a high priority for WAPA.
After being welcomed by WAPA staff, including Mark, I spoke for about half an hour on the challenges and opportunities that new technologies present for public power utilities. I had wondered whether there would be any questions during the Q&A, but I need not have worried — WAPA staffers stepped into the breach and asked some very good ones. 
I was really interested in the presentation just before mine, which was by Bruce Walker, Department of Energy Assistant Secretary of the Office of Electricity. I have dealt with Bruce many times on the phone and in meetings since he came to DOE. Among other things, we spent many hours on conference calls last fall dealing with the power restoration effort in Puerto Rico. But I had never heard him give a presentation, and I was curious what he would say to an audience of PMA staffers. He started by explaining his background in our industry. I had known that he had worked for both Con Ed and National Grid, but he provided some telling details, such as the fact that he is both an engineer and a lawyer. He had gone back to school to get a law degree at the express direction of Con Ed management. Moreover, he worked for a county government in New York for some years, which impressed me; those who have worked for local government usually have a good appreciation of how they are on the front lines of so many issues, including natural disasters. And he spoke at length about the important role that WAPA plays in the West. All in all, I was very heartened by his presentation. Bruce is a guy who understands what electric utilities (including the PMAs) do and why they do it.
I would have loved to have stayed for the rest of the summit. I was very impressed by the start, and by the strong effort that Mark and his senior staff are making to foster innovation at WAPA. But I had to dart for the airport. Again, WAPA gave me the deluxe treatment. I had the opportunity to talk with one of WAPA's engineers, Jackie Brusoe, as she drove me to the airport. We dished on everything from why working for public power is so rewarding to the demands of raising children while pursuing a career to the division of domestic labor in our respective households. We were at the airport before I even knew it.
From Denver, I flew on to Florida for the Annual Meeting of the Florida Municipal Electric Association. Amy Zubaly, the executive director, had invited me to speak some months before, and I was happy to oblige her. Amy became the ED of FMEA just last year. She got a true baptism by fire right off the bat when Hurricane Irma hit Florida. Every public power utility in the state suffered some damage, and a few, like Keys Energy Services, were completely devastated. Amy worked for weeks on end to coordinate mutual aid for her member utilities, communicate with Florida state officials, including the Governor's office, and convey her state's needs back to the Association's national Mutual Aid network. Then, when Florida was restored, Florida public power utilities responded to the dire need for assistance in Puerto Rico and the US Virgin Islands after Hurricane Maria. Amy dealt with all of these challenges and more, and came through like a champion. So I was glad to be able to come to her meeting and thank her and her members for all they had done in person.
I have often joked that public power specializes in holding meetings in the right places at the wrong time — like having our June 2016 National Conference in Phoenix (but it was a dry 120 degrees!). Being in Florida in July is indeed hot, but FMEA was able to take advantage of off-season rates to hold the meeting at a nice Atlantic beach-side hotel, and the lodging and food was first rate. So was the meeting itself. We had sessions with Bruce Hennes on crisis communications, Dan Aschenbach on the financial outlook for public power, and the always dynamic Michael Nolan on the political scene in Washington, among many others. I spoke about the changes and challenges facing public power, including higher customer expectations, new technologies, and cybersecurity.
The meeting closed with a banquet, where FMEA's outgoing president, Chip Merriam of OUC, received the Past President's Plaque, as well as the unique-to-Florida "Traveling Conch" award from Mona Clark of Keys Energy. George Forbes, the retiring city manager of Jacksonville Beach, received an honorary membership for all his years of service.  The Member of the Year Award went to Rob McGarrah, general manager, City of Tallahassee Electric Utility, and a Lifetime Achievement Award was given to Fred Bryant, for many years the general counsel of the Florida Municipal Power Agency and FMEA, and one of the founding fathers of joint action in Florida. The evening closed with the passing of the gavel to the new president, Joel Ivy of Lakeland Electric.
It was great to see the strength and comradery of the public power utilities in Florida. They have been through a lot during the past year, and those experiences have brought them closer together.  FMEA, Amy, and all FMEA members have much to be proud of.