On March 9-13, I visited Puerto Rico with Arlen Orchard, CEO of SMUD, and an American Public Power Association Board member. We went to survey the power restoration effort and thank the SMUD and other APPA member utility employees who have been working on that effort.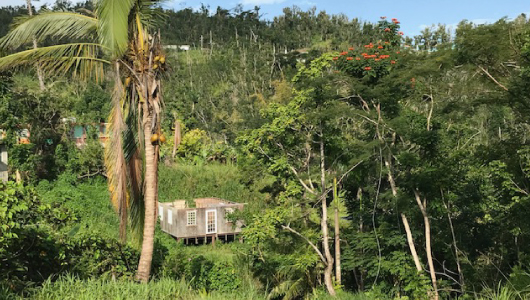 We on Association staff have been working on power restoration since Irma and Maria hit Puerto Rico and the US Virgin Islands. But there is nothing like going and seeing it for yourself to fully appreciate just how complex and difficult the restoration effort has been, and how much has been accomplished. I can now personally attest that the joint industry restoration effort has been quite impressive. Numerous employees from both public power and investor-owned utilities have labored together for months to restore electric service. They deserve our deep thanks.
With the unified effort of all sectors of the electric utility industry and the Federal Emergency Management Agency, the U.S. Army Corps of Engineers, and the Department of Energy assisting the Puerto Rico Electric Power Authority, the restoration effort is now past the 90% mark, and life in many areas is starting to return to something like normal. But the remaining areas to be restored are the most difficult in terms of terrain and degree of damage to existing facilities. The last mile (literally and figuratively) will be the hardest.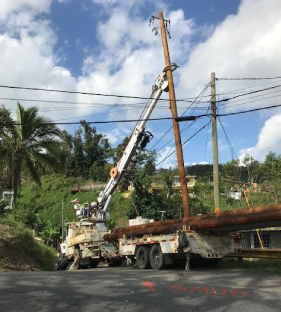 Arlen and I started by visiting the Carolinas region of Puerto Rico. It is east of San Juan, and is the region where the APPA-assembled regional Incident Management Team and public power crews have been working to restore power. This is one of seven IMTs assigned to coordinate restoration efforts in seven PREPA regions. We first visited the Carolina lay-down yard located at the PREPA substation. We met with SMUD crews and their foreman Jack Chapman, and the combined crew formed by Norwich CT, Richmond IN, and the Commonwealth Utilities Corporation of the Northern Mariana Islands. The universal sentiment of the crews was that power restoration in Carolinas is very difficult but rewarding work. The terrain is rugged, the hills steep, and the roads hairy to say the least. But the customers are extremely appreciative when the crews show up, offering drinks, food, and encouragement.
We then went to a residential area called Canovanas in the Carolina region, which is up in the hills. Getting there was an adventure in itself, given the narrow roads and sharp turns. We watched a SMUD crew set poles to restore power to a neighborhood of around 15 houses way up on a hillside, and met the PREPA engineer who came by to check on the crew's progress. The crew's goal was to get the houses energized by Monday, as that was the birthday of one of the older female customers who had been without power since Maria. I later found out they made her birthday deadline, and she cried when they turned her lights on.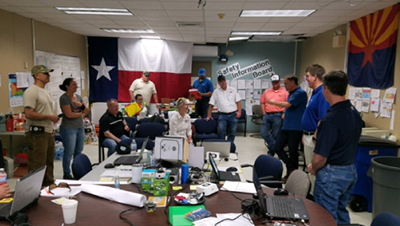 In the afternoon, we visited the PREPA regional operations center to meet with the Carolina IMT team. It is staffed by a mix of Salt River Project, Austin Energy, CPS Energy, and Norwich personnel, along with PREPA and USACE workers. Their operations room was hung with Texas and Arizona flags (the TX flag is bigger, of course!). We met Matt Peek of SRP, who is the current team lead, and heard a presentation on the IMT's work by Rick Hudson of SRP, the planning lead. That evening, Arlen and I took the Carolinas IMT members to dinner as a token of thanks for all their hard work.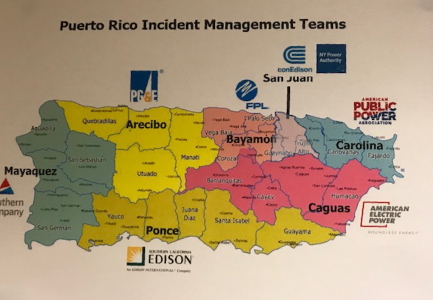 The next day, we got up early to attend meetings with "NY Contingent." This was the first IMT, formed soon after Maria struck, through the efforts of Gov. Cuomo, NYPA, and the New York utilities (Con Ed, Orange and Rockland, Central Hudson, and National Grid). NYPA came down to the island with 30-plus subject matter experts right after the storm, and assisted with damage assessments of generation facilities, transmission lines, and transmission substations. Roger Gural, who works in construction management for NYPA, was our liaison for the morning. We sat in on a whole series of NY team meetings dealing with different aspects of the restoration. With San Juan (its assigned region) now 100% restored, this team's future efforts are being refocused on regions that still have customers without power, such as Caguas.
Sunday night, Arlen took the SMUD crews to dinner, while I took out the Richmond/Norwich/CUC combined crew. In the true spirit of public power, this group has really bonded while working together — Donny Pitcher from Richmond explained that the CUC guys have showed them how to prepare coconuts with a machete and eat them at all three stages of their maturation, as well as introducing them to the joys of sugarcane cut and eaten in the field. The CUC crew travelled for 37 hours (3 stops) to get to Puerto Rico, but did it all in one day! 
The following day, we went to PREPA's headquarters. I was excited to finally meet Carlos Torres, the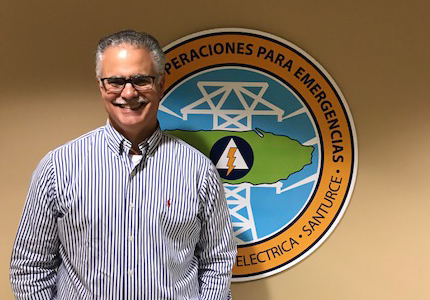 Con Ed retiree who has been acting as the storm restoration coordinator. I felt like I already knew him, as I have been participating in conference calls with him for months. He is an upbeat and genial leader, and helps to keep everyone on the same page. Arlen, Carlos, and I then met with Justo Gonzalez, the Interim Director of PREPA, and talked about the progress thus far and the work that remains.
We finished the day by attending the 4:00 pm Daily Stakeholder Update Meeting. This was an all-hands meeting with PREPA, Carlos, USACE, FEMA, the Governor's representative and many staff from all these entities. We heard updates on safety, restoration percentages by region, resource reallocation plans, status of materials, possible use of microgrids, etc. At this meeting, I was finally able to meet another voice I had heard on the phone during many calls last fall — Frank Ford of USACE. Watching all of these folks at work gave us a glimpse of the hard work by so many people it has taken to get the power restoration over the 90% mark.
At the end of the trip, Arlen and I both agreed that we were very glad we went. We at the Association have been working on this project for months, including many nights and weekends, but there is nothing like going and seeing it for yourself to get a full appreciation for just what an effort it has been.
I want to close by thanking Arlen and the SMUD employees who supported the two of us during this trip — Michael Meeks, Rafael Burgos, and Gina Harrell. "Team SMUD" got us to where we needed to go when we needed to be there, and helped us navigate both the terrain and the culture. They represent the best of public power.