After visiting Conway, Arkansas in early December, I flew straight on from Little Rock through Chicago O'Hare to Rochester, Minnesota. Both flights were late for the same reason—the dreaded delays at O'Hare to "de-ice" the wings before takeoff. (While these winter flight delays are inconvenient, I certainly prefer de-icing over not de-icing and taking one's chances in the air.) I finally reached Rochester about 11 pm. The blast of frigid air and snow that greeted me as I left the terminal to claim my rental car made it very clear I was not in (Ar)kansas anymore!   
I went to Minnesota to speak at the retail commercial/industrial customer meetings of two of our Minnesota members—Austin Utilities (AU) and Owatonna Public Utilities (OPU). Both are in Southern Minnesota, and both are power supply customers of Southern Minnesota Municipal Power Agency (SMMPA). Over a year ago, Owatonna Mayor Tom Kuntz asked me to come in December to speak at OPU's 2018 State of the Utility Meeting. Mayor Kuntz used to be OPU's General Manager, so he is an elected official who truly "gets" the value of public power. He has been very active in our Association's Policy Makers Council, serving as its Chair. When he asked me to come to OPU, I was happy to say yes.
It turns out that OPU and AU work closely together on energy efficiency programs, so it did not take long for AU to get wind of my visit to OPU.  As a result, Mark Nibaur, GM of AU, and Kelly Lady, AU's Marketing and Energy Services Manager, invited me to speak at AU's Annual Customer Appreciation Luncheon the day before OPU's event. My theme at both meetings was the same — AU and OPU are local utilities embedded in their communities, but that does not mean they are isolated. Rather, they are part of a larger community of public power utilities, participating in a joint action agency, a state association (the Minnesota Municipal Utilities Association), and our national Association.Together, we provide AU and OPU with a full array of resources that allows them to provide very reliable, affordable, and environmentally responsible electric service to their communities.  
I had a great time in Austin. Kelly Lady had actually put my name on the electronic sign in front of AU's headquarters, so I knew I was at the right place. I had a chance to warm up before I spoke at the luncheon meeting. Then I got to hear what Mark and Kelly had to say to AU's customers about current happenings at the utility, including upcoming changes to their rates and energy efficiency programs. We closed the session with a catered lunch and casual conversation. It was a very friendly meeting, and clearly showed the strong relationship AU has with its customers.
After the meeting ended, Mark took me on a tour of AU's new facility. They were able to plan it from a clean sheet of paper and bring employees from four different buildings under one roof. Employees suggested many design features, and the architect included many internal windows and skylights to bring natural light to all parts of the building. They even repurposed the original exterior sign on the old headquarters, bringing it inside under new clerestory windows. Clearly the employees really like the new facility — even the welding shop employees had put up holiday lights!  Mark showed off the building like a proud papa, and by the time we were done I certainly understood why AU was named one of the best places to work in Southeast Minnesota in 2018.
After the tour of AU, Kelly took me to Main Street for a truly value-added opportunity — touring the Spam Museum. I knew that Austin is the home of the Hormel plant that makes Spam. But I had no idea how big an economic force Hormel is in Austin. The Spam plant is huge, Hormel's headquarters is there as well, and the Hormel Institute of the University of Minnesota (funded by the Hormel Foundation) does cutting edge cancer research there. Many members of Kelly's family have worked for Hormel, so she was a fount of information about Spam and the company. At the museum, I learned that Spam is made from pork shoulder and pork posterior (not the leftover bits!) and comes in many different varieties (low fat, garlic, cheese, chorizo, etc…..). It is popular in many countries around the world, especially in the Pacific, where GIs introduced it to the local populations. I confess to going a bit wild in the giftshop — the Spam snowglobe was too much to resist. Check the museum out at https://www.spam.com/museum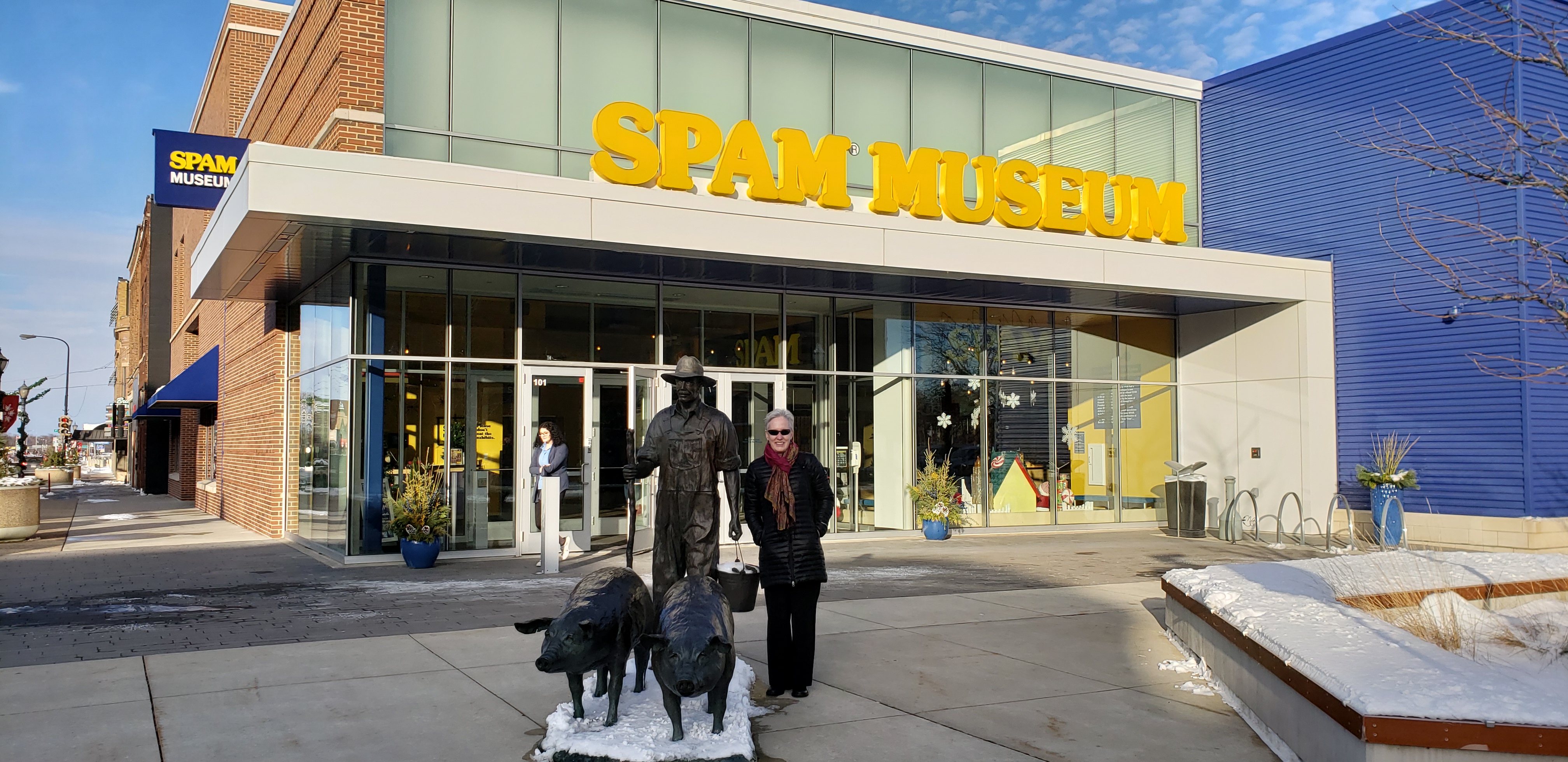 Thanks to Mark and Kelly, I was able to meet for dinner with the General Managers of some other Minnesota public power utilities: Lake City, Lake Crystal, Preston, Rochester and Waseca. I got to hear from each of them about their utilities and the issues they are facing, from keeping qualified lineworkers to educating their customers about renewable power supply options. Meeting with GMs in their own locales helps those of us on staff at the Association to understand better what products and services we can provide to meet their needs. I talked about some of the resources we have for members, including cybersecurity and communications tools. 
The next day I spoke at OPU's State of the Utility meeting, beautifully organized by Tammy Schmoll of OPU staff. The assembled customers heard from the OPU team, including Roger Warehime, OPU's brand new General Manager, and representatives of SMPPA, including Dave Geschwind, SMPPA's CEO. We took a deep dive into rates, energy conservation programs, and wholesale power supply issues.  The meeting ended with an informal luncheon (both AU and OPU believe in feeding their customers well!).
After the meeting, Mark Fritsch, OPU's outgoing GM, treated me to a tour of OPU's new headquarters building. He had come to OPU after 30 years of working for the local IOU, Xcel Energy. He told me he had only planned to stay 3 years, to oversee the conversion of OPU's iconic downtown powerplant to its new headquarters. He ended up staying 7 years, saying he "fell in love" with public power. That love shows in the brick headquarters building, which anchors downtown. They kept the stacks and much of the original building shell. But they designed the lowest level to withstand periodic flooding from the nearby Straight River, and provided spacious workspaces for the employees on the upper levels, as well as a board room big enough to be used for community meetings. There are many homages to the original power plant in the building—brass fittings from the boilers hung in the entry gallery and conference rooms are named after the different boilers. Truly this building it would warm a power plant operator's heart—it did mine, and I am just a lawyer.  I can see why it won an architectural award.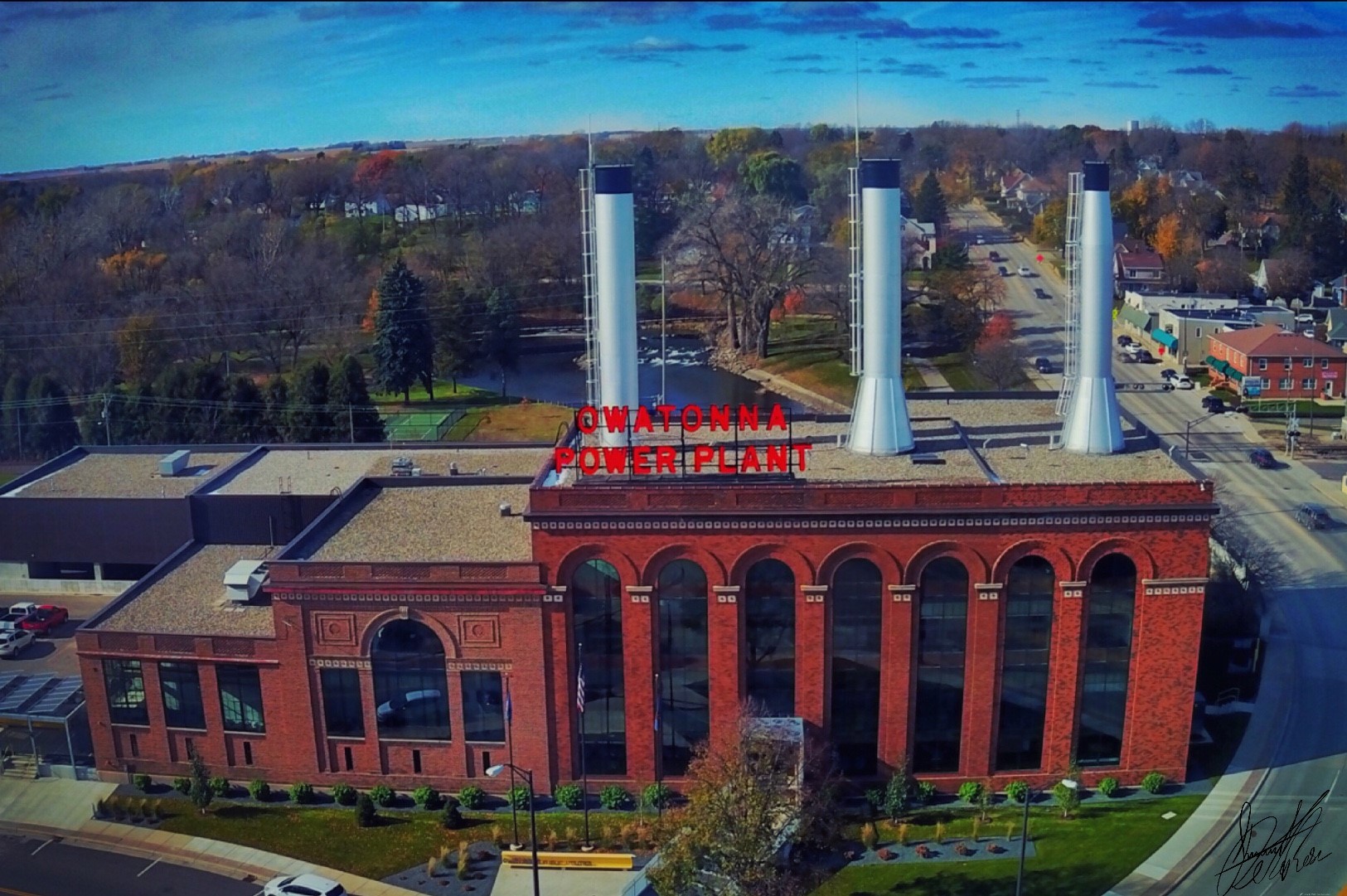 Both AU and OPU are clearly anchors for their communities. They host community events in their new headquarters buildings.  They have strong relations with their commercial and industrial customers. They work hard with SMMPA to keep bills low and have comprehensive energy efficiency programs to help them save more money. But they do not take this for granted — both are participating in our #CommunityPowered campaign to raise awareness of public power in their communities. It warmed my heart to see them using our communications tools for their customer meetings. The campaign is still going on, so if you have not yet done anything in your own community, it's not too late!