Fall is very busy for our Association. Not only do we have a series of what I call our "subject matter" conferences—Business and Financial, Legal and Regulatory, and Customer Connections—but we have our Fall Institute and our fall Board meeting (the longest of the year, where we often deal in-depth with strategic and financial issues). And for the last few years, we have held summits on important issues facing the membership. This year we ran two summits back to back in Austin, Texas—one was our fourth Public Power Forward Summit, and the other was on Cybersecurity. All these meetings keep our Education and Customer Programs staff, headed by VP Ursula Schryver, extremely busy, along with the many subject matter expert staffers helping with the programming.
I did not attend Business and Financial this year, but went to both Legal and Regulatory (in Charleston, SC) and Customer Connections (in Orlando, FL, a perennial venue for public power conferences, given it is served by public power member utility Orlando Utilities Commission, and is the gateway to the ever popular Magic Kingdom). The Legal and Regulatory Conference is where I cut my meeting programming teeth when I started at the Association as General Counsel in 2004. Delia Patterson, our SVP of Advocacy and Communications and General Counsel, has taken over the legal/regulatory policy side of this meeting.  But it was wonderful to attend it — I got to hang out with my old legal comrades and see many new faces. I attended half-day seminars on FCC pole attachment regulations and environmental issues, catching up on the latest member concerns.  And I introduced our two keynote speakers — Charlie Beradesco, General Counsel of NERC, and our own Coleman Smoak, CEO of Piedmont Municipal Power Agency and the Association's current Board Chair. 
Charlie is a smart and able lawyer, who gave an engaging update on all things NERC.  He did tell the assembled crowd that when he started the job, the very first person from industry to call him up and chew him out was me.  All I can say in my defense is that I had a very legitimate beef with NERC, but perhaps I should have been more diplomatic in expressing my concerns! Oh well, we seemed to have weathered that rough beginning….
I also went to Customer Connections, presenting on the last day on technological trends in other industries that will impact public power utilities. I attended some excellent sessions on customer service issues, and got to hear about what commercial customers like Walmart expect from their public power utility suppliers. But the best part of the conference was handing out communications awards. The public power communicators are not a shy bunch—they were pumped as they came up on stage to get their plaques, and one even took a selfie of the two of us to post on social media. Julio Torrado of Keys Energy Services (yes, the Florida Keys!), the Section Chair, dared me to take a picture with him with both of us wearing Mickey ears, which of course I did. Never miss a chance to look silly for public power!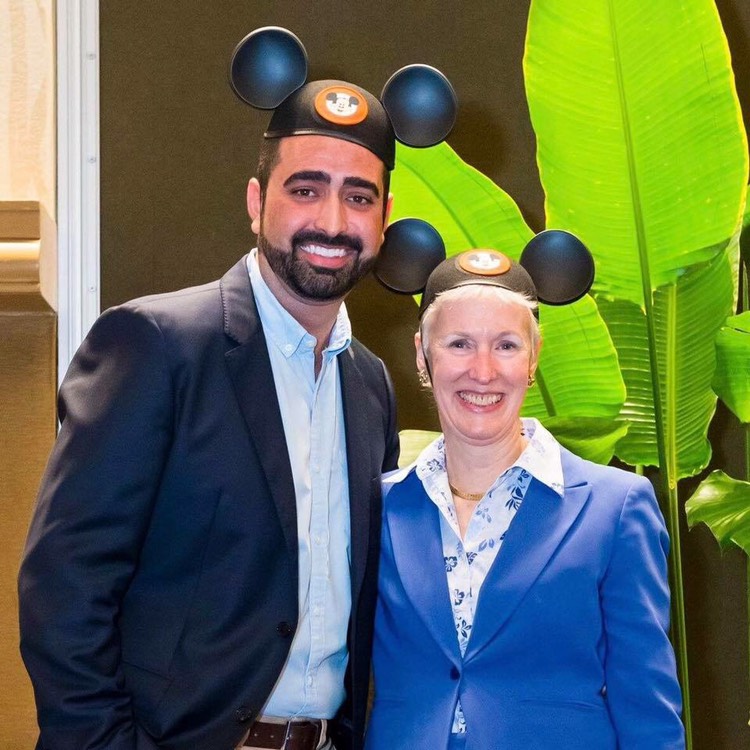 From Orlando, I went on to Florida's Women in Energy Leadership Forum in Destin, put on by the Gunster Law Firm. The Forum is the brainchild of Lila Jaber, a shareholder at Gunster, a former Florida Public Service Commissioner and a total spark plug, dedicated to introducing young women to careers in energy and advancing them once they find the industry. It was good to see both Amy Zubaly, Executive Director of the Florida Municipal Electric Association, and Jacob Williams, CEO of the Florida Municipal Power Agency, speaking at this conference. I spoke about my own tortured career path in law and energy, and some of the lessons I had learned along the way.
After flying home to spend a day with my long-suffering husband ("who is this woman showing up at my door?!"), I went on to Austin, TX for our Public Power Forward Summit. The summit was a real home run, with excellent panels on smart cities, EVs, storage technologies, and distributed resources. We had two member roundtables at the end of the first day.  Listening to our members ask each other questions and pick each others' brains really reminded me of one of the key reasons our Association exists — to serve as a learning community for our members. Large and small utilities from all over the country were exchanging ideas and business cards. It warmed my heart. I only was able to stay for the first session of the follow-on Cybersecurity Summit, but it was a packed house, and the first panel, ably moderated by Mike Hyland, talked about the cybersecurity issues posed by the Internet of Things.  EEEKKK!
This most recent series of trips reminded me about what I love the most about this job — getting outside the Beltway to be with the Association's members, and helping them work together to deal with the huge changes in our industry. It also made me feel very bittersweet about the email Coleman sent to the membership recently, announcing that I plan to retire from the Association at the end of 2019. I genuinely love my job — I have the chance to work with members I respect on issues that are important and help to improve the quality of life in the 2,000 communities that public power serves. But there comes a time when you know that you need to step back and let others carry on the good work. I provided plenty of notice to the Association Executive Committee and Board to give them the time to consider what kind of leader the next CEO needs to be, and to recruit the best possible candidate to fill the position. In the meantime, I plan to "finish strong," and look forward to a fulfilling final year. My deep thanks to all of you who have contacted me to express your good wishes.