The week of September 24, I went back out on the public power annual meeting trail.  The first stop was Cleveland, Ohio, for the American Municipal Power, Inc.  (AMP) and Ohio Municipal Electric Association (OMEA) Annual Meeting. The Victory Fridges had finally been emptied the week before, when the long-denied Browns beat the Jets, so spirits were high.  (If you missed this particular bit of pop culture, catch up at https://www.news5cleveland.com/sports/browns/are-victory-fridges-open).  The meeting was held at a hotel next to the Cleveland Clinic, which has grown into a massive medical complex. The meeting was held in a conference center that is also used by the clinic, so the general sessions were held in a classroom-style amphitheater that took me right back to college lectures.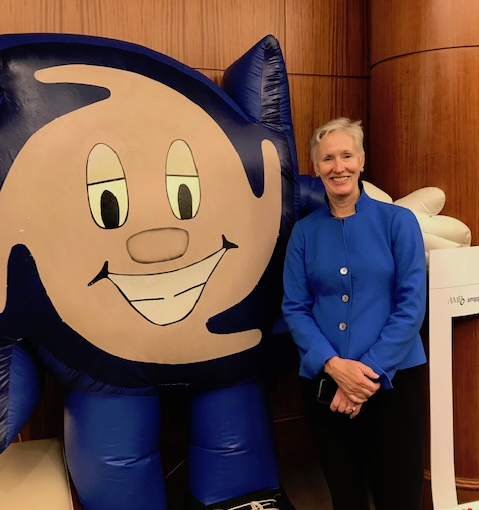 AMP and OMEA — led by Marc Gerken, Jolene Thompson, Pam Sullivan, and their able staff — always put on a great meeting with topical content and interesting speakers.  They spent considerable time this year on their "Focus Forward" and Innovation Team efforts, with speakers talking about the changes coming to our industry.  Marc Gerken set the table by talking about the new choices that retail customers are going to have due to new technologies and supply options, and how AMP members need to respond.  I followed with a discussion of our  Public Power Forward strategic initiative. Steve Collier of Milsoft closed out the session with a strong message that running your grandfather's electric utility is no longer an option.  
Sadly, I had to miss the final day of the conference and the after-banquet event (held at the Rock and Roll Hall of Fame), although I had a wonderful dinner with staff and Ohio's public power mayors at an Italian restaurant in Little Italy.  But the cultural highlight of the Cleveland leg of my trip was what we lawyers would call a "frolic and detour" — I got away for an hour from the hotel with my long-time energy colleague and friend, Ed Tatum, now with AMP, to visit Cleveland's Lake View Cemetery.  (In Ed's defense, this was totally my idea.) I wanted to see the Garfield Memorial, the Gothic-style mausoleum of our 20thPresident, James A. Garfield.  Garfield, who was shot in 1881 during the first year of his presidency, died a long and painful death attributable to incompetent medical care, and his passing was greatly mourned, resulting in the erection of the memorial with private donations.  I had read about the memorial in (of all places!) the Wall Street Journal.  And it was well worth seeing, with a soaring dome, amazing mosaics and stonework, and a crypt below where the President and his wife are interred.  Check out the pictures here.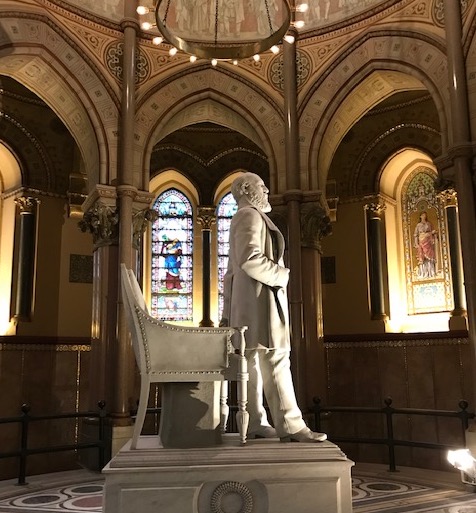 But there was much more at the cemetery, including the burial monument of John D. Rockefeller and his family and the Wade Memorial Chapel, dedicated to Jeptha Wade of Western Union fame.  The chapel is a Louis Tiffany gem, with a gorgeous stained glass window and amazing mosaic murals illustrating the Old and New Testament, all lovingly explained to us by a dedicated former teacher and cemetery volunteer.  And then there was the biggest surprise — the tombstone of the disc jockey Allen Freed, who coined the phrase "rock and roll" and helped popularize the music.  (Well, there was that payola scandal, but we all err…)  His tombstone is a painstaking granite replica of a jukebox, just astounding to see.  Not to mention all the guitar picks left as tributes around its base. Truly, Lake View Cemetery would be worthy of an entire afternoon. We never got to the gravesites/memorials for Elliott Ness, Charles Brush (inventor of the Arc Light!), Harvey Pekar, or Carl Stokes.
I left the AMP/OMEA meeting to go on to California for the Annual Meeting of the Northern California Power Agency (NCPA).  NCPA is celebrating its 50th anniversary this year.  To honor this milestone, NCPA put together a great exhibit recounting the events in history that helped get it to where it is today, including its epic battles with PG&E over transmission access, the building of its generation fleet (including hydro, geothermal and fast-start natural gas facilities), and its weathering of the now-legendary California energy crisis.  Along with these events, NCPA staff included some pop culture reference points that had me walking down memory lane (Barbies and 8 track tapes!). 
NCPA always puts on a strong program, and this year was no exception.  FERC Commissioner Rich Glick spoke about FERC's policy priorities, and I talked about the Association's activities in Washington.  Dawn Lindell of WAPA and David Murillo of the Bureau of Reclamation gave an update on the Central Valley Project (from which all NCPA members get power).  There was a panel on the last 25 years of energy policy in California featuring Ralph Cavanaugh of NRDC and Jan Smutny-Jones of the Independent Energy Producers Association, among others.  I had not seen Jan in many years and enjoyed catching up with him.  Finally, there was a great panel on NCPA's 50 years, moderated by former Association Board Chair and LADWP Assistant General Manager Eldon Cotton.  This panel featured Bern Beecham of Palo Alto, Val Fong of Palo Alto, Roger Fontes of NCPA (someone else I was able to catch up with), Archer Pugh from Redding and Jennifer Sparacino from Santa Clara.  Who knew that NCPA got its start in a small office behind a gas station in Santa Clara?  Randy Howard, NCPA's current General Manager, and his crack staff (including Association alumna Jane Cirrincione) are continuing the good work of NCPA, helping to steer public power utilities in Northern California through the myriad issues raised by California's ever-evolving energy policies. 
NCPA's meeting ended with a 50th Anniversary Gala Dinner, featuring plenty of entertainment. But true to public power's roots, NCPA used the opportunity to hold a fundraiser for victims of the Carr Fire, one of the worst wildfires that raged in California this year, which devastated many homes and communities in Northern California, including some NCPA members.  It was good to see that even when public power parties, it parties with a purpose!
AMP and NCPA are two of our most forward-thinking joint action agencies.  They operate in very different policy environments, but both work hard to meet the needs of their member public power utilities, and to equip them with the tools and services needed to meet the changing needs of retail electric customers.  It is no coincidence that both agencies participated in the recent purchase of the assets of Hometown Connections from the Association.  They see Hometown as a great vehicle to provide new products and services that public power distribution utilities are going to need to meet the rising expectations of their retail customers for more connected, interactive, and flexible services.  I was pleased to be able to help carry the Association's message to both agencies' members this fall.